Spectacular Pictures of Agate
A gallery of photos of Brazilian, moss, banded and fortification agates

All photographs and captions are copyright by Professor Richard Weston of Earth Images


This is a tiny area from a large piece of a wonderfully-named American Flame-tail Rooster Agate. The brilliant-red 'vegetation' is the source of its generic name, moss agate, and is formed by crystalline growths of impurities such as iron oxide. Size: 3cm.
This detail from a large slice of Brazilian agate is formed of a brilliant orange 'island' of agate surrounded by what appears to be a dark brown 'moss' agate, most likely consisting of manganese oxide, and this in turn is ringed by crystalline quartz. Size: 2cm.
This image, scanned with transmitted light from the perimeter of a banded agate, shows an island of quartz framed by the concentric rings of agate 'eyes', which are generally the result of slicing through hemispherical formations that typically develop near the outer surface. Size: 3cm.
This Madagascan agate shows many classic features: concentric banding; 'eyes' sliced through hemispherical formations; the ends of hollow tubes that formed around inclusions of other minerals such as rutile or geothite; and areas of crystalline quartz. Size: 7cm.
Agate frequently frames a quartz-filled void, but here this is reversed. The whole slice consists of a very narrow band of agate framing a large area of quartz at the centre of which is this exquisite formation, seen in more detail in AG170. Size: 10cm
This is a detail of the above agate and features the kind of complex, hard-to-explain formations that are a speciality of Brazilian agates. Size: 3cm
The banded formations of this agate are a wildly distorted version of the classic 'fortification' type. The distortions are thought to be the result of internal forces operating prior to crystallisation, but their precise nature is not understood. Size: 7cm.



Prints of the images in this gallery and many others are available on Professor Weston's

website.

Professor Richard Weston is a renowned architect and author as well as Professor of Architecture at Cardiff University, UK.

As part of the FutureWorld exhibition, he designed and built Radiant House, which was conceived as an inhabitable walled garden with a plywood roof floating on structural glass. He has also designed a wonderfully original Triangular House, and many of his works have been exhibited at the Royal Academy of Arts Summer Exhibition. His books include Modernism, winner of the International Book Award of the American Institute of Architects, and what has been described as possibly the finest monograph ever produced about an architect, on the work of Jørn Utzon, architect of Sydney Opera House.

His passion for mineral images began when he bought an ammonite that cost more than his scanner: the results were dreadful - and the scanner now used cost rather more than many ammonites - but the results are wonderful. They often demand a great deal of time to produce: preparing the minerals, taking scan after scan, and then digitally removing blemishes left by polishing powder and dust. Only a tiny minority have made it into his online collection and without his passion, Richard could not possibly have amassed such a large collection of world class images for you to enjoy. He invites you to his website to view an online collection of 200 mineral images.




Find it on Geology.com

More from Geology.com
| | |
| --- | --- |
| Gfeller Leather field cases, hammer holsters, lanyards, field belts, acid bottle cases, more. | |
| Cinnabar - the only important ore of mercury. Used as a pigment until its toxicity was realized. | |
| Wrong Volcano! The most powerful eruption of the 20th century was misidentified? | Diamonds: Learn about the properties of diamond, its many uses and diamond discoveries. |
| Unakite: A gem material composed of green epidote and pink orthoclase. | Debris Flows are moving masses of loose mud, sand, soil, rock and water. |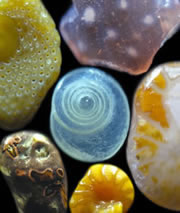 "A Grain of Sand": A gallery of sand grains from around the world, photographed through a microscope.