What is Chlorite?


"Chlorite" is a name used for a group of sheet silicate minerals with similar properties. They are primarily found in weakly metamorphosed rock and form from the alteration of clay-rich sedimentary rocks and from alteration of pyroxenes, amphiboles and micas. They are also found in some sediments.



Physical Properties of Chlorite

Chemical Classification
Color
various shades of green, yellow, white, pink, rose-red
Streak
greenish to greenish black to white
Luster
vitreous to pearly
Diaphaneity
transparent to translucent
Cleavage
basal, perfect
Mohs Hardness
2 to 2.5
Specific Gravity
2.6 to 3.3
Diagnostic Properties
color, hardness
Chemical Composition
a generalized formula:
(Mg,Fe)3(Si,Al)4O10(OH)2.(Mg,Fe)3(OH)6

(Many solid solution possiblities exist with the "chlorite" composition, each producing a specimen with slightly varying properties. Chlorite minerals include clinochlore (most abundant), baileychlore, chamosite, cookeite, donbassite, gonyerite, nimite, odinite, orthochamosite, pennantite, ripidolite, sudoite.
Crystal System
monoclinic
Uses
Very few industrial uses. Used as a filler and as a constituent of clay.
Find it on Geology.com

More from Geology.com
| | |
| --- | --- |
| Iolite is the gem variety of the mineral cordierite. An alternative to sapphire and tanzanite. | Beryl is the gem mineral of emerald, aquamarine, morganite, red beryl, heliodor and more. |
| 100+ Gems - Photos of over 100 beautiful gems ranging from the popular to the obscure. | |
| Tanzanite was unknown until a few decades ago but it has erupted into wide popularity. | Rock Gallery: Photos of igneous, sedimentary and metamorphic rocks. |
| Corundum is the third hardest mineral. It is also the mineral of ruby and sapphire. | Oil Shales in Australia, Brazil, Canada, China, Israel, Russia, Syria, United States and others. |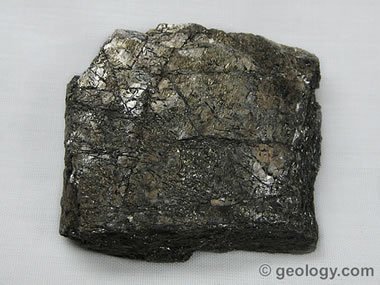 Chlorite from Quebec, Canada. This specimen is approximately 3 inches (7.6 centimeters) across.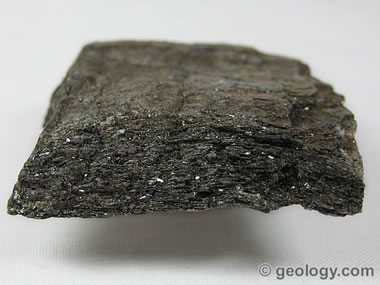 A side view of the layering of chlorite from Quebec, Canada. Specimen is approximately 3 inches (7.6 centimeters) across.