South Africa Energy Report
March 9, 2014 | Energy Information Administration
"South Africa has a large energy-intensive coal mining industry. The country has limited proved reserves of oil and natural gas and uses its large coal deposits to meet most of its energy needs. [...] South Africa also has a sophisticated synthetic fuels industry, producing gasoline and diesel fuels from coal-to-liquids and gas-to-liquids plants.

Angola Oil and Gas Report
February 11, 2014 | Energy Information Administration
"Angola is the second-largest oil producer in Sub-Saharan Africa, behind Nigeria. Angola has been the second-largest supplier of crude oil to China since 2005, behind Saudi Arabia. The United States, the European Union, and India are also major destinations for Angolan oil. U.S. imports of Angolan crude oil continue to decline because of increased U.S. production of similar quality crude grades. In mid-2013, Angola began exporting liquefied natural gas."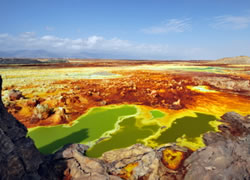 Image © iStockphoto and Matejh Photography.
The Strangest Volcanic Landscape
February 11, 2014 | Geology.com
One of the world's strangest volcanic landscapes is located 269 feet below sea level in the Danakil Depression of Ethiopia. It is the Dallol crater, where a phreatic eruption through salt created a maar with a colorful and caustic salt deposits.
Related: What is a Maar?

Congo Oil and Gas Report
February 9, 2014 | Energy Information Administration
"Congo (Brazzaville) is among the top five oil producers in Sub-Saharan Africa. Oil production comes almost entirely from offshore oil fields. Congo exports almost all of its oil production, and the largest recipients are China and the European Union." Quoted from the Energy Information Administration country analysis brief.

Popular for January 2013
February 2, 2014 | Geology.com
Hot Rock Under the Atlas Mountains
Big Rare Earth Find in North Korea?
Horizontal Well Density in the Utica Shale of Ohio
Big Blue Diamond Found in South Africa
Wow! The Best Snowflake Photos

Conflict Minerals
January 26, 2014 | National Geographic
National Geographic has an article about "conflict minerals". These are minerals that are mined or stolen for the purpose of supporting military operations, particularly in eastern Congo.

Big Blue Diamond Found in South Africa
January 23, 2014 | Reuters
A blue diamond about the size of an acorn and weighing 29.6 carats has been discovered in South Africa by Petra Diamonds.

Hot Rock Under the Atlas Mountains
January 14, 2014 | University of Southern California
"The Atlas Mountains defy the standard model for mountain structure in which high topography must have deep roots for support, according to a new study from Earth scientists at USC." Quoted from the University of Southern California press release.

USGS Image
The Largest Elephant Shrew
December 26, 2013 | National Geographic
Elephant shrew? Yes, there is such an animal and National Geographic has an article about tracking them in the jungles of Tanzania.

Shell Backs Out of Gas to Liquids Plant
December 15, 2013 | Bloomberg
Royal Dutch Shell was planning to spend $20 billion on a natural gas-to-liquids plant on the Gulf coast but cancelled the project. They are not new to this business as they own the largest gas-to-liquids plant in the world in Qatar and another one of the largest in Malaysia. They are also building the world's largest floating LNG plant for a field off the coast of Australia.
If you watch the news about natural gas you have seen a huge rush to permit LNG plants that will export natural gas out of the United States, other companies getting into the LNG and gas-to-liquids businesses, multiple natural gas developments off the coastlines of every continent but Antarctica, countries all over the world realizing that they have a huge amount of natural gas in shale, enormous amounts of gas being flared instead of captured and all of that is before we count gas in the polar regions and methane hydrates.

Hominid Fossils From the Rising Star Cave?
December 8, 2013 | Caving News
Cavers discovered a what appeared to be a human mandible and other bones while exploring a remove and tight portion of the Rising Star Cave in South Africa. Three weeks later a team of archaeologists had recovered over 1000 fossils with no end in sight.

Major Oil and Gas Discovery Offshore Angola
December 5, 2013 | Reuters
Cobalt International Energy reports a discovery off the coast of Angola that could hold 700 million to 1.1 billion barrels of oil equivalent.

The Demand for Emeralds is Rising
December 3, 2013 | CNN
"The price for high-quality emeralds has increased by a factor of 10 since 2009, and the price of Colombian emeralds is set to increase by at least 25% this year alone." Quoted from the CNN article.

First Known Zircon from Mars
November 21, 2013 | The Australian
"An analysis of one of the 70-odd Martian meteorites discovered so far, a chunk of rock found several years ago by Bedouins in the Sahara Desert, has revealed the first known fragments of zircon from the red planet." Quoted from The Australian press release.
Related: Meteorite Articles

The Worlds Largest Emerald Mine
November 14, 2013 | Gemfields Plc on YouTube
This video shows a few activities at Gemfields's Kagem Emerald Mine in Zambia.

Libya Oil and Gas Report
November 6, 2013 | Energy Information Administration
"Libya is a member of the Organization of the Petroleum Exporting Countries, the holder of Africa's largest proved oil reserves, and an important contributor to the global supply of light, sweet crude oil." Quoted from the Energy Information Administration country report.

Most Viewed News in October
November 1, 2013 | Geology.com
Egypt Fears a Dam on the Nile in Ethiopia
235 Carat Diamond Found in Siberia
Status of Recent Geoscience Graduates
Nice Yellow Diamond Found in Arkansas
What Caused the Sudden Explosion of Animal Life 520MYA?
Walking Away from One of the World's Largest Gold Discoveries?
Shell Walks Away from Oil Shale

Natural Gas Flaring from Space
October 30, 2013 | Geology.com
We have posted views of Earth from NASA's Suomi satellite that show night illumination and natural gas flaring for oil industry sites in the Bakken Formation, Eagle Ford Shale, Alaska North Slope, United States Gulf, Mexican Gulf, Venezuela Orinoco Field, Brazil offshore basins, North Sea, North Africa onshore, west Africa offshore, and Persian Gulf.

First Evidence for a Comet Striking Earth
October 8, 2013 | University of Witwatersrand
"The first ever evidence of a comet entering Earth's atmosphere and exploding, raining down a shock wave of fire which obliterated every life form in its path, has been discovered by a team of South African scientists and international collaborators." Quoted from the University of Witwatersrand press release.

Egypt Fears a Dam on the Nile in Ethiopia
October 1, 2013 | National Geographic
Ethiopia is building a hydroelectric dam on the Nile River. Downstream Egypt is concerned about a loss of water through evaporation, infiltration, irrigation and other diversions that could damage their economy and cause a loss of generating capacity at their Aswan hydroelectric project.

Icelandic Expertise for Ethiopian Geothermal
September 30, 2013 | Bloomberg.com
Iceland is a country with demonstrated expertise in developing geothermal energy of all types. Now an Icelandic company has agreed to a geothermal project that might bring up to 1,000 megawatts of capacity to Ethiopia.

Pipeline Sabotage in Nigeria
September 25, 2013 | Industry Week
Thieves damaged a crude oil pipeline in Nigera that will force Shell to stop exporting 150,000 barrels per day until a repair is completed. Oil companies operating in Nigeria are plagued with vandalism and theft.

Climate Change and the Spread of Malaria
September 25, 2013 | MIT News
"As public-health officials continue to fight malaria in sub-Saharan Africa, researchers are trying to predict how climate change will impact the disease, which infected an estimated 219 million people in 2010 and is the fifth leading cause of death worldwide among children under age 5." Quoted from the MIT press release.

Sapphire Mining in Madagascar
September 23, 2013 | Gemological Institute of America
The Gemological Institute of America has an article about mining sapphires from the Ilakaka-Sakaraha deposit – the world's largest sapphire producer.

Aquifers in Northern Kenya
September 11, 2013 | UNESCO
"Two aquifers – the Lotikipi Basin Aquifer and the Lodwar Basin Aquifer – were identified using advanced satellite exploration technology. Their existence was then confirmed by drilling conducted recently by UNESCO, but there is need for further studies to adequately quantify the reserves and to assess the quality of the water." Quoted from the UNESCO press release.