Roadside Geology Guides
March 9, 2014 | Geology.com Store
Since 1972 the "Roadside Geology" series has provided introductory information on the geology of states and small regions of the United States.
The books provide a combination of maps, travel logs, photos and commentary for the geology that can be seen along highways or visited at parks and public viewing areas. They are popular with geologists, teachers, students and others who are interested in the Earth.

What is a Maar?
March 6, 2014 | Geology.com
Maars are the second most common volcanic feature on Earth.
The largest maars are found on the Seward Peninsula of Alaska. Do you know what they are and how they form?

Oil Reserves Growth
March 6, 2014 | Energy Information Administration
These charts show how proved oil reserves have been increasing in some parts of the United States – especially in North Dakota.

Hunting Landslides in Alaska
March 2, 2014 | Wired Science
"You might think it'd be hard not to notice 68 million tons of rock and debris suddenly crashing down a mountainside. But when one of the biggest landslides of the past four years occurred in a remote region of Alaska, researchers knew almost everything about it except its exact location." Quoted from Adam Mann's blog post on Wired Science.

Rock Avalanche at Mount La Perouse
February 25, 2014 | The Landslide Blog
The Landslide Blog has aerial photos and commentary on a rock avalanche that ran out about three miles over a glacier along the flank of Mount La Perouse in southeastern Alaska.

No Earthquake Deaths in Alaska Since 1964
February 23, 2014 | Anchorage Daily News
The last deadly earthquake in Alaska occurred in 1964. It killed 131 people in Alaska and 16 more by tsunamis in Oregon and California. In the last 50 years there have been no earthquake deaths in Alaska even though several large earthquakes have occurred. Has that been luck?

Perspectives on Exporting US Crude?
February 13, 2014 | UPI
A US Senator from Alaska says… "Opening up world markets to U.S. crude oil will lower the global price, which will in turn lower the global prices for petroleum products."
A US airlines industry VP says… "Exporting U.S. crude makes little sense. [...] If we allow for the export of U.S. crude, we'll have to import more oil from overseas and subject ourselves, once again, to an increasing degree of price volatility and higher global prices."
The idea of exporting US crude hits different people different ways. Alaska has a surplus of oil and exporting it to Asia is as easy as delivering it to California. The airlines company owns a refinery in the eastern United States.

The Largest US Earthquake
January 21, 2014 | USGS on YouTube
USGS has released a new video that looks back at the Magnitude 9.2 event now known as "The 1964 Great Alaska Earthquake and Tsunami". This event changed scientific understanding of earthquakes because it was the first major earthquake that was studied from a plate tectonics perspective.

Aurorae Over Alaska
December 19, 2013 | USA.gov
The USA.gov blog has a number of photos of aurorae over Alaska from the Bureau of Land Management.

Volcanic Lightning in a Lab?
December 19, 2013 | National Geographic
National Geographic has a video that shows a laboratory simulation of volcanic lightning in a lab. See volcanic lightning in Alaska here.

Climate Change at Point Barrow Alaska
December 4, 2013 | PBS NewsHour
This PBS Newshour video explores the impact of climate change on the landscape, people and wildlife of Point Barrow Alaska.

What is It Like to Work for GeoCorps?
November 25, 2013 | Speaking of Geoscience Blog
The GSA Speaking of Geoscience blog has an interesting report from Amy Atwater who served as a GeoCorps Paleontology participant at Denali National Park and Preserve.

Natural Gas Flaring from Space
October 30, 2013 | Geology.com
We have posted views of Earth from NASA's Suomi satellite that show night illumination and natural gas flaring for oil industry sites in the Bakken Formation, Eagle Ford Shale, Alaska North Slope, United States Gulf, Mexican Gulf, Venezuela Orinoco Field, Brazil offshore basins, North Sea, North Africa onshore, west Africa offshore, and Persian Gulf.

Activity at Veniaminof
October 13, 2013 | Alaska Volcano Observatory
"The latest phase of the 2013 eruption of Veniaminof resumed on October 6, 2013 after a month-long pause in activity. Similar to activity observed during the summer of 2013, the eruption is characterized by lava effusion and fountaining and production of intermittent small steam, gas, and ash plumes that rise hundreds of feet above the active vent." Quoted from the AVO weekly report.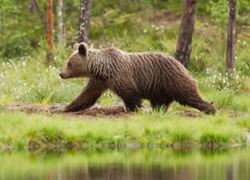 Image © iStockphoto/IndrekV
Bear Attack!
October 11, 2013 | Geology.com
If you spend time in bear country knowing how to react to a bear encounter and what to do if you are attacked could save your life.
If you don't know where bears live here is a map of the geographic ranges for black, grizzly and polar bears in North America.

Walking Away from One of the World's Largest Gold Discoveries?
September 30, 2013 | Businessweek.com
A speculative article on Bloomberg Businessweek explores why Anglo American walked away from six years of work and an investment of 1/2 billion dollars in what might become one of the world's richest gold mines.

National Park Service Image
Mount McKinley Shrinks by 83 Feet
September 17, 2013 | CNN
New measurements made by Alaska's Statewide Mapping Initiative and the United States Geological Survey have placed a new altitude on the summit of Mount McKinley, America's highest mountain. It's official height is now 20,237 feet instead of the previous 20,320 feet. (It didn't really "shrink". Just better measurement methods.)

Tundra Recovering from a Massive Fire
September 15, 2013 | University of Alaska Fairbanks
"Despite the size and severity of the massive 2007 Anaktuvuk River fire on Alaska's North Slope, much of the arctic vegetation has recovered and the tundra is likely to return to its pre-fire condition." Quoted from the University of Alaska Fairbanks press release.

Potential Tsunami Impact on Southern California from an Alaska Earthquake
September 8, 2013 | USGS
"The Science Application for Risk Reduction tsunami scenario depicts a hypothetical but plausible tsunami created by an earthquake offshore from the Alaska Peninsula and its impacts on the California coast. " Quoted from the USGS Newsroom.

400 New Topo Maps for Alaska
September 4, 2013 | United States Geological Survey
"More than 400 new topographic maps are now available for the state of Alaska. The new maps are part of the U.S. Geological Survey Alaska Mapping Initiative, to update foundational data for the state and to replace the existing maps that are about 50 years old." Quoted from the USGS Newsroom.

Detecting Large Landslides in Remote Areas
September 4, 2013 | NASA Earth Observatory
"Even when they occur in remote areas, large landslides can dam rivers and lead to devastating downstream floods. [...]
Automated earthquake detection systems are tuned to monitor intense, "short-period" waves produced by sudden slips along tectonic faults. Landslides produce seismic waves as well, though their short-period signal is weak. Instead, they make powerful long-period waves that are sometimes detectable at great distances." Quoted from the Earth Observatory article.

Lava-Ice Interactions at Veniaminof Volcano in Alaska
September 1, 2013 | Eruptions Blog
Erik Klemetti comments on recent photos from Veniaminof Volcano located on the Alaska Peninsula about 500 miles southwest of Anchorage.

Frozen Landslides in Alaska
August 21, 2013 | Alaska Dispatch
A slow-moving landslide of ice and frozen debris heading towards the Dalton Highway could cut off the only ground access to the North Slope oil fields. This is one of many frozen landslides causing problems in Alaska

Screaming Volcanoes?
July 17, 2013 | University of Washington
The University of Washington has a press release titled: "Some volcanoes 'scream' at ever-higher pitches until they blow their tops" that explains new research on harmonic tremors.

Strongest Seismic Activity of 2013 at Pavlof
June 25, 2013 | Alaska Volcano Observatory
"Vigorous eruptive activity indicated by a distinct increase in seismicity beginning around 6:50 UTC (22:50 AKDT) last evening is continuing. The level of seismicity for the past 11-12 hours has been the strongest seismic activity detected so far during the 2013 eruption of Pavlof Volcano." Quoted from the Alaska Volcano Observatory.