Rare Earths in Seafloor Nodules Off Bermuda?
April 10, 2014 | Bermuda's The Royal Gazette
Some mineral experts say that Bermuda's Exclusive Economic Zone has a rich resource of polymetallic nodules that are rich in rare earth elements.
Related: What are Rare Earth Elements?

Trailing the Canaries
April 7, 2014 | NASA Earth Observatory
A NASA Earth Observatory image titled: "Trailing the Canaries" has been voted the winner of the Tournament Earth contest.
"The play of light on water can reveal overlooked details and nuances to photographers and artists on Earth. The same thing can happen when looking from space. In June 2013, sunglint revealed wind and wave patterns in the wake of the Canary Islands." Quoted from the contest results.

The Nicaragua Canal?
April 3, 2014 | National Geographic
A National Geographic article describes and maps the canal that will likely be built in Nicaragua by a Chinese company to compete with the Panama Canal.

Protecting the Sargasso Sea
March 18, 2014 | National Geographic
National Geographic has an interesting article that will introduce you to the Sargasso Sea and explain why five countries signed an agreement last week to protect it.

Image by U.S. Fish and Wildlife Service

A Canal Across Nicaragua?
February 25, 2014 | National Geographic
National Geographic has an article about a Chinese plan to build a canal across Central America that will pass through Nicaragua and compete with the Panama Canal.

The War on Lionfish as an Invasive Species
February 16, 2014 | Oregon State University
"With venomous spines, no natural predators in the Atlantic Ocean, and aggressive behavior, the lionfish have been shown to eat almost anything smaller than they are – fish, shrimp, crabs and octopus." Quoted from the Oregon State University press release.

Perpetual Ocean Video
February 9, 2014 | NASA on YouTube.com
"This visualization shows ocean surface currents around the world during the period from June 2005 through Decemeber 2007. The visualization does not include a narration or annotations; the goal was to use ocean flow data to create a simple, visceral experience." Quoted from the NASA YouTube Channel.

A Glacial Speed Record
February 9, 2014 | National Geographic
The Jakobshavn Glacier, which is thought to have produced the iceberg that sank the Titanic is moving about 4x as fast as it was in the 1990s.

USGS Publishes Fire Island Coastal Change Website
December 22, 2013 | USGS
The United States Geological Survey has a new website that documents coastal change that is occurring on Fire Island, where winds and waves are modifying the beaches and dunes of the barrier island.
Data is also presented on how Hurricane Sandy modified the island.
Image at right by USGS.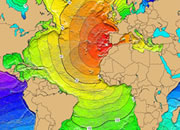 Image by NOAA
Canary Island Landslides and Atlantic Ocean Tsunami Generation
December 17, 2013 | National Oceanography Centre
"The risk posed by tsunami waves generated by Canary Island landslides may need to be re-evaluated, according to researchers at the National Oceanography Centre. Their findings suggest that these landslides result in smaller tsunami waves than previously thought by some authors, because of the processes involved." Quoted from a National Oceanography Centre press release.
Related: Atlantic Ocean Tsunamis

Partial Solar Eclipse Visible on Sunday Morning from the East Coast
November 1, 2013 | NASA
"The final event of 2013 is the most interesting eclipse of the year. It is one of the rare hybrid or annular/total eclipses in which some sections of the path are annular while other parts are total. The duality comes about when the vertex of the Moon's umbral shadow pierces Earth's surface at some locations, but falls short of the planet along other sections of the path." Quoted from the NASA website.
People as far west as Pittsburgh should be able to see the eclipse. Observing from the east coast.

Why Does it Rain More in the Northern Hemisphere?
October 30, 2013 | University of Washington
"It rains more in the Northern Hemisphere because it's warmer," said corresponding author Dargan Frierson, a UW associate professor of atmospheric sciences. "The question is: What makes the Northern Hemisphere warmer? And we've found that it's the ocean circulation." Quoted from the University of Washington press release.

Natural Gas Flaring from Space
October 30, 2013 | Geology.com
We have posted views of Earth from NASA's Suomi satellite that show night illumination and natural gas flaring for oil industry sites in the Bakken Formation, Eagle Ford Shale, Alaska North Slope, United States Gulf, Mexican Gulf, Venezuela Orinoco Field, Brazil offshore basins, North Sea, North Africa onshore, west Africa offshore, and Persian Gulf.

The Costs of Superstorm Sandy
October 29, 2013 | USA Today
One year later, a tally of the cost of Superstorm Sandy in dollars, lives, homes, power and more.

How Sandy Changed Storm Warnings
October 24, 2013 | EarthMagazine.org
Earth Magazine recently published an article titled: "A hurricane by any other name: How Sandy changed the way we issue storm warnings".

Turning an Invasive Species into a Source of Income
October 6, 2013 | National Geographic
The lionfish is an extremely aggressive predator that has been changing marine life populations since it was accidentally introduced to the western Atlantic and Caribbean in the 1980s. Now, the fish is being targeted by the fishing industry, turning the predator into a source of income.

Satellite Image of Two Storms Hitting Mexico
September 18, 2013 | NASA Earth Observatory
"With 5,800 miles of coastline surrounded by warm tropical and subtropical waters, Mexico is no stranger to tropical storms. But on September 15-16, 2013, the country experienced a rare double strike as two storms moved ashore simultaneously, one from the Pacific and one from the Atlantic." Quoted from the Earth Observatory image release.

The Need for Unmanned Underwater Vehicles
September 18, 2013 | Boeing on YouTube
This video from Boeing explains why unmanned underwater vehicles are important for exploring the depths of the ocean and for performing many underwater tasks.

Micronutrient Plumes from Hydrothermal Vents
September 16, 2013 | Woods Hole Oceanographic Institution
"Scientists have discovered a vast plume of iron and other micronutrients more than 1,000 km long billowing from hydrothermal vents in the South Atlantic Ocean. The finding [...] calls past estimates of iron abundances into question, and may challenge researchers' assumptions about iron sources in the world's seas." Quoted from the Woods Hole Oceanographic Institution press release.

Adrift
September 5, 2013 | Adrift
An interesting website is "Adrift" (Adrift.org.au). On this site you can click on a point in the ocean and a computer model will map the direction that floating debris would travel – both forward in time and backwards.

Tsunami on the Delaware River?
September 4, 2013 | United States Geological Survey
"Imagine the Delaware River abruptly rising toward Philadelphia in a tsunami-like wave of water. Scientists now propose that this might not be a hypothetical scenario. A newly published paper concludes that a modest (one-foot) tsunami-like event on the East Coast was generated in the past by a large offshore earthquake. This result may have potential ramifications for emergency management professionals, government officials, businesses and the general public." Quoted from the USGS Newsroom.

Secrets of Whale Shark Migration
August 27, 2013 | National Geographic
National Geographic has a story that explores the migration habits of the world's largest fish – the whale shark – that can grow to lengths of up to 40 feet and weigh up to 5 tons.

Recovering 60 Tons of Silver from 3 Miles of Water
August 5, 2013 | Today.com
Last month Odyssey Marine Exploration recovered 60 tons of silver off the coast of Ireland. The silver was on the SS Gairsoppa, a British steamship that was sunk by a German U-Boat in 1941 – in waters three miles deep.

Atlantic White Shark Study
August 4, 2013 | Woods Hole Oceanographic Institution
"This particular project will be the most in-depth study of Atlantic white sharks conducted to date," President of the Woods Hole Oceanographic Institution Susan Avery says.

An Embryonic Subduction Zone in the Atlantic?
July 31, 2013 | Monash University
"A new subduction zone forming off the coast of Portugal heralds the beginning of a cycle that will see the Atlantic Ocean close as continental Europe moves closer to America." Quoted from the Monash University press release.

Impact of Eyjafjallajokull On Ocean Biology
May 17, 2013 | University of Southampton
Research at the University of Southampton determined that the 2010 eruption of Eyjafjallajökull supplied dissolved iron to a large area of the North Atlantic. This stimulated photoplankton growth but the abundance of iron caused the rapid removal of biological nitrate which applied a throttle on the phytoplankton.

Aerial Views of the Mid-Atlantic Ridge
March 28, 2013 | The Landslide Blog
Dave Petley shares some aerial photographs of the Mid-Atlantic Ridge taken from a helicopter over Iceland.