Zoom in on the San Andreas Fault
December 5, 2013 | Geology.com
After being down for a couple of days for a software update, our interactive San Andreas Fault map is back in action. You can use it to follow the approximate trace of the fault from the Salton Sea in Southern California to near Shelter Cove, north of San Francisco. For more information about the San Andreas Fault visit SanAndreasFault.org, a website by Dr. David Lynch, who provided data used to make the interactive map.

Wall Maps of US States
December 1, 2013 | Geology.com Store
Raven Maps are beautiful examples of shaded-relief wall maps that display the elevation of a state in vibrant colors. These large maps look great in a classroom, den or office. Use one to mark the locations of your work or company.

Roadside Geology Guides
November 25, 2013 | Geology.com Store
Since 1972 the "Roadside Geology" series has provided introductory information on the geology of states and small regions of the United States.
The books provide a combination of maps, travel logs, photos and commentary for the geology that can be seen along highways or visited at parks and public viewing areas. They are popular with geologists, teachers, students and others who are interested in the Earth.

Bill Magee the Gem Miner
November 24, 2013 | YouTube.com
An interesting video about Bill Magee, a gem miner who lived and found lots of gems in southern California. (His big find – about 1 1/2 tons of morganite crystals – is at about 22:30.)

Wildfire Areas at Risk for Flash Floods and Debris Flows
November 11, 2013 | USGS
Although USGS does a lot of work related to wildfires, they also have a prominent role in providing information about flash flooding and debris flows in areas that have been burned.

More Problems at Paseo del Mar Landslide?
November 11, 2013 | DailyBreeze.com
"A newly unearthed crack in the Paseo del Mar landslide area has reignited debate over a $28.8 million plan to reconnect the collapsed roadway." Quoted from DailyBreeze.com.

Premium Satellite Prints: Save Up To $60
November 9, 2013 | MyTopo.com
MyTopo recently upgraded and enhanced its satellite imagery. Now, you can order custom satellite prints of the same image quality you see on sites like Bing, Zillow, and Google. Get a custom print of your favorite park, lake, peak, farm, neighborhood, hunting cabin, or baseball field (yep, that's Fenway Park for you Red Sox fans).
These custom prints are a perfect holiday gift. Create your Premium Satelitte Print today, and save up to $60 on your order. Prices are discounted at checkout. Offer good until midnight on Nov. 21, 2013.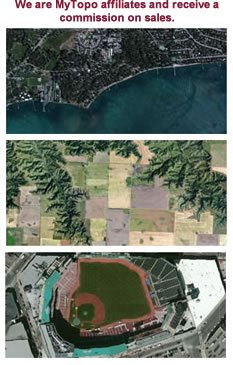 We are affiliates of MyTopo and receive a commission on sales.

Southern California Fireball
November 7, 2013 | Los Angeles Times
Last night a fireball streaked across Southern California and was seen by people in Arizona, California, Nevada and Utah. Dr. Laura Danly of the Griffith Observatory explains in this video.

What is Petrified Wood?
October 27, 2013 | Geology.com
Petrified Wood is a fossil that forms when dissolved materials in groundwater precipitate and petrify woody material.

Salaries and Employment Locations of Recent Geoscience Graduates
October 24, 2013 | American Geosciences Institute
AGI's National Geoscience Student Exit Survey asked recent degree recipients about their employment location and starting salaries. The top four employment states reported were Texas, California, Oklahoma and Colorado.

High School Student Found an Exceptional Duck-Billed Dinosaur
October 23, 2013 | Los Angeles Times
On a field trip in 2009, Kevin Terris, then a high school student, found a few bones while on a field trip. The find was actually "the youngest, the smallest and also the most complete skeleton known for Parasaurolophus" ever found according to Andrew Farke, curator of the Raymond M. Alf Museum of Paleontology.

Potential of the Monterey Shale?
October 17, 2013 | National Journal
The Monterey Shale may have five times more oil than the Bakken but so far it resists production with current methods.

Giant Oarfish
October 17, 2013 | StarTribune.com
"A marine science instructor snorkeling off the Southern California coast spotted something out of a fantasy novel: the silvery carcass of an 18-foot-long, serpent-like oarfish." Quoted from the StarTribune.com

TopoPhotos
October 17, 2013 | MyTopo.com
The folks at MyTopo.com are now printing TopoPhotos. They are aerial photographs with contour lines and topographic map annotations lightly superimposed. They give you the advantages of an aerial photograph but also include the elevation, road and place name details of a topographic map. You can use their website to order a TopoPhoto centered anywhere in the United States and have it printed in a variety of sizes in either landscape or portrait orientation. You can print them up to a huge 8′ x 5′ (or 5′ x 8′) in size.
We are affiliates of MyTopo.com and receive a commission on sales.

Earthquake Risk and Concrete Structures in Los Angeles
October 13, 2013 | LA Times
A Los Angeles Times analysis reports that more than 1000 concrete buildings in the city could be at risk of collapsing from the lateral motions of a future earthquake.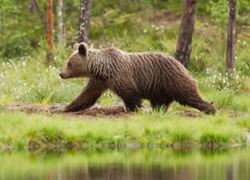 Image © iStockphoto/IndrekV
Bear Attack!
October 11, 2013 | Geology.com
If you spend time in bear country knowing how to react to a bear encounter and what to do if you are attacked could save your life.
If you don't know where bears live here is a map of the geographic ranges for black, grizzly and polar bears in North America.

How Earthquake Early Warning Systems Work
September 30, 2013 | National Geographic
National Geographic has an article that explains how an earthquake early warning system can work and the benefits that it can bring to an urban area.

Tight Rock and Tight Regulations Could Limit the Monterey Shale
September 24, 2013 | Barrons.com
The Monterey Shale of California might hold more oil than all of the other onshore shale plays in the United States; however, the oil might be hard to produce because of technical and regulatory reasons.

Earthquake Warning System Video
September 18, 2013 | ABC News
An early warning system is available to give citizens a few seconds notice by smartphone before the seismic waves arrive. The system needs $23 million to launch and $12 million per year to operate.

Frogs vs Marijuana Farmers in California
September 12, 2013 | BPS
Illegal marijuana plots hidden in the Santa Monica Mountains outside of Los Angeles are limiting the ability of the National Park Service to relocate endangered frog species to more sustainable habitats.