Alberta Shale Resources
December 6, 2013 | Alberta Geological Survey
The Alberta Geological Survey has published Summary of Alberta's Shale- and Siltstone-Hosted Hydrocarbon Resource Potential. This is a 339-page publication with lots of maps, data and descriptive information.
You will find this report as item OFR 2012-06 on the linked page. The landing page also lists dozens of other reports on digital data, organic petrography, rock evaluation, geochemistry, pycnometry and more.

Most Popular Items for November
December 2, 2013 | Geology.com
The World's Largest Emerald Mine
New Volcanic Island Southeast of Japan
The Enormous Volcanic Eruption that Historians Never Recorded
A Super River from the Southwestern United States to the Labrador Sea?
Comet Ison is Visible to the Naked Eye

Natural Gas Flaring from Space
October 30, 2013 | Geology.com
We have posted views of Earth from NASA's Suomi satellite that show night illumination and natural gas flaring for oil industry sites in the Bakken Formation, Eagle Ford Shale, Alaska North Slope, United States Gulf, Mexican Gulf, Venezuela Orinoco Field, Brazil offshore basins, North Sea, North Africa onshore, west Africa offshore, and Persian Gulf.

World Shale Gas Leaders
October 29, 2013 | Energy Information Administration
"The United States and Canada are the only major producers of commercially viable natural gas from shale formations in the world, even though about a dozen other countries have conducted exploratory test wells." Quoted from the Energy Information Administration article.

Shale Oil to Hudson Bay and on to Europe??
October 27, 2013 | E & E Publishing
E & E Publishing has a new article titled: Moving shale oil across melting tundra: huge and potentially risky business. It concerns a proof-of-concept transport of oil by rail from wells in the Bakken Shale and Alberta Oil sands to a Hudson Bay port for shipment to Europe. This is another alternative for a failing Keystone XL pipeline effort.

LNG on the Canadian Pacific Coast
October 17, 2013 | Financial Post
Ten LNG plants have been proposed to convert natural gas into a liquid and ship it to overseas markets from Canada's Pacific coast.
Related: What is LNG?

LNG Projects Map
October 15, 2013 | American Petroleum Institute
The American Petroleum Institute has produced an interactive map of the United States and Canada that shows the locations of LNG Export facilities that are approved or pending. There is currently a rush to permit and bring these facilities online because natural gas in the United States is much cheaper than in most other parts of the world.
Related: What is LNG?

Landslide Near the University of British Columbia
October 15, 2013 | University of British Columbia
A landslide about 100 yards wide occurred on a shoreline near the University of British Columbia campus in Vancouver.
Related: Landslides!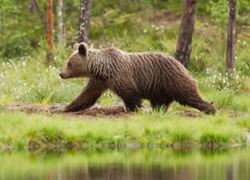 Image © iStockphoto/IndrekV
Bear Attack!
October 11, 2013 | Geology.com
If you spend time in bear country knowing how to react to a bear encounter and what to do if you are attacked could save your life.
If you don't know where bears live here is a map of the geographic ranges for black, grizzly and polar bears in North America.

Canadian Oil Sand Crude by Rail
October 3, 2013 | Marketwatch
The Reuters story above shows that crude oil can be transported long distances by rail – from North Dakota to Philadelphia.
Another story on Marketwatch explains how rail could be used to transport Canadian oil sands crude if the Keystone XL pipeline is not built.

600 Million Barrel Discovery off Newfoundland?
September 29, 2013 | Statoil.com
Statoil Canada and co-venturer Husky Energy have announced that the first Bay du Nord exploration well has discovered between 300 and 600 million barrels of recoverable oil off the coast of Newfoundland.

The First Large LNG Export Facility on the Canadian Pacific Coast
September 23, 2013 | FinancialPost.com
Chevron Canada is moving aggressively to develop shale gas resources in western Canada and export the gas to Asia from an LNG plant on the Pacific coast.
Related: What is LNG?

Shipping LNG from Canada to Asia?
September 10, 2013 | Bloomberg.com
BG Group plans to build a pipeline from Canadian natural gas fields to the Pacific coast where the gas will be converted into LNG for shipment to Asian markets.
Related: What is LNG?

Cause of the Younger Dryas Cooling?
September 9, 2013 | Scientific American
Although they face disagreement a group of researchers believe that an asteroid impact in Canada about 11,600 to 12,900 years ago caused the Younger Dryas cooling.

Niagara Falls Without Water
September 5, 2013 | NBC News
NBC News has a collection of photo of Niagara Falls from 1969 when the flow of water to the American Falls was diverted over the Horseshoe Falls or to the Robert Moses power plant.

Plankton Bloom in Lake Ontario
September 2, 2013 | NASA Earth Observatory
"This photograph taken by an astronaut on the International Space Station highlights a late summer plankton bloom across much of Lake Ontario, one of North America's Great Lakes. Microscopic cyanobacteria, or blue-green algae, can reach such large concentrations and color the water to such an extent that the change is visible from orbit." Quoted from the Earth Observatory website.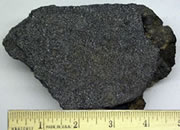 Argonne Labs Image
Exxon Buys Oil Sands from ConocoPhillips
August 14, 2013 | Reuters
ConocoPhillips is selling it stake in the Clyden oil sands leasehold near Alberta, Canada to ExxonMobil for $720 million. Exxon already has invested $11 billion in Canadian oil sand projects.
Related: What are Oil Sands?

Sinkhole Photos – Wow!
July 30, 2013 | The Atlantic
This has to be the most impressive collection of sinkhole photos ever assembled.

The Geologist Who Discovered Canadian Diamonds
July 28, 2013 | Wired Magazine
An article in Wired Magazine (2008) has the interesting story about Chuck Fipke and his role in discovering the Lac de Gras diamond deposit in Northwest Territories, Canada.
Related: Diamond Mines in Canada

Top Diamond Producers
July 18, 2013 | Geology.com
Botswana, Russia and Canada retained their positions as the top three gem quality diamond producers for 2012 according to production estimates from the United States Geological Survey.
Related: Diamond Mines in Canada