Rising Natural Gas Prices in Ontario
April 20, 2014 | Toronto Star
An article in the Toronto Star explains how homeowners in Ontario are seeing a rapid rise in their natural gas heating costs.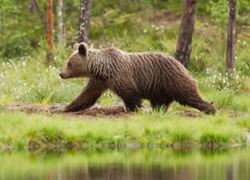 Image © iStockphoto/IndrekV
Bear Attack!
April 15, 2014 | Geology.com
If you spend time in bear country knowing how to react to a bear encounter and what to do if you are attacked could save your life.
If you don't know where bears live here is a map of the geographic ranges for black, grizzly and polar bears in North America.

Phillips Acquires a License to Export US Crude
April 15, 2014 | Reuters
Amid the debate about exporting United States crude oil, Phillips has obtained a license to export crude from the United States into Canada.

Burning Marcellus Gas in Ontario
April 10, 2014 | BizJournals
About 30 percent of the natural gas used in the Province of Ontario, Canada is produced from the Marcellus Shale.

Rivers Play Role in Arctic Sea Ice Melt
March 13, 2014 | NASA
"The heat from warm river waters draining into the Arctic Ocean is contributing to the melting of Arctic sea ice each summer. [...] NASA used satellite data to measure the surface temperature of the waters discharging from a Canadian river into the icy Beaufort Sea during the summer of 2012. They observed a sudden influx of warm river waters into the sea that rapidly warmed the surface layers of the ocean, enhancing the melting of sea ice."

The Largest Graphite Mine Outside of China?
March 9, 2014 | NorthBayNipissing.com
The Ontario Graphite mine is being reopened and management believes that it will become the largest graphite mine outside of China. Graphite economics have improved since the previous owner closed the mine in 1994.

Ice-Free Shipping Through the Arctic
March 6, 2014 | Nature.com
A post on the Nature News Blog reports that by 2030 the Norther Sea Route through the Arctic Ocean above Eurasia is expected to be navigable for nine weeks per year. The Northwest Passage through the Canadian Arctic Archipelago is expected to be navigable for five weeks per year.

2012 Crude Trade Within the Americas
February 9, 2014 | Energy Information Administration
The Energy Information Administration recently published their annual Liquid Fuels and Natural Gas in the Americas report. It includes the map below showing the flow of crude oil within the Americas during 2012.

Exxon to Move Oil Sand Crude by Rail?
February 4, 2014 | FuelFix.com
Exxon Mobil decided that they would build a rail terminal to transport between 100,000 and 250,000 barrels of oil sand crude per day out of the production location in Alberta, Canada.

Keystone XL Southern Leg Carries First Oil
January 26, 2014 | FuelFix
The southern leg of the Keystone XL pipeline started carrying about 300,000 barrels of oil per day and is expected to carry over 500,000 barrels per day by the end of this year. With a total capacity of 700,000 barrels per day this pipeline could easily be filled with USA crude before it reaches the Canadian border.

How Hard Will Vancouver Shake?
January 21, 2014 | The Vancouver Sun
"New research is shaking up the entire notion of what could happen to the Vancouver area during an earthquake, indicating bridges and tall buildings would rattle and sway a whole lot more than previously thought." Quoted from The Vancouver Sun article.

Why Was It So Cold Last Week?
January 12, 2014 | Climate.gov
An article on Climate.gov explains why a large mass of dense, extremely cold air flowed over much of the United States last week.
From the article… "Meteorologists have known for years that the pattern of the polar vortex determines how much cold air escapes from the Arctic and makes its way to the U.S. during the winter."

Steam Fog Streaming from the Great Lakes
January 9, 2014 | NASA Earth Observatory
"A swirling mass of Arctic air moved south into the continental United States in early January 2014. On January 3, the air mass began breaking off from the polar vortex, a semi-permanent low-pressure system with a center around Canada's Baffin Island. The frigid air was pushed south into the Great Lakes region by the jet stream, bringing abnormally cold temperatures to many parts of Canada and the central and eastern United States.
When the cold air passed over the relatively warm waters of Lake Michigan and Lake Superior, the contrast in temperatures created a visual spectacle. As cold, dry air moved over the lakes, it mixed with warmer, moister air rising off the lake surfaces, transforming the water vapor into fog—a phenomenon known as steam fog." Quoted from NASA's Earth Observatory.

Most Popular Items for December
January 2, 2014 | Geology.com
Landslide on an Incredible Scale
Failure of the Midcontinent Rift
Zoom in on the San Andreas Fault
Size of the Yellowstone Magma Chamber Severely Underestimated?
Salaries and Employment of Recent Geoscience Graduates
The Largest Recorded Fault Slip

Message in a Bottle in the Canadian Arctic
December 29, 2013 | The Chronicle Herald
Messages in a bottle are usually found at beaches, however, one was recently found in a rock cairn on Ward Hunt Island, the closest land point in Canada to the North Pole. The message was dated 1959 and asked the finder to help document evidence of climate change.

The Increasing Importance of Railroads to the Energy Sector
December 19, 2013 | The Oklahoman
An article on The Oklahoman website explains the growing importance of railroads to the energy sector. More crude oil and frac sand are being shipped by rail today than ever before.

What is Ammolite?
December 17, 2013 | Geology.com
Ammolite is a trade name given to a thin iridescent aragonite shell material that is found on two species of extinct ammonite fossils (Placenticeras meeki and Placenticeras intercalare). Gem-quality Ammolite produces a spectacular display of iridescent color when it is observed in reflected light. The colors of an individual stone can run the full range of the visible spectrum or be limited to just one or two colors. The color display can rival fine opal and labradorite in its intensity and beauty.

Coloured Gemstone Deposits in the Yukon
December 10, 2013 | Yukon Geological Survey
Nice publications on the geology of gemstones are rare. Here is a nice open file report from the Yukon Geological Survey.
It is Open File Report 2004-10, "EXPLORATION CRITERIA FOR Coloured Gemstone Deposits in the Yukon" by Lori Walton.

Alberta Shale Resources
December 6, 2013 | Alberta Geological Survey
The Alberta Geological Survey has published Summary of Alberta's Shale- and Siltstone-Hosted Hydrocarbon Resource Potential. This is a 339-page publication with lots of maps, data and descriptive information.
You will find this report as item OFR 2012-06 on the linked page. The landing page also lists dozens of other reports on digital data, organic petrography, rock evaluation, geochemistry, pycnometry and more.

Most Popular Items for November
December 2, 2013 | Geology.com
The World's Largest Emerald Mine
New Volcanic Island Southeast of Japan
The Enormous Volcanic Eruption that Historians Never Recorded
A Super River from the Southwestern United States to the Labrador Sea?
Comet Ison is Visible to the Naked Eye

Natural Gas Flaring from Space
October 30, 2013 | Geology.com
We have posted views of Earth from NASA's Suomi satellite that show night illumination and natural gas flaring for oil industry sites in the Bakken Formation, Eagle Ford Shale, Alaska North Slope, United States Gulf, Mexican Gulf, Venezuela Orinoco Field, Brazil offshore basins, North Sea, North Africa onshore, west Africa offshore, and Persian Gulf.

World Shale Gas Leaders
October 29, 2013 | Energy Information Administration
"The United States and Canada are the only major producers of commercially viable natural gas from shale formations in the world, even though about a dozen other countries have conducted exploratory test wells." Quoted from the Energy Information Administration article.

Shale Oil to Hudson Bay and on to Europe??
October 27, 2013 | E & E Publishing
E & E Publishing has a new article titled: Moving shale oil across melting tundra: huge and potentially risky business. It concerns a proof-of-concept transport of oil by rail from wells in the Bakken Shale and Alberta Oil sands to a Hudson Bay port for shipment to Europe. This is another alternative for a failing Keystone XL pipeline effort.

LNG on the Canadian Pacific Coast
October 17, 2013 | Financial Post
Ten LNG plants have been proposed to convert natural gas into a liquid and ship it to overseas markets from Canada's Pacific coast.
Related: What is LNG?

LNG Projects Map
October 15, 2013 | American Petroleum Institute
The American Petroleum Institute has produced an interactive map of the United States and Canada that shows the locations of LNG Export facilities that are approved or pending. There is currently a rush to permit and bring these facilities online because natural gas in the United States is much cheaper than in most other parts of the world.
Related: What is LNG?

Landslide Near the University of British Columbia
October 15, 2013 | University of British Columbia
A landslide about 100 yards wide occurred on a shoreline near the University of British Columbia campus in Vancouver.
Related: Landslides!

Canadian Oil Sand Crude by Rail
October 3, 2013 | Marketwatch
The Reuters story above shows that crude oil can be transported long distances by rail – from North Dakota to Philadelphia.
Another story on Marketwatch explains how rail could be used to transport Canadian oil sands crude if the Keystone XL pipeline is not built.

600 Million Barrel Discovery off Newfoundland?
September 29, 2013 | Statoil.com
Statoil Canada and co-venturer Husky Energy have announced that the first Bay du Nord exploration well has discovered between 300 and 600 million barrels of recoverable oil off the coast of Newfoundland.

The First Large LNG Export Facility on the Canadian Pacific Coast
September 23, 2013 | FinancialPost.com
Chevron Canada is moving aggressively to develop shale gas resources in western Canada and export the gas to Asia from an LNG plant on the Pacific coast.
Related: What is LNG?

Shipping LNG from Canada to Asia?
September 10, 2013 | Bloomberg.com
BG Group plans to build a pipeline from Canadian natural gas fields to the Pacific coast where the gas will be converted into LNG for shipment to Asian markets.
Related: What is LNG?

Cause of the Younger Dryas Cooling?
September 9, 2013 | Scientific American
Although they face disagreement a group of researchers believe that an asteroid impact in Canada about 11,600 to 12,900 years ago caused the Younger Dryas cooling.

Niagara Falls Without Water
September 5, 2013 | NBC News
NBC News has a collection of photo of Niagara Falls from 1969 when the flow of water to the American Falls was diverted over the Horseshoe Falls or to the Robert Moses power plant.

Plankton Bloom in Lake Ontario
September 2, 2013 | NASA Earth Observatory
"This photograph taken by an astronaut on the International Space Station highlights a late summer plankton bloom across much of Lake Ontario, one of North America's Great Lakes. Microscopic cyanobacteria, or blue-green algae, can reach such large concentrations and color the water to such an extent that the change is visible from orbit." Quoted from the Earth Observatory website.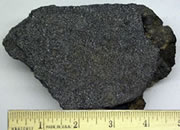 Argonne Labs Image
Exxon Buys Oil Sands from ConocoPhillips
August 14, 2013 | Reuters
ConocoPhillips is selling it stake in the Clyden oil sands leasehold near Alberta, Canada to ExxonMobil for $720 million. Exxon already has invested $11 billion in Canadian oil sand projects.
Related: What are Oil Sands?

Sinkhole Photos – Wow!
July 30, 2013 | The Atlantic
This has to be the most impressive collection of sinkhole photos ever assembled.

The Geologist Who Discovered Canadian Diamonds
July 28, 2013 | Wired Magazine
An article in Wired Magazine (2008) has the interesting story about Chuck Fipke and his role in discovering the Lac de Gras diamond deposit in Northwest Territories, Canada.
Related: Diamond Mines in Canada

Top Diamond Producers
July 18, 2013 | Geology.com
Botswana, Russia and Canada retained their positions as the top three gem quality diamond producers for 2012 according to production estimates from the United States Geological Survey.
Related: Diamond Mines in Canada

The Permafrost Timebomb?
June 13, 2013 | NASA
Over hundreds of thousands of years the Arctic permafrost has accumulated an enormous store of organic carbon. As it thaws from climate change the plant debris will decay and carbon dioxide and methane will be release into the atmosphere. Permafrost contains at least 4x more carbon than fossil fuel burning has produced since 1850.

Reviving Moss Frozen for 400 Years
May 31, 2013 | National Geographic
Moss frozen for an estimated 400 years in a Nunavut glacier has been exposed by glacial retreat and is growing again.

First Geothermal Power Plant in Canada
May 29, 2013 | Bloomberg
A geothermal development company is going to build Canada's first geothermal power plant in the middle of an oil field.

May 1 to May 15 Most Popular
May 16, 2013 | Geology.com
Why Natural Gas Cars are Selling Slowly
Natural Gas Could Kill Fuel Diversity
Who Becomes Dominant After a Mass Extinction?

Canadian Government Ads for Keystone XL
May 16, 2013 | The Globe and Mail
The Canadian government is spending millions of dollars to rally support for the Keystone XL pipeline from US lawmakers.

Utica Shale to Canada Pipeline?
May 14, 2013 | Ohio.com
A natural gas pipeline between the Utica Shale in Ohio and natural gas consumers in Ontario, Canada has been proposed by a group of transmission companies.

No Keystone XL? Send Tankers Through the Arctic
May 6, 2013 | Alaska Dispatch
The government of Alberta is looking into the possibility of shipping tar sand crude to foreign markets on tankers through the increasingly ice-free Arctic Ocean.

Diamond Dust over Saskatoon
May 3, 2013 |
The Earth Science Picture of the Day for April 29th was "diamond dust" glowing from reflected natural light and city lights outside of Saskatoon, Saskatchewan, Canada.

Natural Gas Imports from Eastern Canada
April 28, 2013 | Energy Information Administration
The amount of natural gas being imported from eastern Canada into the United States has dropped to about 1/2 of the average of the previous five years.

Extreme Algal Blooms
April 5, 2013 | National Science Foundation
"A 2011 record-breaking algae bloom in Lake Erie was triggered by long-term agricultural practices coupled with extreme precipitation, followed by weak lake circulation and warm temperatures, scientists have discovered." Quoted from the National Science Foundation press release.

Canada Has an NEO Satellite
March 4, 2013 | Christian Science Monitor
The Canadian Space Agency has launched their Near Earth Object Surveillance Satellite that will look for near-Earth asteroids in a region of space where Earth-based telescopes are unable to monitor.

Canadian and US LNG Export Projects Advance
February 26, 2013 | Reuters
Royal Dutch Shell received a license to export LNG from a plant in British Columbia and in the United States Pangea LNG received permission to export LNG from a planned location in Texas.

Japex: Hangingstone Oil Sands Project
January 24, 2013 | Japan Petroleum Exploration Company
Japan Petroleum Exploration Company plans to produce 20,000 barrels per day of bitumen from their Hangingstone oil sands project in Alberta Province, Canada. The project will use the steam-assisted gravity drainage method and will be increased to 30,000 barrels per day based upon performance.