Ice-Free Shipping Through the Arctic
March 6, 2014 | Nature.com
A post on the Nature News Blog reports that by 2030 the Norther Sea Route through the Arctic Ocean above Eurasia is expected to be navigable for nine weeks per year. The Northwest Passage through the Canadian Arctic Archipelago is expected to be navigable for five weeks per year.

2012 Crude Trade Within the Americas
February 9, 2014 | Energy Information Administration
The Energy Information Administration recently published their annual Liquid Fuels and Natural Gas in the Americas report. It includes the map below showing the flow of crude oil within the Americas during 2012.

Exxon to Move Oil Sand Crude by Rail?
February 4, 2014 | FuelFix.com
Exxon Mobil decided that they would build a rail terminal to transport between 100,000 and 250,000 barrels of oil sand crude per day out of the production location in Alberta, Canada.

Keystone XL Southern Leg Carries First Oil
January 26, 2014 | FuelFix
The southern leg of the Keystone XL pipeline started carrying about 300,000 barrels of oil per day and is expected to carry over 500,000 barrels per day by the end of this year. With a total capacity of 700,000 barrels per day this pipeline could easily be filled with USA crude before it reaches the Canadian border.

How Hard Will Vancouver Shake?
January 21, 2014 | The Vancouver Sun
"New research is shaking up the entire notion of what could happen to the Vancouver area during an earthquake, indicating bridges and tall buildings would rattle and sway a whole lot more than previously thought." Quoted from The Vancouver Sun article.

Why Was It So Cold Last Week?
January 12, 2014 | Climate.gov
An article on Climate.gov explains why a large mass of dense, extremely cold air flowed over much of the United States last week.
From the article… "Meteorologists have known for years that the pattern of the polar vortex determines how much cold air escapes from the Arctic and makes its way to the U.S. during the winter."

Steam Fog Streaming from the Great Lakes
January 9, 2014 | NASA Earth Observatory
"A swirling mass of Arctic air moved south into the continental United States in early January 2014. On January 3, the air mass began breaking off from the polar vortex, a semi-permanent low-pressure system with a center around Canada's Baffin Island. The frigid air was pushed south into the Great Lakes region by the jet stream, bringing abnormally cold temperatures to many parts of Canada and the central and eastern United States.
When the cold air passed over the relatively warm waters of Lake Michigan and Lake Superior, the contrast in temperatures created a visual spectacle. As cold, dry air moved over the lakes, it mixed with warmer, moister air rising off the lake surfaces, transforming the water vapor into fog—a phenomenon known as steam fog." Quoted from NASA's Earth Observatory.

Most Popular Items for December
January 2, 2014 | Geology.com
Landslide on an Incredible Scale
Failure of the Midcontinent Rift
Zoom in on the San Andreas Fault
Size of the Yellowstone Magma Chamber Severely Underestimated?
Salaries and Employment of Recent Geoscience Graduates
The Largest Recorded Fault Slip

Message in a Bottle in the Canadian Arctic
December 29, 2013 | The Chronicle Herald
Messages in a bottle are usually found at beaches, however, one was recently found in a rock cairn on Ward Hunt Island, the closest land point in Canada to the North Pole. The message was dated 1959 and asked the finder to help document evidence of climate change.

The Increasing Importance of Railroads to the Energy Sector
December 19, 2013 | The Oklahoman
An article on The Oklahoman website explains the growing importance of railroads to the energy sector. More crude oil and frac sand are being shipped by rail today than ever before.

What is Ammolite?
December 17, 2013 | Geology.com
Ammolite is a trade name given to a thin iridescent aragonite shell material that is found on two species of extinct ammonite fossils (Placenticeras meeki and Placenticeras intercalare). Gem-quality Ammolite produces a spectacular display of iridescent color when it is observed in reflected light. The colors of an individual stone can run the full range of the visible spectrum or be limited to just one or two colors. The color display can rival fine opal and labradorite in its intensity and beauty.

Coloured Gemstone Deposits in the Yukon
December 10, 2013 | Yukon Geological Survey
Nice publications on the geology of gemstones are rare. Here is a nice open file report from the Yukon Geological Survey.
It is Open File Report 2004-10, "EXPLORATION CRITERIA FOR Coloured Gemstone Deposits in the Yukon" by Lori Walton.

Alberta Shale Resources
December 6, 2013 | Alberta Geological Survey
The Alberta Geological Survey has published Summary of Alberta's Shale- and Siltstone-Hosted Hydrocarbon Resource Potential. This is a 339-page publication with lots of maps, data and descriptive information.
You will find this report as item OFR 2012-06 on the linked page. The landing page also lists dozens of other reports on digital data, organic petrography, rock evaluation, geochemistry, pycnometry and more.

Most Popular Items for November
December 2, 2013 | Geology.com
The World's Largest Emerald Mine
New Volcanic Island Southeast of Japan
The Enormous Volcanic Eruption that Historians Never Recorded
A Super River from the Southwestern United States to the Labrador Sea?
Comet Ison is Visible to the Naked Eye

Natural Gas Flaring from Space
October 30, 2013 | Geology.com
We have posted views of Earth from NASA's Suomi satellite that show night illumination and natural gas flaring for oil industry sites in the Bakken Formation, Eagle Ford Shale, Alaska North Slope, United States Gulf, Mexican Gulf, Venezuela Orinoco Field, Brazil offshore basins, North Sea, North Africa onshore, west Africa offshore, and Persian Gulf.

World Shale Gas Leaders
October 29, 2013 | Energy Information Administration
"The United States and Canada are the only major producers of commercially viable natural gas from shale formations in the world, even though about a dozen other countries have conducted exploratory test wells." Quoted from the Energy Information Administration article.

Shale Oil to Hudson Bay and on to Europe??
October 27, 2013 | E & E Publishing
E & E Publishing has a new article titled: Moving shale oil across melting tundra: huge and potentially risky business. It concerns a proof-of-concept transport of oil by rail from wells in the Bakken Shale and Alberta Oil sands to a Hudson Bay port for shipment to Europe. This is another alternative for a failing Keystone XL pipeline effort.

LNG on the Canadian Pacific Coast
October 17, 2013 | Financial Post
Ten LNG plants have been proposed to convert natural gas into a liquid and ship it to overseas markets from Canada's Pacific coast.
Related: What is LNG?

LNG Projects Map
October 15, 2013 | American Petroleum Institute
The American Petroleum Institute has produced an interactive map of the United States and Canada that shows the locations of LNG Export facilities that are approved or pending. There is currently a rush to permit and bring these facilities online because natural gas in the United States is much cheaper than in most other parts of the world.
Related: What is LNG?

Landslide Near the University of British Columbia
October 15, 2013 | University of British Columbia
A landslide about 100 yards wide occurred on a shoreline near the University of British Columbia campus in Vancouver.
Related: Landslides!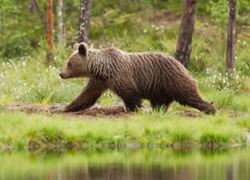 Image © iStockphoto/IndrekV
Bear Attack!
October 11, 2013 | Geology.com
If you spend time in bear country knowing how to react to a bear encounter and what to do if you are attacked could save your life.
If you don't know where bears live here is a map of the geographic ranges for black, grizzly and polar bears in North America.

Canadian Oil Sand Crude by Rail
October 3, 2013 | Marketwatch
The Reuters story above shows that crude oil can be transported long distances by rail – from North Dakota to Philadelphia.
Another story on Marketwatch explains how rail could be used to transport Canadian oil sands crude if the Keystone XL pipeline is not built.

600 Million Barrel Discovery off Newfoundland?
September 29, 2013 | Statoil.com
Statoil Canada and co-venturer Husky Energy have announced that the first Bay du Nord exploration well has discovered between 300 and 600 million barrels of recoverable oil off the coast of Newfoundland.

The First Large LNG Export Facility on the Canadian Pacific Coast
September 23, 2013 | FinancialPost.com
Chevron Canada is moving aggressively to develop shale gas resources in western Canada and export the gas to Asia from an LNG plant on the Pacific coast.
Related: What is LNG?

Shipping LNG from Canada to Asia?
September 10, 2013 | Bloomberg.com
BG Group plans to build a pipeline from Canadian natural gas fields to the Pacific coast where the gas will be converted into LNG for shipment to Asian markets.
Related: What is LNG?