Colorado Voters Ban Fracking and Industry Responds
December 5, 2013 | Bloomberg
The cities of Fort Collins and Lafayette, Colorado asked voters if they wanted to ban hydraulic fracturing for oil and natural gas within the city jurisdiction. The votes resulted in bans, now the Colorado Oil and Gas Association is trying to get the bans overturned.

Wall Maps of US States
December 1, 2013 | Geology.com Store
Raven Maps are beautiful examples of shaded-relief wall maps that display the elevation of a state in vibrant colors. These large maps look great in a classroom, den or office. Use one to mark the locations of your work or company.

Roadside Geology Guides
November 25, 2013 | Geology.com Store
Since 1972 the "Roadside Geology" series has provided introductory information on the geology of states and small regions of the United States.
The books provide a combination of maps, travel logs, photos and commentary for the geology that can be seen along highways or visited at parks and public viewing areas. They are popular with geologists, teachers, students and others who are interested in the Earth.

What is Petrified Wood?
October 27, 2013 | Geology.com
Petrified Wood is a fossil that forms when dissolved materials in groundwater precipitate and petrify woody material.

Salaries and Employment Locations of Recent Geoscience Graduates
October 24, 2013 | American Geosciences Institute
AGI's National Geoscience Student Exit Survey asked recent degree recipients about their employment location and starting salaries. The top four employment states reported were Texas, California, Oklahoma and Colorado.

Growth in Bakken and Eagle Ford Oil Production
October 24, 2013 | FuelFix
Oil production from the Bakken Formation rose 26,000 barrels per day in September, while Eagle Ford production rose by 24,000 barrels. The increase for Permian Basin, Haynesville, Marcellus, and Niobrara combined was 12,000 barrels per day.

TopoPhotos
October 17, 2013 | MyTopo.com
The folks at MyTopo.com are now printing TopoPhotos. They are aerial photographs with contour lines and topographic map annotations lightly superimposed. They give you the advantages of an aerial photograph but also include the elevation, road and place name details of a topographic map. You can use their website to order a TopoPhoto centered anywhere in the United States and have it printed in a variety of sizes in either landscape or portrait orientation. You can print them up to a huge 8′ x 5′ (or 5′ x 8′) in size.
We are affiliates of MyTopo.com and receive a commission on sales.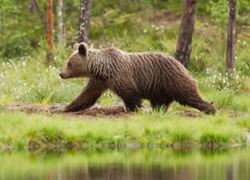 Image © iStockphoto/IndrekV
Bear Attack!
October 11, 2013 | Geology.com
If you spend time in bear country knowing how to react to a bear encounter and what to do if you are attacked could save your life.
If you don't know where bears live here is a map of the geographic ranges for black, grizzly and polar bears in North America.

Shell Walks Away from Oil Shale
October 2, 2013 | OilPrice.com
After 31 years and a lot of money, Royal Dutch Shell is calling it quits on its Colorado oil shale project – where up to 800 billion barrels are trapped.

Satellite Image of Colorado Flooding
September 19, 2013 | NASA Earth Observatory
"Though water levels on the South Platte River near Greeley, Colorado, were receding, muddy brown floods still spread along the river's path on September 17, 2013, when [...] the Landsat 8 satellite acquired this image. At the time, the river was more than six feet above flood stage, down from more than eight feet above flood stage." Quoted from the NASA Earth Observatory image release.

Geographic Concentration of Scientists and Engineers
September 19, 2013 | National Science Foundation
The geographic distribution of scientists and engineers in the United States is not uniform. Some states have much higher percentages of these professionals than other states. Virginia, Washington, Maryland and Colorado have higher than average numbers of these professionals. Arkansas, Kentucky, Louisiana, Mississippi, North Dakota and South Dakota have lower percentages.

New Topo Maps for Colorado and Minnesota
September 18, 2013 | USGS
"In keeping with rapid demand, the USGS has posted new US Topo quadrangles covering Colorado (1,794 maps) and Minnesota (1,689). These new quads replace the first edition US Topo maps for those states." Quoted from the USGS press release.
These maps are beautiful. If you want to see a sample we have Mammoth Cave, Kentucky unzipped and ready for you to download as a .pdf document (30 megs). Click here to download. Be sure to zoom in to see the great detail.

Linking Colorado Floods to Wildfires and Climate Change?
September 16, 2013 | National Geographic
National Geographic has an article that explores possible links between Colorado's recent flooding problems, recent wildfires and climate change.

Colorado Flooding Sunday PM Update
September 15, 2013 | Reuters
Hundreds of people are still missing or stranded after last week's flooding in Colorado. An area the size of Delaware was under water.

NBC News on Colorado Flooding
September 12, 2013 | NBC News
This article includes the nightly NBC News segment on record rain and flooding in Colorado – especially in the Boulder area.

Deadly Flooding in Colorado
September 12, 2013 | CNN
Heavy rains of 6 to 10 inches in 12 to 18 hours have caused impressive floods along the Colorado Rocky Mountains. As of Thursday evening at least three deaths have occurred with millions of dollars in property damage.

Flash Flood Near Manitou Springs Colorado
August 13, 2013 | The Denver Channel
A flash flood and mudflows near Manitou Springs, Colorado killed one person and caused significant property damage. The video with this article shows how vehicles were swept away by the flow.

United States Gemstones
June 11, 2013 | Geology.com
A diversity of gemstones are produced in the United States. However, the $11 million per year in domestic production is tiny compared to the $23.5 billion that are imported.

Mosquito Fault
June 2, 2013 | Leadville Geology
The Mosquito Fault cuts through the open pit at the Climax Mine displacing the molybdenite ore body. You can see a great photo of the fault at the Leadville Geology Facebook page.

Geology.com and RockTumbler.com are
both GeoShops.com websites.
Fee Mining Sites
May 24, 2013 | RockTumbler.com
Lots of people enjoy going to fee mining sites where you can prospect inactive surface mines, mine tailings, soil, sediments or outcrops and keep any rocks, gems, minerals or fossils that you find. Examples include: Herkimer Diamond Mines where you can search for doubly-terminated quartz crystals, and Crater of Diamonds where you might be lucky enough to find a real diamond.