The Increasing Importance of Railroads to the Energy Sector
December 12, 2013 | The Oklahoman
An article on The Oklahoman website explains the growing importance of railroads to the energy sector. More crude oil and frac sand are being shipped by rail today than ever before.

Rigs to Reef
December 8, 2013 | Royal Dutch Shell / Gulf of Mexico Foundation
"The Shell-funded "Rigs to Reef: Towers of Life" film explores how offshore oil and natural gas platforms can double as important habitat for fish and marine life." Quoted from the Royal Dutch Shell press release.

Can CO2 Injection Trigger Earthquakes?
December 8, 2013 | The University of Texas at Austin
"A new study correlates a series of small earthquakes near Snyder, Texas between 2006 and 2011 with the underground injection of large volumes of gas, primarily carbon dioxide (CO2) — a finding that is relevant to the process of capturing and storing CO2 underground." Quoted from the Jackson School of Geosciences press release.

Alberta Shale Resources
December 6, 2013 | Alberta Geological Survey
The Alberta Geological Survey has published Summary of Alberta's Shale- and Siltstone-Hosted Hydrocarbon Resource Potential. This is a 339-page publication with lots of maps, data and descriptive information.
You will find this report as item OFR 2012-06 on the linked page. The landing page also lists dozens of other reports on digital data, organic petrography, rock evaluation, geochemistry, pycnometry and more.

UAE Oil and Natural Gas Report
December 6, 2013 | Energy Information Administration
"The United Arab Emirates (UAE) is one of the 10 largest oil and natural gas producers in the world, and is a member of the Organization of the Petroleum Exporting Countries (OPEC) and the Gas Exporting Countries Forum (GECF). In 2012, the UAE produced 2.8 million barrels per day of crude oil and condensates, the fourth highest total in OPEC." Quoted from the Energy Information Administration.

Colorado Voters Ban Fracking and Industry Responds
December 5, 2013 | Bloomberg
The cities of Fort Collins and Lafayette, Colorado asked voters if they wanted to ban hydraulic fracturing for oil and natural gas within the city jurisdiction. The votes resulted in bans, now the Colorado Oil and Gas Association is trying to get the bans overturned.

Major Oil and Gas Discovery Offshore Angola
December 5, 2013 | Reuters
Cobalt International Energy reports a discovery off the coast of Angola that could hold 700 million to 1.1 billion barrels of oil equivalent.

Gushing Oil Production in Texas
December 5, 2013 | Fuel Fix
"Oil production in Texas has hit its highest monthly rate on record, more than doubling in less than three years." Quoted from the FuelFix.com article.

Summer Interns at Shell
December 4, 2013 | Royal Dutch Shell
Royal Dutch Shell had over 250 internships in various career tracks across the United States during the summer of 2013. Each spring they post information about internship opportunities on their Jobs and Careers website. Related links: Shell Internship Conference and Deer Park Internship Program.

Image by Royal Dutch Shell
The Largest Floating Vessel and First Ocean-Based LNG Plant
December 4, 2013 | Financial Post
The Financial Post has an article (and a shocking image) that describe Shell's Prelude project – the world's largest floating vessel and the first ocean-based LNG plant. It will be stationed off the coast of western Australia.
Related: What is LNG?

The Alum Shale of Denmark
December 4, 2013 | USGS
"The Alum Shale in Denmark contains an estimated mean of 6.9 trillion cubic feet of undiscovered, technically recoverable natural gas, according to a new report by the U.S. Geological Survey. This estimate comes from the first-ever USGS assessment of shale gas resources in Denmark." Quoted from the USGS press release.

The Frac Sand Boom
December 3, 2013 | Peak Oil News
The demand for frac sand has been growing rapidly for the past several years as oil and natural gas companies are using it for hydraulic fracturing in shale formations.
Related: What is Frac Sand?

US Shale Keeping Energy Price Down
December 3, 2013 | Bloomberg, The Telegraph, Reuters
Today's news has several stories that explain how oil and natural gas from shales are moderating energy prices for consumers.
Bloomberg: Marcellus gas eliminates a regional price premium in the Northeast.
The Telegraph: Low cost ethane helps British manufacturers

Carbon Dioxide Storage Potential in Sedimentary Basins
December 2, 2013 | USGS
"The U.S. Geological Survey recently completed an evaluation of the technically accessible storage resource for carbon dioxide for 36 sedimentary basins in the onshore areas and State waters of the United States." Quoted from the USGS press release.

Russia Oil and Gas Report
November 26, 2013 | Energy Information Administration
"Russia is the second-largest producer of dry natural gas and third-largest liquid fuels producer in the world. Despite its significant reserves of coal, it produces only modest amount of coal. Russia's economy is highly dependent on its hydrocarbons, and oil and gas revenues account for more than 50% of the federal budget revenues." Quoted from the Energy Information Administration.

The Energy Industry is the Biggest Target for Cyberattacks?
November 26, 2013 | Star-Telegram
"The energy industry was the target of 53 percent of all cyberattacks reported to the Department of Homeland Security between October 2012 and May 2013." Quoted from the Star-Telegram article.

A Shortage of Pipeline Capacity
November 26, 2013 | BizJournals
The San Antonio Business Journal has an article that describes how pipeline capacity is throttling production from the Eagle Ford Shale of Texas and the Bakken Formation of North Dakota.
Related: What is the Eagle Ford Shale?

Utica Shale Well Permitting is Strong in Ohio
November 25, 2013 | Geology.com
The number of permits issued for drilling the Utica Shale in Ohio has been significantly higher in 2013 than in 2012.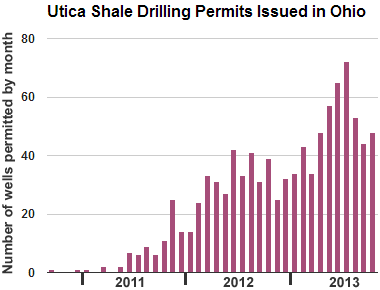 Data from the Ohio Department of Natural Resources.

Production Declines in Natural Gas Wells
November 24, 2013 | Geology.com
Lots of property owners who signed a lease in one of the natural gas shale plays are now receiving monthly or quarterly royalty payments. Many of these people were pleasantly surprised with the size of their first royalty check — but then shocked to see the size of subsequent checks fall rapidly. What's happening?

Natural Gas Production Up 18 Percent in Ohio
November 24, 2013 | BizJournals
New activity in the Utica Shale was the primary driver for an increase of 18.4% in Ohio's natural gas production.
Related: What is the Utica Shale?