Wall Maps of US States
December 1, 2013 | Geology.com Store
Raven Maps are beautiful examples of shaded-relief wall maps that display the elevation of a state in vibrant colors. These large maps look great in a classroom, den or office. Use one to mark the locations of your work or company.

Roadside Geology Guides
November 25, 2013 | Geology.com Store
Since 1972 the "Roadside Geology" series has provided introductory information on the geology of states and small regions of the United States.
The books provide a combination of maps, travel logs, photos and commentary for the geology that can be seen along highways or visited at parks and public viewing areas. They are popular with geologists, teachers, students and others who are interested in the Earth.

Provenance of Obsidian Artifacts
November 12, 2013 | Columbus Dispatch
Ancient people carried and traded obsidian objects over wide geographic areas. Researchers have found success at attributing these artifacts with the geographic locality of an eruption by measuring their magnetic characteristics.
Related: What is Obsidian?

Premium Satellite Prints: Save Up To $60
November 9, 2013 | MyTopo.com
MyTopo recently upgraded and enhanced its satellite imagery. Now, you can order custom satellite prints of the same image quality you see on sites like Bing, Zillow, and Google. Get a custom print of your favorite park, lake, peak, farm, neighborhood, hunting cabin, or baseball field (yep, that's Fenway Park for you Red Sox fans).
These custom prints are a perfect holiday gift. Create your Premium Satelitte Print today, and save up to $60 on your order. Prices are discounted at checkout. Offer good until midnight on Nov. 21, 2013.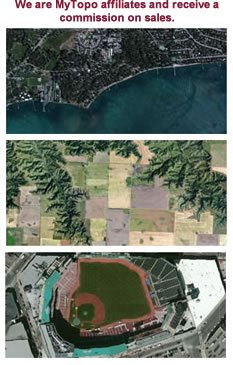 We are affiliates of MyTopo and receive a commission on sales.

Natural Gas Flaring from Space
October 30, 2013 | Geology.com
We have posted views of Earth from NASA's Suomi satellite that show night illumination and natural gas flaring for oil industry sites in the Bakken Formation, Eagle Ford Shale, Alaska North Slope, United States Gulf, Mexican Gulf, Venezuela Orinoco Field, Brazil offshore basins, North Sea, North Africa onshore, west Africa offshore, and Persian Gulf.

Mapping The Rim Fire
September 4, 2013 | NASA Earth Observatory
As of yesterday the Rim Fire had burned 235,841 acres of brush, oaks, and pine in the Sierra Nevada Range near and in Yosemite National Park. NASA's Earth Observatory has a day-by-day map that shows the spread of the fire atop of a shaded relief map.

Regional Concentrations of Scientists and Engineers
August 27, 2013 | National Science Foundation
"According to a recently published report by the National Science Foundation, science and engineering employment in the United States is geographically concentrated in a small number of states. Further, several major metropolitan areas within these states account for the highest S&E employment." Quoted from the National Science Foundation press release.

Earth Science Week International Photo Contest
August 25, 2013 | Earth Science Week
"The American Geosciences Institute is expanding eligibility for its annual Earth Science Week photography contest to allow international members of all AGI Member Societies to participate for the first time." Quoted from the AGI press release.

The Maps of Yosemite
July 11, 2013 | Yosemite National Park
This video describes some of the types of maps that have been created for Yosemite National Park and the audiences of people who use them.

Geology and the Civil War
June 17, 2013 | Pennsylvania Geological Survey
The most recent issue of Pennsylvania Geology has an article titled: "The Role of Geology and Terrain in the Defeat of Stuart East of Gettysburg, July 3, 1863″.

Most Popular May 16 to May 31
June 4, 2013 | Geology.com
When Did Plate Tectonics Begin?

New Roadside Geology of Georgia
May 30, 2013 | Geology.com Store
Pamela Gore and William Witherspoon have recently published "Roadside Geology of Georgia", a new guidebook in the Mountain Press Roadside Geology Series.
This is a field guidebook for the state of Georgia with road logs and maps that describe the physical and historical geology.

History of the Prime Meridian
May 29, 2013 | National Geographic
How did Greenwich, England become Earth's zero-degree longitude reference point?

First Saudi Woman to Climb Everest
May 18, 2013 | The Daily Star
Today, Raha Muharraq became the first woman from Saudi Arabia to reach the summit of Mount Everest.

Science on a Sphere
January 10, 2013 | New York Times
Digital globes used to be something seen only in science centers and museums are now becoming economical enough that high schools and smaller organizations can obtain them. Advances in programming and access to data make them more interesting and useful for education.