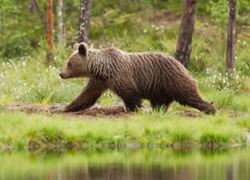 Image © iStockphoto/IndrekV
Bear Attack!
April 15, 2014 | Geology.com
If you spend time in bear country knowing how to react to a bear encounter and what to do if you are attacked could save your life.
If you don't know where bears live here is a map of the geographic ranges for black, grizzly and polar bears in North America.

A Red Mars and a Lunar Eclipse
April 1, 2014 | New Zealand Herald
This week Earth will overtake Mars in its orbit and will be at one of its closest positions to the planet. That will make Mars especially large and red in the night sky. Then, after midnight on April 15th a lunar eclipse will occur. (Details on the lunar eclipse in a Washington Post article.)

BSA: Mining in Society Merit Badge
March 9, 2014 | Arizona Geology Blog
The Boy Scouts of America have officially unveiled the first "Mining in Society" merit badge

DonorsChoose.org Featured on Fast Company
February 23, 2014 | FastCompany.com
An article on FastCompany.com features the work of DonorsChoose.org in helping teachers obtain outside support from parents, companies and anyone interested in supporting student learning.

EarthCaching
February 16, 2014 | EarthCache.org
"An EarthCache site is a special place that people can visit to learn about a unique geoscience feature or aspect of our Earth. Visitors to EarthCache sites can see how our planet has been shaped by geological processes, how we manage the resources and how scientists gather evidence to learn about the Earth." Learn more about EarthCaching.

Earth Science Week 2014
January 30, 2014 | Earth Science Week
The theme of Earth Science Week for 2014, to be held on October 12-18 will be Earth's Connected Systems.

Small Grants for K12 Science Teachers
January 19, 2014 | Geology.com / DonorsChoose.org
Did you know that there is a website named DonorsChoose.org where you can post a very brief description of your project and people interested in helping you and your students will contribute the money needed to make it happen?

Rock and Mineral Projects at DonorsChoose.org
December 3, 2013 | DonorsChoose.org
DonorsChoose.org is a website where K-12 teachers post projects that they would like to have funded and anyone anywhere can provide support. Many of these teachers would like to have materials to help them teach about rocks and minerals. Here are three projects that might appeal to you.
Fluorescent rocks and minerals

What is Iris Agate?
November 27, 2013 | Geology.com
""Iris Agate" is a name used for a finely-banded agate that produces a spectacular display of color when it is cut properly and illuminated from a direction that sends light through its very thin bands."

Attracting Women to STEM Degrees
November 7, 2013 | USA Today
USA Today has an article that describes what some universities are doing to attract women who plan to major in STEM fields and how they are working to interest other women in STEM programs.

The Status of U.S. Secondary Earth Science Education
October 19, 2013 | American Geosciences Institute
"The Center for Geoscience Education and Public Understanding at the American Geosciences Institute has released a landmark report on the status of Earth Science education in U.S. middle and high schools, describing in detail significant gaps between identified priorities and lagging practice." Quoted from the AGI press release.

Earth Science Week Webcast
October 3, 2013 | Earth Science Week
The American Geosciences Institute has a webcast titled: Introduction to Earth Science Week 2013.

The Landfill Harmonic Orchestra
September 5, 2013 | YouTube
You will not believe the music that these kids can make with instruments fashioned out of barrels, boxes, pipes and wires picked from a trash dump in Paraguay. This is only connected to geology by its "waste disposal" theme, but you will be impressed.

You Can Improve Earth Science Education
August 18, 2013 | DonorsChoose.org
Earth science teaching materials are often not available in K-12 classrooms. Schools simply do not have the budget to provide them. When that happens, students miss an educational opportunity. DonorsChoose.org is a website where you can go to help teachers obtain the materials that they need to teach hands-on science.

Earth Science Week Toolkits
July 23, 2013 | Earth Science Week
Earth Science Week 2013 Toolkits are available for advance orders now! The kit contains everything you need to prepare for Earth Science Week (October 13-19, 2013), which celebrates the theme "Mapping Our World." Quoted from the AGI announcement.

Earth Science Week Newsletter for July 2013
July 22, 2013 | Earth Science Week
Topics in this month's newsletter include:
– Geologic Map Day: Celebrate on October 18
– "Visiting Geoscientists" Make Impact on Students
– Switch Energy Project DVD in 2013 Toolkit
– EarthScope Speaker Series Explores Quakes, Eruptions
– PDF Guide Ensures "No Child Left Inside"
– More Geoscience Resources in Spanish and English
– New Report Highlights Remote Sensing Imagery

Mineral Museums
July 7, 2013 | The-Vug.com
If you are planning a summer trip you might be able to stop at a great mineral museum along the way. The-Vug.com has a large list of museums that feature mineral exhibits. The list also includes related tours and places of interest.

Quest For Oil
June 18, 2013 | Maersk
Energy companies are currently challenged to find enough skilled workers to fill open positions. Maersk has developed a digital game – "Quest for Oil" – to stimulate interest in energy careers.

Junior Paleontologist Activity Book
June 13, 2013 | National Park Service
The National Park Service offers the "Junior Paleontologist" activity book for ages 5-12. You can download free printable copies from their website.
From the Earth Science Week Newsletter.

Earth Science Week Contests
June 11, 2013 | EarthScience Week.org
Earth Science week for 2013 will be held on October 13-19 and the theme will be "Mapping Our World". They are having three contests…
1) Photography, "Mapping My Community", for US residents and AGI Affiliates.
2) Visual Arts, "Making Maps Through the Ages", for US students in grades K-5.
3) Essay Contest, "How Geoscientists Use Maps", for US students in grades 6-9.
From the Earth Science Week Newsletter.

PRI Teaching Geology Guide
May 30, 2013 | Paleontological Research Institution
"The Paleontological Research Institution (PRI) [...] offers many education materials and opportunities for science teachers and students at all grade levels. Their online "Teacher Friendly Guide" gives brief geologic histories of every region of the United States. Also available online are photos and descriptions of the museum's fossil collections." Quoted from the Earth Science Week Newsletter.

Earth Science Week Toolkits
May 26, 2013 | American Geosciences Institute
Earth Science Week 2013 Toolkits are available for advance orders now! The kit contains everything you need to prepare for Earth Science Week (October 13-19, 2013), which celebrates the theme "Mapping Our World." Quoted from the American Geosciences Institute announcement.

Geology.com and RockTumbler.com are
both GeoShops.com websites.
Fee Mining Sites
May 24, 2013 | RockTumbler.com
Lots of people enjoy going to fee mining sites where you can prospect inactive surface mines, mine tailings, soil, sediments or outcrops and keep any rocks, gems, minerals or fossils that you find. Examples include: Herkimer Diamond Mines where you can search for doubly-terminated quartz crystals, and Crater of Diamonds where you might be lucky enough to find a real diamond.

The Cost of Anti-Evolution Legislation?
May 2, 2013 | The Guardian
An article on TheGuardian looks at the debate over The Louisiana Science Education Act.

Most Popular April 16 to April 30
May 1, 2013 | Geology.com
Diamonds Do Not Form From Coal
Monitoring the Fire Below Yellowstone

Nine-Year-Old Applies for Museum Curator Job
April 2, 2013 | CBS News
"Museum CEO George Sparks says along with all the resumes he got from Ph.D.s there was one applicant with just a third-grade education. [...] Along with his hand-written, three-page cover letter, he attached a letter of recommendation from his teacher."

Grants for Undergraduate Science Teacher Preparation
January 17, 2013 | National Science Foundation
The National Science Foundation is awarding grants to universities with science and math education programs. These grants can be used to fund scholarships for students enrolled in teacher preparation programs who are willing to commit to teaching four years in a high-needs school district. As an example…. one recently funded program provided over $1,000,000 to support scholarships for 30 undergraduate students and will supplement their salary during their four-year teaching commitment.

Two Geoscience Career Paths
January 15, 2013 | Caltech
The Caltech Engineering and Science magazine has two interesting articles about the career paths of geoscience professionals…. Beyond Rocks about John Eiler and The Molecular Geomicrobiologist about Dianne Newman. Check them out.

Join a Gem and Mineral Club
January 10, 2013 | The-Vug.com
The-Vug.com has what is probably the most complete listing of gem and mineral clubs that you will find anywhere on the web. For information about what these clubs do and how to join see an article on the "Where to Find Rocks" website.

What are Troglobites?
January 10, 2013 | Geology.com
Troglobites are small creatures that have adapted to a permanent life in a cave. They are so well adapted to life in a cave that they would be unable to survive in the surface environment. To survive in the darkness troglobites have highly-developed senses of hearing, touch and smell.