Geothermal Experiments at Newberry Volcano
March 11, 2014 | Oregon Public Broadcasting
For over one year a company has been conducting geothermal experiments at Newberry National Volcanic Monument in Central Oregon. This article announces the public comment period and gives a short report on the results to date.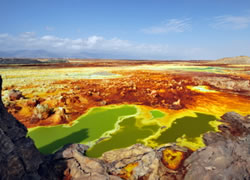 Image © iStockphoto and Matejh Photography.
The Strangest Volcanic Landscape
February 11, 2014 | Geology.com
One of the world's strangest volcanic landscapes is located 269 feet below sea level in the Danakil Depression of Ethiopia. It is the Dallol crater, where a phreatic eruption through salt created a maar with a colorful and caustic salt deposits.
Related: What is a Maar?

Popular for January 2013
February 2, 2014 | Geology.com
Hot Rock Under the Atlas Mountains
Big Rare Earth Find in North Korea?
Horizontal Well Density in the Utica Shale of Ohio
Big Blue Diamond Found in South Africa
Wow! The Best Snowflake Photos

The First Magma-Enhanced Geothermal System
January 28, 2014 | University of California, Riverside
"Despite some difficulties, the project was able to drill down into the molten magma and control it; it was possible to set steel casing in the bottom of the hole; allowing the hole to blow superheated, high-pressure steam for months at temperatures exceeding 450 C, created a world record for geothermal heat." Quoted from the University of California, Riverside press release.

US Energy Mapping System
January 5, 2014 | Energy Information Administration
The Energy Information Administration has an interactive map of energy locations in the United States. You can use it to plot data layers showing the location of wind (see map sample below), coal mines, biomass plants, geothermal, hydroelectric, and many other types of energy projects.

Courthouse to Stream in an Open Loop Geothermal System
November 21, 2013 | The Martinsburg Journal News
The court house at Berkeley Springs, Morgan County, West Virginia has an unusual geothermal system. It removes water from a local stream, pumps that water through a heat-exchange system and returns the water to the stream. Open-loop systems connected to a stream are rare.

Fracking for Geothermal
October 25, 2013 | MIT TechnologyReview.com
"The use of hydraulic fracturing has unlocked vast new reserves of natural gas. Now Alta Rock, a startup based in Seattle, is developing technology that might do the same for geothermal resources, turning a marginal power source into a major source of carbon-free electricity and heat." Quoted from the MIT TechnologyReview.com article.

Icelandic Expertise for Ethiopian Geothermal
September 30, 2013 | Bloomberg.com
Iceland is a country with demonstrated expertise in developing geothermal energy of all types. Now an Icelandic company has agreed to a geothermal project that might bring up to 1,000 megawatts of capacity to Ethiopia.

Ikea Store to Have 180 Geothermal Wells
September 19, 2013 | KansasCIty.com
A new 359,000 square-foot Ikea store near Kansas City is being built with a geothermal heating/cooling system. They are drilling 180 wells to a depth of 600 feet to create a closed-loop ground-source heat pump system.

Micronutrient Plumes from Hydrothermal Vents
September 16, 2013 | Woods Hole Oceanographic Institution
"Scientists have discovered a vast plume of iron and other micronutrients more than 1,000 km long billowing from hydrothermal vents in the South Atlantic Ocean. The finding [...] calls past estimates of iron abundances into question, and may challenge researchers' assumptions about iron sources in the world's seas." Quoted from the Woods Hole Oceanographic Institution press release.

Ground-Source Geothermal Heating and Cooling
September 15, 2013 | Arizona Geology Magazine
The recent issue of Arizona Geology Magazine has an introductory article titled: Ground-Source Geothermal Heating and Cooling: Sustainable and Affordable Energy for Arizona and the U.S.. The article features Lookout Mountain Elementary School where a new ground-source geothermal system that exchanges heat with the cooler earth hundreds of feet below the ground surface.

Exploring for Geothermal with Self-Flying Planes
September 9, 2013 | USGS
USGS has an article that explains how they have been using self-flying planes to evaluate the geothermal potential of the Basin and Range area.

Switching Hawaii from Oil to Natural Gas?
September 4, 2013 | National Public Radio
Hawaii has been addicted to expensive oil for decades when many people thought that they would be running all of the islands off of hot rocks, sunlight, ocean breezes or wave power. Now they are looking to bring natural gas to the islands. One problem is that natural gas from USA wells can not delivered to Hawaii because an old law requires the transporting vessel to be built, registered, manned, owned and licensed by people in the USA – and not one vessel like that exists.

Geothermal Subsidence?
September 4, 2013 | Imperial Valley Press
The production and reinjection of water at geothermal energy plants in California may have caused differential subsidence of agricultural fields that has disrupted their irrigation and produced low spots where crop loss occurs.

Popular for August 2013
September 3, 2013 | Geology.com
40 Maps that Explain the World
A Spanish Fort in the Appalachians in 1567?
12-Year-Old Finds a 5-Carat Diamond in Arkansas
Rare Eruption of Steamboat Geyser
Origin of the Antarctica Ice Sheet?
Solar Magnetic Field is about to Flip?
Flash Flooding Near Page, Arizona

Hydrothermal Iron in the South Atlantic?
August 28, 2013 | University of Liverpool
"Research by the University of Liverpool has found significant levels of iron and other micronutrients flowing from a hydrothermal vent in the South Atlantic ocean." Quoted from the University of Liverpool press release.

Plumbing Under the Greenland Ice Sheet
August 27, 2013 | National Science Foundation
"Scientists' understanding of how Greenland Ice Sheet melt water travels in passages along the bedrock below fails to account for some key processes. This, in turn may be affecting their assessment of how ice sheets respond to climate change." Quoted from the National Science Foundation press release.

Tapping the African Rift for Geothermal
August 18, 2013 | Business Daily Africa
Kenya and Tanzania have some of the world's best locations for developing geothermal energy. They are working to develop investors, expertise and technology sharing.
Related: East Africa's Great Rift Valley

Walker Ranch Geothermal Project
July 31, 2013 | MagicValley.com
The goal of the Walker Ranch geothermal project is to tap a source of hot water over a mile below Earth's surface and use it to create power for thousands of homes.

Geothermal Presentations
June 18, 2013 | Arizona Geology Blog
The presentations from the annual Peer Review of United Stages Department of Energy-funded geothermal projects are now posted online.

Arizona Mining Review
June 13, 2013 | Arizona Mining Review
Topics in the most recent Arizona Mining Review:
* Joe Bardswich – Moss Gold Mine
* Jerry Aiken and Matt Monte – Holbrook Potash Mine
* David Newlin – community response to potash mining at Holbrook
* Niemuth – mining news
* Kim Patten and Christy Caudill – National Geothermal Data System

First Geothermal Power Plant in Canada
May 29, 2013 | Bloomberg
A geothermal development company is going to build Canada's first geothermal power plant in the middle of an oil field.

Tracking Geothermal Energy Sources
May 9, 2013 | Arizona Public Media
In this Arizona Public Media video, Jane Poynter interviews Lee Allison, Director of the Arizona Geological Survey on the benefits of geothermal energy along with how a project led by AGS is making geothermal data and data analysis tools available to the public.

Fracking for Enhanced Geothermal
April 18, 2013 | Technology Review
"Conventional geothermal wells tap underground reservoirs of hot water and convert the heat into steam, which drives electricity-producing turbine. With enhanced geothermal, fluids are pumped underground to fracture underground rock and stimulate the flow of liquids across hot rocks."

Who Can Frack in France?
April 9, 2013 | Bloomberg Business News
The oil and gas industry in France is disappointed that the government banned hydraulic fracturing while the geothermal industry is allowed to use acid fracking to develop their wells.