Geology News
Hawaii Current Events
Wall Maps of US States
February 23, 2014 | Geology.com Store
Raven Maps are beautiful examples of shaded-relief wall maps that display the elevation of a state in vibrant colors. These large maps look great in a classroom, den or office. Use one to mark the locations of your work or company.

Waterfall-Climbing Fish
February 18, 2014 | National Science Foundation
"The species of goby fish, Sicyopterus stimpsoni, also known as the "inching climber," thrives in the waters off Hawaii, and the amazing physical feat it must perform to survive is no fish tale! To reach the safe haven of its freshwater spawning area, this goby must scale a waterfall, or at least the rock behind it, using suction cups on its body." Quoted from the National Science Foundation press release.

Many Types of Sand
February 16, 2014 | Geology.com
Most people are familiar with the tan or white silica sand that they see at the beach. However, sand is a much more diverse material as this photo gallery reveals.

Extrusive Volcanism Formed the Hawaiian Islands
October 21, 2013 | University of Hawaii
"Scientists have determined that it is the eruptions of lava on the surface, extrusion, which grow Hawaiian volcanoes, rather than internal emplacement of magma, as was previously thought." Quoted from the University of Hawaii press release.

Switching Hawaii from Oil to Natural Gas?
September 4, 2013 | National Public Radio
Hawaii has been addicted to expensive oil for decades when many people thought that they would be running all of the islands off of hot rocks, sunlight, ocean breezes or wave power. Now they are looking to bring natural gas to the islands. One problem is that natural gas from USA wells can not delivered to Hawaii because an old law requires the transporting vessel to be built, registered, manned, owned and licensed by people in the USA – and not one vessel like that exists.

Sampling a Lava Flow
August 22, 2013 | USGS on YouTube.com
This USGS video shows researchers sampling a lava flow in Hawaii.

A 30 Meter Optical Telescope on Mauna Kea?
April 16, 2013 | BizJournals.com
The University of Hawaii at Hilo has received a permit to construct a $1.3 billion telescope with a 30-meter aperture on the summit of Mauna Kea.

Spectacular Eruption Photos
March 20, 2013 | geology.com
A collection of some of the most interesting photos of volcanic eruptions that we have seen from USGS, NASA and NOAA.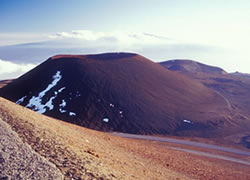 Photo by Scot Izuka, USGS.
What is Scoria?
March 19, 2013 | Geology.com
Scoria is a dark-colored igneous rock with abundant gas vesicles. It is used to make lightweight concrete and as a landscape aggregate. Nature uses it as the construction material for cinder cones.

Why Do They Put Outriggers on Hawaiian Canoes?
February 7, 2013 | USA Today
This video shows one reason why canoes used in Hawaii are often designed with an outrigger.

Thirty Years of Eruptions at Pu'u 'O'o
January 8, 2013 | NASA Earth Observatory
"Just after midnight on January 3, 1983, a small fissure opened within Napau Crater on Kilauea Volcano, spewing red-hot lava. Within hours, additional fissures stretched 6 kilometers down the volcano's East Rift Zone. Thirty years later, the Pu'u 'O'o-Kupaianaha eruption continues, making it the longest eruption at Kilauea in recorded history. Since the eruption began in 1983, lava has poured almost continuously from a cluster of vents on the eastern flank." Quoted from the Earth Observatory image release.


| | | |
| --- | --- | --- |
| | | Homeowners Insurance usually does not cover damage caused by floods, landslides, earthquakes and other geohazards. |
| | | |
| --- | --- | --- |
| | | Frac Sand is a high-purity silica sand used in hydraulic fracturing to enhance the flow of oil and gas from tight rock units. |
| | | |
| --- | --- | --- |
| | | Diamonds from Coal? Diamonds form under a variety of conditions that rarely involve coal as a source of carbon. |
| | | |
| --- | --- | --- |
| | | Fluorescent Minerals glow with spectacular colors when illuminated in the dark with an ultraviolet lamp. |
| | | |
| --- | --- | --- |
| | | |
| | | |
| --- | --- | --- |
| | | Utica Shale: New wells in eastern Ohio prove that the Utica Shale will be a major source of natural gas and natural gas liquids. |
| | | |
| --- | --- | --- |
| | | Spectacular Fossils of the Green River Formation. Some of the world's best-preserved fossil fish from an intermountain lake. |
| | | |
| --- | --- | --- |
| | | Opals: Gem quality opal is one of the most spectacular gemstones. A single stone can flash with every color of the spectrum. |