Roadside Geology Guides
May 19, 2013 | Geology.com Store
Since 1972 the "Roadside Geology" series has provided introductory information on the geology of states and small regions of the United States.
The books provide a combination of maps, travel logs, photos and commentary for the geology that can be seen along highways or visited at parks and public viewing areas. They are popular with geologists, teachers, students and others who are interested in the Earth.

A 30 Meter Optical Telescope on Mauna Kea?
April 16, 2013 | BizJournals.com
The University of Hawaii at Hilo has received a permit to construct a $1.3 billion telescope with a 30-meter aperture on the summit of Mauna Kea.

Spectacular Eruption Photos
March 20, 2013 | geology.com
A collection of some of the most interesting photos of volcanic eruptions that we have seen from USGS, NASA and NOAA.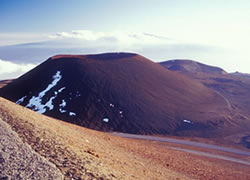 Photo by Scot Izuka, USGS.
What is Scoria?
March 19, 2013 | Geology.com
Scoria is a dark-colored igneous rock with abundant gas vesicles. It is used to make lightweight concrete and as a landscape aggregate. Nature uses it as the construction material for cinder cones.

Supersized Topographic Maps
February 17, 2013 | MyTopo.com
The folks at MyTopo.com are now printing supersized topo maps; large enough make a huge 8′ x 5′ (or 5′ x 8′) map that will look fantastic on the wall of your office, conference room, lobby, cabin or den. These maps are custom-centered on any location that you pick using their online map-making tool.
We are affiliates of MyTopo.com and receive a commission on sales.

Wall Maps of US States
February 10, 2013 | Geology.com Store
Raven Maps are beautiful examples of shaded-relief wall maps that display the elevation of a state in vibrant colors. These large maps look great in a classroom, den or office. Use one to mark the locations of your work or company.

Why Do They Put Outriggers on Hawaiian Canoes?
February 7, 2013 | USA Today
This video shows one reason why canoes used in Hawaii are often designed with an outrigger.

Thirty Years of Eruptions at Pu'u 'O'o
January 8, 2013 | NASA Earth Observatory
"Just after midnight on January 3, 1983, a small fissure opened within Napau Crater on Kilauea Volcano, spewing red-hot lava. Within hours, additional fissures stretched 6 kilometers down the volcano's East Rift Zone. Thirty years later, the Pu'u 'O'o-Kupaianaha eruption continues, making it the longest eruption at Kilauea in recorded history. Since the eruption began in 1983, lava has poured almost continuously from a cluster of vents on the eastern flank." Quoted from the Earth Observatory image release.

Most Popular: 11/11 to 11/17
November 18, 2012 | Geology.com
Evaporite Sinkholes in Colorado
Our Galaxy is Teeming with Planets
Impact of the Tohoku-Oki Tsunami on Hawaii
Shortage of Oil and Gas Professionals

Impact of the Tohoku-Oki Tsunami on Hawaii
November 16, 2012 | USGS
USGS has published "Tohoku-Oki Earthquake Tsunami Runup and Inundation Data for Sites Around the Island of Hawai'i". It contains a number of maps, photos and descriptions of tsunami damage on the island.

Most Popular: 10/28 to 11/03
November 5, 2012 | Geology.com
Canadian Earthquake Sends Tsunami Towards Hawaii
California Volcano Observatory

Most Popular: 10/21 to 10/27
October 29, 2012 | Geology.com
Melting Glaciers Threaten Bolivia's Water Supply
Italian Earthquake Convictions

Canadian Earthquake Sends Tsunami Towards Hawaii
October 28, 2012 | CNN
A magnitude 7.7 earthquake beneath the Queen Charlotte Islands region, off the west coast of British Columbia, Canada triggered a tsunami heading across the Pacific Ocean. Evacuation warnings were issued for coastal areas of Hawaii and for shoreline communities in British Columbia.
Canada evacuations from The Globe and Mail

Hawaii's Dueling Volcanoes
October 26, 2012 | Rice University
"A deep connection about 50 miles underground can explain the enigmatic behavior of two of Earth's most notable volcanoes, Hawaii's Mauna Loa and Kilauea. The study, the first to model paired volcano interactions, explains how a link in Earth's upper mantle could account for Kilauea and Mauna Loa's competition for the same deep magma supply and their simultaneous "inflation," or bulging upward, during the past decade."

Halema'uma'u Crater Lake
October 23, 2012 |
The lava lake within Halema'uma'u Crater is at its highest level ever recorded.

Subsidence and Geothermal Development
October 9, 2012 | USGS
"Recently, Hawaiian Volcano Observatory scientists have been asked if Hawaiʻi Island's geothermal development causes subsidence of the ground surface, as has been observed at U.S. mainland geothermal areas, such as those in California—Coso, Geysers, the Imperial Valley, and Casa Diablo in the Mammoth Lakes area."

Tracking Magma with Gravity
September 3, 2012 | MSN
An article on the MSN.com website explains how researchers are monitoring the movements of magma to better understand volcanic activity.

Why LNG is Not Moving from Alaska to US Ports
August 28, 2012 | FuelFix.com
Alaska has a glut of natural gas and an LNG export facility. However, one of the reasons that it can not ship the gas to other ports in the United States is a law that requires the transporting vessel to be built, owned, registered and crewed by U.S. citizens. There are no available ships that meet these requirements.

Hawaii as a Natural Gas Customer?
August 13, 2012 | Anchorage Daily News
Hawaii imports all of its fossil fuels, however, if it imports natural gas that fuel will more likely come from Canada or Australia than from anywhere in the United States – because the United States does not build LNG tankers.

Volcanic Hazards in the United States
August 5, 2012 | USGS
"The United States has 169 active volcanoes. More than half of them could erupt explosively, sending ash up to 20,000 or 30,000 feet where commercial air traffic flies. USGS scientists are working to improve our understanding of volcano hazards to help protect communities and reduce the risks." Quoted from the USGS video release.

101 American Geo-Sites
June 27, 2012 | Geology.com Store
Mountain Press Publishing has released a new book by Albert B. Dickas titled: 101 American Geo-Sites You've Gotta See.
It provides a two-page presentation on each site that features photos, text and a map. It is a good way to get a quick glimpse of these 101 fantastic sites. It sells for $23.99.
See a table of contents.

Mineral Clubs and Organizations Worldwide
June 13, 2012 | The-Vug.com
The-Vug.com has an impressive listing of mineral clubs organized by state. You might be surprised at how many clubs are listed and there is probably one that meets within a short drive of your home.

Collapse into the Halema'uma'u Lava Lake
June 13, 2012 | USGS
"This clip, captured by a video camera on the rim of Halema'uma'u to the southwest of the vent, shows a small slice of the western rim of the vent collapsing into the lava lake." Quoted from the USGS video description.

Satellite Image of Kilauea Caldera
February 1, 2012 | NASA Earth Observatory
"Shown here are two natural-color views: a close-up of the Kilauea Caldera and the Hawaiian Volcano Observatory, and a wide-area view showing Mauna Ulu and Pu'u 'O'o. Within the Kilauea Caldera lies Halema'uma'u Crater. A small plume of water vapor emerges from this crater and blows toward the southwest." Quoted from the NASA image release.

Hawaiian Volcano Observatory – 100 Years
January 23, 2012 |
USGS has recently published: "The Story of the Hawaiian Volcano Observatory — A Remarkable First 100 Years of Tracking Eruptions and Earthquakes"

Coral Reef Disease in Hawaii
January 17, 2012 | USGS
"Scientists have discovered an outbreak of coral disease called Montipora White Syndrome in Kāneʿohe Bay, Oʿahu. The affected coral are of the species Montipora capitata, also known as rice coral. Rice corals provide valuable habitat, shelter, and foraging grounds for a variety of tropical marine fish and invertebrates and provide the fundamental structure of coral reefs." Quote from the USGS press release.

USGS: 100 Years of Volcano Monitoring
January 15, 2012 | USGS
"This year, the USGS is proud to celebrate 100 years of continuous volcano monitoring in the United States. Monitoring began in 1912, when Thomas A. Jaggar, Jr., of the Massachusetts Institute of Technology, founded the Hawaiian Volcano Observatory (HVO) in the then U.S. territory of Hawai'i." Quoted from the USGS press release.