Roadside Geology Guides
March 9, 2014 | Geology.com Store
Since 1972 the "Roadside Geology" series has provided introductory information on the geology of states and small regions of the United States.
The books provide a combination of maps, travel logs, photos and commentary for the geology that can be seen along highways or visited at parks and public viewing areas. They are popular with geologists, teachers, students and others who are interested in the Earth.

Wall Maps of US States
February 23, 2014 | Geology.com Store
Raven Maps are beautiful examples of shaded-relief wall maps that display the elevation of a state in vibrant colors. These large maps look great in a classroom, den or office. Use one to mark the locations of your work or company.

TopoPhotos
February 16, 2014 | MyTopo.com
The folks at MyTopo.com are now printing TopoPhotos. They are aerial photographs with contour lines and topographic map annotations lightly superimposed. They give you the advantages of an aerial photograph but also include the elevation, road and place name details of a topographic map. You can use their website to order a TopoPhoto centered anywhere in the United States and have it printed in a variety of sizes in either landscape or portrait orientation. You can print them up to a huge 8′ x 5′ (or 5′ x 8′) in size.
We are affiliates of MyTopo.com and receive a commission on sales.

Evapotranspiration Measured from Space
January 28, 2014 | NASA Earth Observatory
NASA's Earth Observatory has an interesting image that demonstrates how they are able to measure geographic variations in evapotranspiration using satellite data. (Image of irrigated land from Idaho's Snake River floodplain.

New USGS Topos for Idaho and New Mexico
January 23, 2014 | USGS
"The USGS, in cooperation with other Federal agencies, has posted new Idaho US Topo quadrangles (1,193) and New Mexico quads (1,980 maps) which include Public Land Survey System (PLSS). These are added to the growing list of states west of the Mississippi River to have PLSS data added to US Topo maps." Quoted from the USGS press release.

Semester in the Wild
January 7, 2014 | University of Idaho
"We strongly recommend that students do some physical training—hiking, biking, running—over the summer to get their bodies ready for this… [...] … we will be hiking through altitude changes, through streams and across rough terrain. You may wish to do a few practice outings to discover how you like to arrange your backpack, what types of freeze-dried food to consider, and learn the intricacies of your tent and sleeping gear." Quoted from the course website.

Megafloods in Idaho and on Mars
December 26, 2013 | Caltech
"South-central Idaho and the surface of Mars have an interesting geological feature in common: amphitheater-headed canyons. These U-shaped canyons with tall vertical headwalls are found near the Snake River in Idaho as well as on the surface of Mars. Various explanations for how these canyons formed have been offered—some for Mars, some for Idaho, some for both. [...] Kenneth A. Farley offers a plausible account that all these canyons were created by enormous floods." Quoted from the Caltech press release.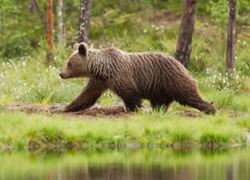 Image © iStockphoto/IndrekV
Bear Attack!
October 11, 2013 | Geology.com
If you spend time in bear country knowing how to react to a bear encounter and what to do if you are attacked could save your life.
If you don't know where bears live here is a map of the geographic ranges for black, grizzly and polar bears in North America.

Walker Ranch Geothermal Project
July 31, 2013 | MagicValley.com
The goal of the Walker Ranch geothermal project is to tap a source of hot water over a mile below Earth's surface and use it to create power for thousands of homes.

United States Gemstones
June 11, 2013 | Geology.com
A diversity of gemstones are produced in the United States. However, the $11 million per year in domestic production is tiny compared to the $23.5 billion that are imported.

Geology.com and RockTumbler.com are
both GeoShops.com websites.
Fee Mining Sites
May 24, 2013 | RockTumbler.com
Lots of people enjoy going to fee mining sites where you can prospect inactive surface mines, mine tailings, soil, sediments or outcrops and keep any rocks, gems, minerals or fossils that you find. Examples include: Herkimer Diamond Mines where you can search for doubly-terminated quartz crystals, and Crater of Diamonds where you might be lucky enough to find a real diamond.

Exploring for Geothermal in Idaho
January 15, 2013 | University of Idaho News
"In an effort to provide the most accurate assessment of high-temperature geothermal energy potential in the region, the Idaho Geological Survey recently drilled new wells in southeastern Idaho. [...]
These new thermal gradient wells will provide the first accurate picture of the heat flow regime beneath this important volcanic province." Quoted from the University of Idaho press release.