White-Nose Along Tour Routes in Mammoth Cave
March 6, 2014 | CavingNews.com
White-nose syndrome is a disease that has killed millions of bats in the past few years. Now the disease has been spotted in bats along the tour routes of Mammoth Cave

Coal Data Browser
March 4, 2014 | Energy Information Administration
The Energy Information Administration has published an interactive map that they call their "Coal Data Browser". It allows you to see statewide averages for variables such as total coal production, total consumption, mine productivity, tons produced per employee hour, sulfur content burned in power production and many, many more. Check it out if you like coal datasulfur-content.gif

Wall Maps of US States
February 23, 2014 | Geology.com Store
Raven Maps are beautiful examples of shaded-relief wall maps that display the elevation of a state in vibrant colors. These large maps look great in a classroom, den or office. Use one to mark the locations of your work or company.

Eight Corvettes Swallowed by a Sinkhole??
February 13, 2014 | Reuters
In what has to be some of the worst luck, a sinkhole developed beneath the property of the National Corvette Museum, in the karst area of Kentucky, and eight of the most valuable corvettes on the planet fell in. Security video is posted on the museum's website.

Tanker Truck Spill Goes into a Cave?
February 6, 2014 | Caving News
A tanker truck accident in Kentucky spilled about 8,200 gallons of gasoline, some of which flowed over frozen ground and into a swallow hole that is thought to connect to the Sloan's Valley Cave system.

Reviewing the New Madrid Earthquakes
February 4, 2014 | Smithsonian.com
An article on the Smithsonian.com website looks back at the New Madrid, Missouri earthquakes of 1811 and 1812 (the strongest earthquakes in the recorded history of the conterminous 48 states) and looks forward to the possibility that similar events might occur in the future.

New Madrid is not Slowing Down
January 30, 2014 | USGS
"Earthquake activity in the New Madrid Seismic Zone in the central United States does not seem to be slowing down.
USGS investigates whether current quakes in the region could be aftershocks of large earthquakes that occurred 200 years earlier." Quoted from the USGS press release.

Higher Risk in the New Madrid Seismic Zone
October 17, 2013 | USGS
New research provides insight on why the New Madrid Seismic Zone is unique and may continue to pose a higher earthquake risk than adjacent areas in the central United States.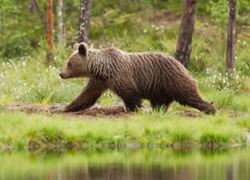 Image © iStockphoto/IndrekV
Bear Attack!
October 11, 2013 | Geology.com
If you spend time in bear country knowing how to react to a bear encounter and what to do if you are attacked could save your life.
If you don't know where bears live here is a map of the geographic ranges for black, grizzly and polar bears in North America.

The Impact of Shale Gas on the Coal Industry
October 6, 2013 | CBS News
The natural gas from shale boom and regulations that restrict greenhouse gas emissions from power plants have severely damaged the coal industry and its employees.

Geographic Concentration of Scientists and Engineers
September 19, 2013 | National Science Foundation
The geographic distribution of scientists and engineers in the United States is not uniform. Some states have much higher percentages of these professionals than other states. Virginia, Washington, Maryland and Colorado have higher than average numbers of these professionals. Arkansas, Kentucky, Louisiana, Mississippi, North Dakota and South Dakota have lower percentages.

Public Input for Mammoth Cave
July 19, 2013 | CavingNews.com
The National Park Service seeks citizen input for a study on Mammoth Cave National Park.

Geology.com and RockTumbler.com are
both GeoShops.com websites.
Fee Mining Sites
May 24, 2013 | RockTumbler.com
Lots of people enjoy going to fee mining sites where you can prospect inactive surface mines, mine tailings, soil, sediments or outcrops and keep any rocks, gems, minerals or fossils that you find. Examples include: Herkimer Diamond Mines where you can search for doubly-terminated quartz crystals, and Crater of Diamonds where you might be lucky enough to find a real diamond.

USGS Redesigned the Topo Map
May 18, 2013 | USGS
USGS has redesigned their PDF topo maps! Just released are complete map sets for Tennessee (694 maps) and Kentucky (671 maps) with more states coming soon (Alaska and Hawaii).
These maps are beautiful. If you want to see a sample we have Mammoth Cave, Kentucky unzipped and ready for you to download – but be warned that it is a really big file (30 megs) and will take quite a while to download – but well worth the wait…
If you have Adobe Reader or equivalent software, click here, get the download started, go for coffee, come back to a great map. Be sure to zoom in to see the great detail.