What Your Homeowner's Insurance Does Not Cover
March 4, 2014 | Geology.com
Most homeowners insurance policies have exclusions that make them worthless when the home is damaged by common geologic problems such as floods, earthquakes, landslides, mine subsidence, cavern collapse and expansive soils. When a home is damaged the homeowner often is surprised that his "all perils" policy has these exclusions.

Hunting Landslides in Alaska
March 2, 2014 | Wired Science
"You might think it'd be hard not to notice 68 million tons of rock and debris suddenly crashing down a mountainside. But when one of the biggest landslides of the past four years occurred in a remote region of Alaska, researchers knew almost everything about it except its exact location." Quoted from Adam Mann's blog post on Wired Science.

Wildfires and Debris Flows
February 27, 2014 | The Landslide Blog
The Landslide Blog has an interesting post on the association of wildfires and subsequent debris flows – with information on debris flow probability mapping.

Rock Avalanche at Mount La Perouse
February 25, 2014 | The Landslide Blog
The Landslide Blog has aerial photos and commentary on a rock avalanche that ran out about three miles over a glacier along the flank of Mount La Perouse in southeastern Alaska.

Landslide-Induced Tsunami Hits Coastal Village in Norway
February 4, 2014 | The Landslide Blog
Nord-Statland, a small shoreline village in Norway was struck by what is believed to have been a localized tsunami that was triggered by an underwater landslide.
Related: The Storegga submarine landslide

Natural Hazards of 2013
February 2, 2014 | USGS
USGS has a short review of how a variety of natural hazards influenced the United States during calendar year 2013.

4000 Cubic Meter Rockfall Video
January 30, 2014 | The Landslide Blog
The Landslide Blog has photos and a video of a spectacular rockfall that occurred last week in Italy. Fortunately, miraculously, no one was killed.
Be sure to watch the video at the bottom of the page.
Another article with higher resolution images can be found here.

The Seti River Disaster
January 28, 2014 | NASA Earth Observatory
The first sign of trouble for residents along the upper Seti River in Nepal was the water. In late April and early May 2012, what was usually a roaring river had slowed to a trickle. And the milky-white water—colored by rock flour from glaciers upstream in the Sabche Cirque—had turned blue and clear. Residents regarded the river changes as bizarre, but nobody connected the slowdown to anything dangerous upstream. So it came as a surprise when a slurry of sediment, rock, and water suddenly surged through the valley on May 5, 2012, obliterating dozens of homes and sweeping 72 people to their deaths.

Hear Earthquakes Triggered by the Bingham Canyon Mine Landslide
January 7, 2014 | The University of Utah
"Last year's gigantic landslide at a Utah copper mine probably was the biggest nonvolcanic slide in North America's modern history, and included two rock avalanches that happened 90 minutes apart and surprisingly triggered 16 small earthquakes." Quoted from The University of Utah press release.
The story is accompanied by a sound file that allows you to hear the second rock avalanche followed by three earthquakes.

Most Popular Items for December
January 2, 2014 | Geology.com
Landslide on an Incredible Scale
Failure of the Midcontinent Rift
Zoom in on the San Andreas Fault
Size of the Yellowstone Magma Chamber Severely Underestimated?
Salaries and Employment of Recent Geoscience Graduates
The Largest Recorded Fault Slip

Floods and Landslides in Brazil
January 2, 2014 | NASA Earth Observatory
"Widespread floods are plaguing at least three states in southeast Brazil. Heavy rains lasted throughout December in Minas Gerais, Bahia, and Espirito Santo States, causing floods and mudslides. December rainfall in Espirito Santo has already reached 714 millimeters (28.11 inches), an all-time record monthly rainfall."

Landslide on an Incredible Scale
December 26, 2013 | The Landslide Blog
A post on the Landslide Blog from 2008 includes a video of a megalandslide in Malasia that occurred in 1993. It appears to be at a mining operation that had excavated below sea level and very close to the coastline. In the last stages of the slide the sea rushes in.

Seattle Buildings at Risk of Landslides
December 22, 2013 | University of Washington
"The next big earthquake on the Seattle fault could trigger destructive landslides in the city, potentially affecting a much larger area than previously thought, and in areas outside those currently considered to be landslide prone." Quoted from the University of Washington press release.

Boulder Crushes a Home in Utah
December 17, 2013 | AOL
Two people were killed when a large boulder rolled over a home near Rockville, Utah.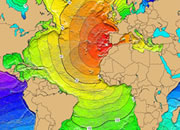 Image by NOAA
Canary Island Landslides and Atlantic Ocean Tsunami Generation
December 17, 2013 | National Oceanography Centre
"The risk posed by tsunami waves generated by Canary Island landslides may need to be re-evaluated, according to researchers at the National Oceanography Centre. Their findings suggest that these landslides result in smaller tsunami waves than previously thought by some authors, because of the processes involved." Quoted from a National Oceanography Centre press release.
Related: Atlantic Ocean Tsunamis

NASA Hazard Warning Systems
December 12, 2013 | NASA
"Scientists at NASA's Jet Propulsion Laboratory, Pasadena, Calif., and Scripps Institution of Oceanography at UC San Diego have enhanced existing GPS technologies to develop new systems for California and elsewhere to warn of hazards from earthquakes, tsunamis and extreme weather events." Quoted from the NASA press release.

Seasonal Changes on Mars
December 12, 2013 | NASA
"NASA's Mars Reconnaissance Orbiter has revealed to scientists slender dark markings — possibly due to salty water – that advance seasonally down slopes surprisingly close to the Martian equator." Quoted from the NASA press release.

Landslides in Italy
December 8, 2013 | The Telegraph
The Telegraph has a video that shows some of the damage caused by a massive landslide in Italy that occurred during heavy rains and flooding.

Landslide Mapping Needed in North Carolina
November 26, 2013 | WSPA.com
Hundreds of landslides occur every year in North Carolina but lawmakers have almost eliminated a program that can help developers avoid building homes, commercial and public buildings on ancient landslides and slide-prone areas. It can also help the state highway department and utility companies avoid building roads and pipelines across ancient landslides and slide-prone areas. This one-time job was costing about $350,000 per year and would only require mapping the western part of the state where most landslides occur.
In a 24-year period landslides in the state killed 7 people and destroyed 85 homes. Not available is how much is spent on repairs to roads and utilities. The annual cost of these is undoubtedly many times the cost of the landslide mapping program – which is temporary.
The economics of this project suggests that millions per year should be spent to get it done as quickly as possible – but lawmakers decided to cut it.

Glacial Till or Weathered Shale or Simply a Steep Slope?
November 19, 2013 | KSHB.com
There is a disagreement over what caused a landslide that damaged homes in a Kansas City development.

Wildfire Areas at Risk for Flash Floods and Debris Flows
November 11, 2013 | USGS
Although USGS does a lot of work related to wildfires, they also have a prominent role in providing information about flash flooding and debris flows in areas that have been burned.

More Problems at Paseo del Mar Landslide?
November 11, 2013 | DailyBreeze.com
"A newly unearthed crack in the Paseo del Mar landslide area has reignited debate over a $28.8 million plan to reconnect the collapsed roadway." Quoted from DailyBreeze.com.

Kedarnath Debris Flow Disaster
November 4, 2013 | The Landslide Blog
Dave Petley has posted a set of photos of a debris flow that overran the town of Kedarnath, India taken by Vaibhav Kaul.

Tumbi Quarry Landslide in Papua New Guinea
November 4, 2013 | The Landslide Blog
Dave Petley has a summary post about the Tumbi Quarry landslide that occurred in Papua New Guinea in January, 2012, killing at least 25 people.

Inexpensive Landslide Sensors
October 29, 2013 | University of Alabama in Huntsville
"Using technology found in cell phones, inexpensive sensors being tested at Monte Sano State Park might one day soon save lives by giving advance warning of deadly landslides in at-risk areas around the world." Quoted from the University of Alabama in Huntsville press release.