House Torn in Half by Landslide
April 22, 2014 | The Montana Standard
A house straddling the scarp of a small landslide near Jackson, Wyoming was torn apart as the slide moved. Photos.

Advocating Landslide Mapping in West Virginia
April 17, 2014 | WVU Today
Graduate students at West Virginia University are using LiDAR, a high resolution mapping technology, to detect and map historic and prehistoric landslides. The maps can then be used to avoid landslide areas prior to construction and identify areas where mitigation might be considered.

More Large Ancient Slides in the USA
April 15, 2014 | The Bellingham Herald
An article in The Bellingham Herald gives details on several very large landslides that dwarf the Oso Slide and all involved sudden, unpredictable collapse.
Related: Landslide incidence map

The Status of Landslide Mapping in the USA?
April 13, 2014 | CNBC
An article on CNBC website explores some of the challenges of producing landslide hazard maps for the United States.

Slow-Moving Landslide in Wyoming
April 13, 2014 | Jackson Hole News and Guide
A slow-moving landslide in Jackson, Wyoming has prompted the evacuation of numerous homes and shut down a Walgreens store.
Related: Landslide incidence map

Pittsburgh: Landslide Capital of the East
April 8, 2014 | WTAE News
WTAE News has a video report on a large landslide, with a chute about 100 yards wide on the side of Mount Washington. Pittsburgh has lots of landslides because it is a city flanked by steep river valley walls, lots of precipitation and weak red shales forming much of the bedrock.
Related: Landslide Incidence Map

Washington Landslide: USGS Summary
April 7, 2014 | USGS
USGS has published a summary observations on the large landslide near Oso, Washington.
"The slide took place along the edge of a plateau about 600 feet high composed of glacial sediments. The volume of the slide is estimated to be about 10 million cubic yards, and it traveled about 0.7 miles from the toe of the slope. This travel distance is about three times longer than expected based on published information regarding previous slides of this height and volume worldwide. If the landslide had behaved in the expected range, it would have likely blocked the river and possibly destroyed a few houses. Instead it led to tragic loss of life and destruction of property." Quoted from the USGS summary.

2001 Recommendations for the Oso Slide Area
April 6, 2014 | Yahoo! News
In 2001, a report on the area near the Oso Landslide gave three recommendations for reducing the hazard to people and property. These included moving the river about 500 feet from the base of the risky slope (to reduce eroding support from the slope) to moving the river about 2000 feet (which would have required moving many of the homes destroyed by the slide).

Restricting the Right to Build?
April 3, 2014 | New York Times
An article in the New York Times explores the idea that governments should have the ability to restrict building construction in areas subject to geologic hazards.

Logging and the Oso Landslide
April 1, 2014 | National Geographic
National Geographic has an article that explores the relationship between the landslide that occurred near Oso, Washington and logging activities in the area.

The Speed of the Oso Landslide
April 1, 2014 | National Geographic
National Geographic has an article that connects the high death toll of the Oso, Washington landslide with the speed of the slide.
Related: Landslides – USGS Fact Sheet

Oso Landslide: Mechanisms of Movement
March 31, 2014 | The Landslide Blog
Dave Petley, author of The Landslide Blog comments on the mechanisms of movement and seismic data.

Geologic Hazards in Colorado
March 31, 2014 | Colorado Geological Survey
The Colorado Geological Survey has one of the best geology pages on the web. Their Geologic Hazards in Colorado page is so valuable because it has links to several excellent videos about the state's important hazards.
You can watch some of the videos by using these links (you don't have to live in Colorado to learn something important): Avalanche, Debris Flow, Earthquake, Hazardous Soils, Landslides, Mine Subsidence and Rock Fall.
Here's a sample video….

USGS Preliminary Report Shows Ancient Landslides Near Oso
March 30, 2014 | USGS
"High-resolution topographic surveys allow fairly precise mapping of landslide deposits and their relative ages. [...] The Tulalip Tribes, in partnership with the Puget Sound Lidar Consortium, acquired a high-resolution lidar survey of the North Fork Stillaguamish River valley in 2013. This report presents a preliminary interpretation of the topography of this area using the lidar data at a scale of 1:24,000." Quoted from the USGS Preliminary Interpretation.

Explaining the Oso Landslide
March 29, 2014 | Washington Post
David Montgomery, a geology professor at the University of Washington, discusses the deadly mudslide that occurred last week near Oso, Washington.

World's Largest Landslides
March 29, 2014 | Geology.com
The Heart Mountain Landslide of Wyoming is the largest known subaerial landslide that has been recognized on Earth. The largest submarine slide is the Storegga slide off the coast of Norway.

The Saidmarreh Landslide
March 29, 2014 | Geology.com
The Saidmarreh Landslide in western Iran is one of the largest landslides in the world. It occurred about 10,000 years ago when about 5 cubic miles of limestone detached along bedding planes and slipped down the north flank of the Kabir Kuh anticline. The slide debris had a run-out distance of over 9 miles. It can be clearly seen on satellite images today.

NASA Landsat Geocover image annotated by Geology.com

Aerial View of the Oso Landslide
March 29, 2014 | Wikimedia.org
This is one of the best perspective views of the scarp, chute and run-out area. See a higher resolution image on Wikimedia.org.


Washington State Patrol image of the Oso from Wikimedia

Helicopter Videos over the Oso Landslide
March 27, 2014 | Q13Fox
Q13Fox has posted two aerial videos of the landslide and flooding near Oso, Washington.

USGS: Washington Slide Not Triggered by an Earthquake
March 27, 2014 | Mashable
A very small, M1.1 earthquake occurred about two weeks before the recent large landslide near Oso, Washington. USGS does not believe that the earthquake and the landslide are associated.

Buried in a Mudslide!
March 27, 2014 | Reader's Digest
Reader's Digest has an article titled: "We Were Buried in a Mudslide" that tells the experience of people who lived in a Colorado neighborhood that was hit by damaging mudslides.

Mount Haast Rock Avalanche Video
March 25, 2014 | The Landslide Blog
The Landslide Blog has an impressive video of a rock avalanche that occurred on the flank of Mount Haast (New Zealand) in 2013. It moves over a snow-covered slope which makes the movement much more visible.

Randa Rockslide Video
March 24, 2014 | The Landslide Blog
"The 1991 rockslides at Randa consisted of two separate collapse events on April 18 and May 9, which released in total a cumulative volume of approximately 30 million cubic meters of rock." Quote from Wikipedia.

Landslide Blog: Washington Landslide
March 24, 2014 | The Landslide Blog
Dave Petley has spent a lot of time gathering information about the slope failure near Oso, Washington. It was a reactivation of an existing failure known as the Hazel Landslide that moved in 1988 and 2006.

2006: Spectacular Rockfall in Yosemite
March 24, 2014 | Herb Dunn
A series of photos captured by Herb Dunn as he sat on the banks of the Merced River in Yosemite National Park.

18 Missing and 3 Dead in Washington Landslide
March 23, 2014 | BaxterBulletin
Three people were killed and at least eighteen are missing after a landslide crashed through six homes, blocked a road and formed a dam across the north fork of the Stillaguamish River.

Upstream Flooding Concerns After Washington Landslide
March 23, 2014 | Seattle Times
After a landslide blocked the north fork of the Stillaguamish River near Oso, Washington there is a concern of upstream flooding as water backs up above the slide debris and a downstream flooding concern if the landslide-created dam is breached.

Rock Fatigue??
March 11, 2014 | The Landslide Blog
You have probably heard about how "metal fatigue" can result in the failure of aircraft parts and bridge cables. Have you heard about "rock fatigue" resulting in the failure of outcrops and other structures?

What Your Homeowner's Insurance Does Not Cover
March 4, 2014 | Geology.com
Most homeowners insurance policies have exclusions that make them worthless when the home is damaged by common geologic problems such as floods, earthquakes, landslides, mine subsidence, cavern collapse and expansive soils. When a home is damaged the homeowner often is surprised that his "all perils" policy has these exclusions.

Hunting Landslides in Alaska
March 2, 2014 | Wired Science
"You might think it'd be hard not to notice 68 million tons of rock and debris suddenly crashing down a mountainside. But when one of the biggest landslides of the past four years occurred in a remote region of Alaska, researchers knew almost everything about it except its exact location." Quoted from Adam Mann's blog post on Wired Science.

Wildfires and Debris Flows
February 27, 2014 | The Landslide Blog
The Landslide Blog has an interesting post on the association of wildfires and subsequent debris flows – with information on debris flow probability mapping.

Rock Avalanche at Mount La Perouse
February 25, 2014 | The Landslide Blog
The Landslide Blog has aerial photos and commentary on a rock avalanche that ran out about three miles over a glacier along the flank of Mount La Perouse in southeastern Alaska.

Landslide-Induced Tsunami Hits Coastal Village in Norway
February 4, 2014 | The Landslide Blog
Nord-Statland, a small shoreline village in Norway was struck by what is believed to have been a localized tsunami that was triggered by an underwater landslide.
Related: The Storegga submarine landslide

Natural Hazards of 2013
February 2, 2014 | USGS
USGS has a short review of how a variety of natural hazards influenced the United States during calendar year 2013.

4000 Cubic Meter Rockfall Video
January 30, 2014 | The Landslide Blog
The Landslide Blog has photos and a video of a spectacular rockfall that occurred last week in Italy. Fortunately, miraculously, no one was killed.
Be sure to watch the video at the bottom of the page.
Another article with higher resolution images can be found here.

The Seti River Disaster
January 28, 2014 | NASA Earth Observatory
The first sign of trouble for residents along the upper Seti River in Nepal was the water. In late April and early May 2012, what was usually a roaring river had slowed to a trickle. And the milky-white water—colored by rock flour from glaciers upstream in the Sabche Cirque—had turned blue and clear. Residents regarded the river changes as bizarre, but nobody connected the slowdown to anything dangerous upstream. So it came as a surprise when a slurry of sediment, rock, and water suddenly surged through the valley on May 5, 2012, obliterating dozens of homes and sweeping 72 people to their deaths.

Hear Earthquakes Triggered by the Bingham Canyon Mine Landslide
January 7, 2014 | The University of Utah
"Last year's gigantic landslide at a Utah copper mine probably was the biggest nonvolcanic slide in North America's modern history, and included two rock avalanches that happened 90 minutes apart and surprisingly triggered 16 small earthquakes." Quoted from The University of Utah press release.
The story is accompanied by a sound file that allows you to hear the second rock avalanche followed by three earthquakes.

Most Popular Items for December
January 2, 2014 | Geology.com
Landslide on an Incredible Scale
Failure of the Midcontinent Rift
Zoom in on the San Andreas Fault
Size of the Yellowstone Magma Chamber Severely Underestimated?
Salaries and Employment of Recent Geoscience Graduates
The Largest Recorded Fault Slip

Floods and Landslides in Brazil
January 2, 2014 | NASA Earth Observatory
"Widespread floods are plaguing at least three states in southeast Brazil. Heavy rains lasted throughout December in Minas Gerais, Bahia, and Espirito Santo States, causing floods and mudslides. December rainfall in Espirito Santo has already reached 714 millimeters (28.11 inches), an all-time record monthly rainfall."

Landslide on an Incredible Scale
December 26, 2013 | The Landslide Blog
A post on the Landslide Blog from 2008 includes a video of a megalandslide in Malasia that occurred in 1993. It appears to be at a mining operation that had excavated below sea level and very close to the coastline. In the last stages of the slide the sea rushes in.

Seattle Buildings at Risk of Landslides
December 22, 2013 | University of Washington
"The next big earthquake on the Seattle fault could trigger destructive landslides in the city, potentially affecting a much larger area than previously thought, and in areas outside those currently considered to be landslide prone." Quoted from the University of Washington press release.

Boulder Crushes a Home in Utah
December 17, 2013 | AOL
Two people were killed when a large boulder rolled over a home near Rockville, Utah.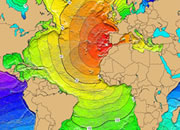 Image by NOAA
Canary Island Landslides and Atlantic Ocean Tsunami Generation
December 17, 2013 | National Oceanography Centre
"The risk posed by tsunami waves generated by Canary Island landslides may need to be re-evaluated, according to researchers at the National Oceanography Centre. Their findings suggest that these landslides result in smaller tsunami waves than previously thought by some authors, because of the processes involved." Quoted from a National Oceanography Centre press release.
Related: Atlantic Ocean Tsunamis

NASA Hazard Warning Systems
December 12, 2013 | NASA
"Scientists at NASA's Jet Propulsion Laboratory, Pasadena, Calif., and Scripps Institution of Oceanography at UC San Diego have enhanced existing GPS technologies to develop new systems for California and elsewhere to warn of hazards from earthquakes, tsunamis and extreme weather events." Quoted from the NASA press release.

Seasonal Changes on Mars
December 12, 2013 | NASA
"NASA's Mars Reconnaissance Orbiter has revealed to scientists slender dark markings — possibly due to salty water – that advance seasonally down slopes surprisingly close to the Martian equator." Quoted from the NASA press release.

Landslides in Italy
December 8, 2013 | The Telegraph
The Telegraph has a video that shows some of the damage caused by a massive landslide in Italy that occurred during heavy rains and flooding.

Landslide Mapping Needed in North Carolina
November 26, 2013 | WSPA.com
Hundreds of landslides occur every year in North Carolina but lawmakers have almost eliminated a program that can help developers avoid building homes, commercial and public buildings on ancient landslides and slide-prone areas. It can also help the state highway department and utility companies avoid building roads and pipelines across ancient landslides and slide-prone areas. This one-time job was costing about $350,000 per year and would only require mapping the western part of the state where most landslides occur.
In a 24-year period landslides in the state killed 7 people and destroyed 85 homes. Not available is how much is spent on repairs to roads and utilities. The annual cost of these is undoubtedly many times the cost of the landslide mapping program – which is temporary.
The economics of this project suggests that millions per year should be spent to get it done as quickly as possible – but lawmakers decided to cut it.

Glacial Till or Weathered Shale or Simply a Steep Slope?
November 19, 2013 | KSHB.com
There is a disagreement over what caused a landslide that damaged homes in a Kansas City development.

Wildfire Areas at Risk for Flash Floods and Debris Flows
November 11, 2013 | USGS
Although USGS does a lot of work related to wildfires, they also have a prominent role in providing information about flash flooding and debris flows in areas that have been burned.

More Problems at Paseo del Mar Landslide?
November 11, 2013 | DailyBreeze.com
"A newly unearthed crack in the Paseo del Mar landslide area has reignited debate over a $28.8 million plan to reconnect the collapsed roadway." Quoted from DailyBreeze.com.