Artistic image by NASA
Lunar Impact and Afterglow Visible for 8 Seconds
March 2, 2014 | Nature
The impact of a large object onto the lunar surface in September, 2013 produced a flash and an afterglow that was bright enough to have been seen from Earth with the unaided eye for about eight seconds. The flash was the result of the tremendous impact speed generating enough heat to melt the target and impactor

Spectacular New Crater and Ejecta on Mars
February 6, 2014 | NASA.gov
"Space rocks hitting Mars excavate fresh craters at a pace of more than 200 per year, but few new Mars scars pack as much visual punch as one seen in a NASA image released today." Quoted from the NASA press release (February 5, 2014).

Natural Hazards of 2013
February 2, 2014 | USGS
USGS has a short review of how a variety of natural hazards influenced the United States during calendar year 2013.

First Mission to Land a Probe on a Comet
January 28, 2014 | NASA
"Three NASA science instruments are being prepared for check-out operations aboard the European Space Agency's Rosetta spacecraft, which is set to become the first to orbit a comet and land a probe on its nucleus in November." Quoted from the NASA press release.

Surprise White Rock on Mars
January 23, 2014 | NASA
While preparing to start robotic arm work on the target "Cape Elizabeth" on Sol 3541 (Jan. 8, 2014), Opportunity encountered a slight surprise — a rock had appeared in the images that had not been there before. This target that has been named "Pinnacle Island" and its origin has been the target of much speculation.

First Meteor Shower of 2014 Peaks Friday
January 5, 2014 | Christian Science Monitor
The Quadrantid meteor shower is expected to peak on Friday afternoon in the United States, but people in other parts of the world might see 60 to 120 meteors per hour. People in the United States might see a few meteors before sunrise and after sunset.
Related: What Causes a Meteor Shower?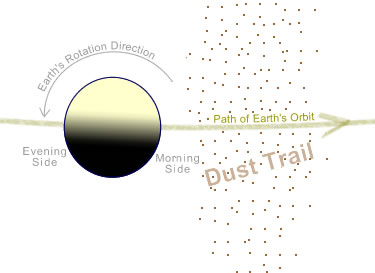 Artistic image by NASA
Clay Minerals and a Collision with Europa?
December 15, 2013 | NASA
"A new analysis of data from NASA's Galileo mission has revealed clay-type minerals at the surface of Jupiter's icy moon Europa that appear to have been delivered by a spectacular collision with an asteroid or comet. This is the first time such minerals have been detected on Europa's surface. The types of space rocks that deliver such minerals typically also often carry organic materials."
Related: Life on Europa?

Pennsylvania Meteorites
December 9, 2013 | Pennsylvania Geological Survey
The Fall 2013 issue of Pennsylvania Geology has an article about meteorites that have been found in Pennsylvania.

Most Popular Items for November
December 2, 2013 | Geology.com
The World's Largest Emerald Mine
New Volcanic Island Southeast of Japan
The Enormous Volcanic Eruption that Historians Never Recorded
A Super River from the Southwestern United States to the Labrador Sea?
Comet Ison is Visible to the Naked Eye

Comet ISON Obituary
December 1, 2013 | NBC News
"I do think that something emerged from the sun, but probably a very small nucleus or 'rubble pile.' and I fear that may have now dissolved." Karl Battams, an astrophysicist at the Naval Research Laboratory.

Comet Ison is Visible to the Naked Eye
November 21, 2013 | The Telegraph
"Comet Ison, first spotted a year ago, is now visible to the naked eye and will continue to brighten as it hurtles toward the sun."

First Known Zircon from Mars
November 21, 2013 | The Australian
"An analysis of one of the 70-odd Martian meteorites discovered so far, a chunk of rock found several years ago by Bedouins in the Sahara Desert, has revealed the first known fragments of zircon from the red planet." Quoted from The Australian press release.
Related: Meteorite Articles

Bedrock Map of Vesta Asteroid
November 11, 2013 |
"This colorized map from NASA's Dawn mission shows the types of rocks and minerals distributed around the surface of the giant asteroid Vesta. In this color scheme, red shows diogenite, a type of mineral thought to be formed through magmatic processes deep in the crust. Green shows howardite, a type of surface rock that is made of broken bits of different materials that are excavated, ejected and mixed by meteor impacts….." Partial quote from the NASA image description.

An Asteroid with Six Comet-Like Tails
November 11, 2013 | NASA
"This NASA Hubble Space Telescope set of images reveals a never-before-seen set of six comet-like tails radiating from a body in the asteroid belt, designated P/2013 P5." Quoted from the NASA press release.

NASA Describes the Chelyabinsk Meteoroid Event
November 10, 2013 | NASA
NASA has a short article that describes the Chelyabinsk Meteoroid Event. Two interesting paragraphs from their article….


Jenniskens and Popova calculated the impact speed of the meteor at 42,500 mph. As the meteor penetrated through the atmosphere, it efficiently fragmented into pieces, peaking at 19 miles above the surface. At that point the light of the meteor appeared brighter than the sun, even for people 62 miles away.
Due to the extreme heat, many of the pieces of the debris vaporized before falling out of the orange glowing debris cloud. Scientists believe that between 9,000 to 13,000 pounds of meteorites fell to the ground. This included one fragment approximately 1,400 pound recovered from Lake Chebarkul on October 16, 2013, by professional divers guided by Ural Federal University researchers.
Related: Meteorite Articles

Meteorites from Mars
October 19, 2013 | UPI
"NASA's Curiosity rover on Mars has found evidence confirming some meteors found on Earth did in fact come from the Red Planet. Quoted from the UPI article.
Related: Meteorite Articles

1000 Pound Fragment of the Chelyabinsk Meteorite?
October 17, 2013 | RT.com
Divers have recovered several pieces of what they believe is the Chelyabinsk meteorite from a lake in the Ural Mountains.

First Evidence for a Comet Striking Earth
October 8, 2013 | University of Witwatersrand
"The first ever evidence of a comet entering Earth's atmosphere and exploding, raining down a shock wave of fire which obliterated every life form in its path, has been discovered by a team of South African scientists and international collaborators." Quoted from the University of Witwatersrand press release.

Monday Evening Meteor Shower
October 6, 2013 | USA Today
Just after sunset on Monday night (October 7th) is the best time for observing the Draconids meteor shower. If you have a clear sky the moon should not interfere.

Images and Data from an Asteroid Visit
September 29, 2013 | NASA
In 2011 and 2012, NASA's Dawn spacecraft orbited the giant asteroid Vesta. This was an opportunity for researchers to get close-up observations to compare with the information they obtained from ground and satellite observations. They now have an article titled: "Dawn Reality-Checks Telescope Studies of Asteroids".

What Killed the Mammoths?
September 11, 2013 | National Geographic
What killed the mammoths and other large mammals about 12,900 years ago? Was it humans, climate or an impact event? National Geographic has an article that explores the possibilities.

Cause of the Younger Dryas Cooling?
September 9, 2013 | Scientific American
Although they face disagreement a group of researchers believe that an asteroid impact in Canada about 11,600 to 12,900 years ago caused the Younger Dryas cooling.

WISE to Hunt Asteroids Again
August 27, 2013 | NASA
"The WISE spacecraft that discovered and characterized tens of thousands of asteroids throughout the solar system before being placed in hibernation will return to service for three more years starting in September, assisting the agency in its effort to identify the population of potentially hazardous near-Earth objects." Quoted from the NASA press release.

Decorah Impact Crater
August 26, 2013 | EarthMagazine.org
Researchers have confirmed a 470-million-year-old impact crater near the town of Decorah, Iowa using multiple types of evidence.
Related: Google Map of Impact Sites

Perseids Meteor Shower Peaks August 11 to 13
August 11, 2013 | National Geographic
National Geographic has published a guide for observing the Perseids meteor shower which peaks between August 11 and 13.