Coloured Gemstone Deposits in the Yukon
December 10, 2013 | Yukon Geological Survey
Nice publications on the geology of gemstones are rare. Here is a nice open file report from the Yukon Geological Survey.
It is Open File Report 2004-10, "EXPLORATION CRITERIA FOR Coloured Gemstone Deposits in the Yukon" by Lori Walton.

Anthill Garnet?
December 3, 2013 | Geology.com
They are called "anthill garnets" because they are found on and around the margins of anthills. The ants encounter the garnets while excavating their underground passages, haul them to the surface and discard them.
Related: What is Garnet?

Rock and Mineral Projects at DonorsChoose.org
December 3, 2013 | DonorsChoose.org
DonorsChoose.org is a website where K-12 teachers post projects that they would like to have funded and anyone anywhere can provide support. Many of these teachers would like to have materials to help them teach about rocks and minerals. Here are three projects that might appeal to you.
Fluorescent rocks and minerals

Rock, Mineral, Gem and Fossil Kits
December 2, 2013 | Geology.com Store
The Geology.com Store has a nice selection of rock, mineral, gemstone and fossil kits for personal or classroom use.

What is Iris Agate?
November 27, 2013 | Geology.com
""Iris Agate" is a name used for a finely-banded agate that produces a spectacular display of color when it is cut properly and illuminated from a direction that sends light through its very thin bands."

Bill Magee the Gem Miner
November 24, 2013 | YouTube.com
An interesting video about Bill Magee, a gem miner who lived and found lots of gems in southern California. (His big find – about 1 1/2 tons of morganite crystals – is at about 22:30.)

The Smithsonian Gem and Mineral Collection
November 24, 2013 | Gemological Institute of America
The Gemological Institute of America has an article with five videos and a photo gallery that gives you a "behind the scenes" look at the Smithsonian Gem and Mineral Collection.

Mineral Hardness Picks
November 17, 2013 | Geology.com Store
Mineral hardness picks are pencil-like tools that have points made from materials that match the hardness of minerals in the Mohs Hardness Scale. With them you can easily test the hardness of mineral grains in a rock and test the hardness of small-size specimens. In our opinion they are easier to use than pieces of minerals and allow you to obtain more accurate results.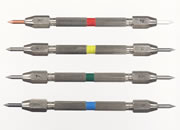 The Worlds Largest Emerald Mine
November 14, 2013 | Gemfields Plc on YouTube
This video shows a few activities at Gemfields's Kagem Emerald Mine in Zambia.

Labradorescence
October 25, 2013 | Geology.com
Labradorite is a feldspar mineral of the plagioclase series. Some specimens exhibit a schiller effect, which is a strong play of iridescent blue, green, red, orange, and yellow colors. Labradorite is so well known for these spectacular displays of color that the phenomenon is known as "labradorescence."

Gold Prospecting by Picking Eucalyptus Leaves?
October 23, 2013 | Nature
An article in Nature suggests that Eucalyptus trees might translocate gold from the ground and into their leaves, making them potentially useful in gold prospecting.

The Acid Test
October 23, 2013 | Geology.com
The Acid Test: Geologists use dilute hydrochloric acid to identify carbonate minerals and detect their presence in rocks.

Turquoise the Gem Mineral
October 22, 2013 | Geology.com
Turquoise is a blue to blue-green gem material that has been used to make gemstones and art objects by people worldwide for over 6000 years.

Mohs Hardness Scale
October 22, 2013 | Geology.com
Mohs Hardness Scale is a set of reference minerals used to estimate the relative hardness of mineral specimens. It is widely used by students and geologists in field and laboratory studies.

Fluorescent Minerals
October 21, 2013 | Geology.com
A few minerals have an interesting physical property known as "fluorescence". These minerals have the ability to temporarily absorb a small amount of light and an instant later release a small amount of light of a different wavelength.

Ametrine
October 13, 2013 | geology.com
Ametrine, a combination of amethyst and citrine is a bicolor quartz and a gemstone of growing popularity.
It is produced commercially from just one mine in the world, located in eastern Bolivia.

Texas Mineral Resources Map
October 13, 2013 | University of Texas at Austin
"The Bureau of Economic Geology frequently fields calls from the general public to find information about clay deposits, uranium site locations, sand and gravel deposits, or what
resources, in general, are located at or around a specific location. The interactive Map provides the public with the means to search out locations on their own, and click on the points of interest, bringing up pertinent information…"
For more information about the map see the "Under the Radar.." section here.

Gold in Pennsylvania?
September 15, 2013 | Pennsylvania Council of Professional Geologists Newsletter
The current issue of the Pennsylvania Council of Professional Geologists Newsletter has an article titled: Panning for Gold…in Pennsylvania???.

Digitizing, Cataloging, and Publishing Arizona's Mining Legacy
September 12, 2013 | Arizona Geological Survey
Arizona Geology Magazine has an article that describes the work being done to place an archive of information about mining in Arizona online for public access.

Ancient Chinese Jade
September 8, 2013 | National Geographic
National Geographic has a video about how Chinese artists made large jade disks over about 5000 years ago. The disks that they made are remarkable considering how difficult a material jade is to work.
Related: What is Jade?