Organic Gems
March 6, 2014 | Geology.com
Although most gemstones are mineral materials, a number of organic materials and fossilized organisms are considered to be gemstones. The most common of these are pearl, bone, amber, coral, ivory, petrified wood, fossil coral, dinosaur bone and more.

Mineral Collectors at the Arizona Mineral Museum
March 6, 2014 | Arizona Geological Survey
This video features interviews with several mineral collectors who attended the opening reception for the University of Arizona Mineral Museum and Flandrau Science Center 2014 Exhibit.

Rock and Mineral Identification
March 6, 2014 | Geology.com Store
The ability to identify rocks and minerals in the field is a very important skill. The Geology.com store has a selection of rock, mineral, fossil and gem mineral kits that can be used for learning and practice. Testing tools are also available.

World Potash Developments
March 4, 2014 | Arizona Geological Survey Repository
The Arizona Geological Survey published the World Potash Developments paper from the 48th Annual Forum on the Geology of Industrial Minerals held in Scottsdale, April 30 to May 4, 2012.

Olivine
March 4, 2014 | Geology.com
Olivine is the name of a group of rock-forming minerals of Earth's crust. It is usually found in mafic and ultramafic igneous rocks. It is also found in Earth's mantle and in some meteorites. Although it is not often used in industry, gem-quality specimens are cut into a gemstone known as peridot.

The Oldest Mineral Grain
March 2, 2014 | BBC
A zircon crystal found in a sandstone of the Jack Hills region of Western Australia has been determined to be approximately 4.4 billion years old.

Salt Glaciers?
March 2, 2014 | Geology.com
Salt glaciers (also known as namakiers) are masses of salt that erupt onto Earth's surface and flow downslope under their own weight.
They develop where salt domes rise high enough to reach the surface.

Chrysoberyl
February 27, 2014 | Geology.com
Chrysoberyl is an extreme gem. At 8.5 on the Mohs Scale it is the third hardest gem mineral. At 3.7 to 3.8 it has a very high specific gravity for a non-metallic mineral. It is the gem with the finest cat's eye. And, some specimens change color depending upon the type of incident light.

Salt Domes
February 27, 2014 | Geology.com
Salt Domes are mounds or columns of salt that have risen above their parent rock unit because of the salt's low specific gravity.
They serve as oil and natural gas reservoirs; sources of sulfur; sources of salt; underground storage sites for oil, natural gas and helium; and, disposal sites for hazardous waste.

Mineral Hardness Picks
February 25, 2014 | Geology.com Store
Mineral hardness picks are pencil-like tools that have points made from materials that match the hardness of minerals in the Mohs Hardness Scale. With them you can easily test the hardness of mineral grains in a rock and test the hardness of small-size specimens. In our opinion they are easier to use than pieces of minerals and allow you to obtain more accurate results. They also do not contaminate your specimen with particles of the hardness mineral.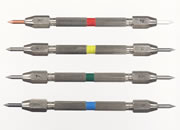 100 Years of Crystallography
February 20, 2014 | Nature.com
Nature.com has an interesting article about the history of crystallography.
Max von Laue won the Nobel Prize in physics 100 years ago for his work on how crystals diffract x-rays.

Geology of Diamonds
February 18, 2014 | GeoscienceWorld.org
An interesting article on "Diamonds and the Geology of Mantle Carbon" that considers the various types of diamonds, their host rocks, inclusions, geographic distribution, environments of formation, age, trace element composition, textures, carbon/nitrogen isotopes, geobarometry, and lots more.

Tucson Gem and Mineral Show Interview
February 13, 2014 |
The Arizona Geological Survey just published a special episode of Arizona Mining Review. Lee Allison interviews Peter Megaw, Exhibits Chair of The 60th Annual Tucson Gem and Mineral Show which begins today. At least 40 other gem, mineral, fossil and jewelry shows have been occurring in Tucson for the past few weeks.

Peridotite
February 13, 2014 | Geology.com
Peridotite is a host rock of chromite, a source rock of diamonds, a potential sink for atmospheric carbon dioxide and the rock that makes up much of Earth's mantle. Did you realize it was so important?

Rare Earth Mine in Missouri?
February 9, 2014 | Aljazeera America
This article takes a quick look at the rare earth element potential of the Pea Ridge Mine, located in southeastern Missouri and the Mountain Pass Mine in California.
Related: What are rare earth elements?

Mohs Hardness Scale
February 6, 2014 | Geology.com
Mohs Hardness Scale is a set of reference minerals used to estimate the relative hardness of mineral specimens. It is widely used by students and geologists in field and laboratory studies.

Fluorescent Minerals
February 4, 2014 | Geology.com
A few minerals have an interesting physical property known as "fluorescence". These minerals have the ability to temporarily absorb a small amount of light and an instant later release a small amount of light of a different wavelength.

Conflict Minerals
January 26, 2014 | National Geographic
National Geographic has an article about "conflict minerals". These are minerals that are mined or stolen for the purpose of supporting military operations, particularly in eastern Congo.

Intentionally Weathering Olivine to Fight Climate Change?
January 23, 2014 | Nature
A Nature article reports how some researchers believe that climate change can be mitigated by crushing olivine-rich rocks and exposing them to weathering – to take advantage of olivine's ability to sequester carbon.

Big Rare Earth Find in North Korea?
January 21, 2014 | Voice of America
"A recent geological study indicates North Korea could hold some 216 million tons of rare earth minerals [...] if verified, the discovery would more than double global known sources and be six times the reserves in China, the market leader." Quoted from the Voice of America article.
Related: rare earth minerals">What are Rare Earth Elements?

Copper Ore: Supergene Enrichment
January 21, 2014 | Tucson Citizen
David Briggs has another article in the Tucson Citizen. This one on the supergene alteration and mineralization assemblages, which are formed when these sulfide-bearing deposits are exposed to near-surface, oxidizing solutions (groundwater) as they are exhumed by erosion and exposed to weathering.

World Potash Developments
January 19, 2014 | Arizona Geological Survey
"Potash is a non-renewable resource that is a key ingredient in fertilizer along with phosphate and nitrogen. Increased demand for fertilizers and potash has driven potash prices from US$96/tonne in September 1990, to US$203/tonne in July 2007, to US$495/tonne in April, 2012. A dwindling supply of arable land worldwide coupled with population growth requires increased food production from that land." Quoted from the report.

Australia and the United States Are Producing Rare Earths Again
December 17, 2013 | Geology.com
After China restricts their exports of rare earth elements, the United States and Australia are back in production.

Turquoise
December 15, 2013 | Geology.com
Turquoise is a blue to blue-green gem material that has been used by people worldwide for over 6000 years.

2014 Mineral Shows
December 12, 2013 | The-Vug.com
The-Vug.com has a comprehensive list of mineral shows for 2014. There are probably at least a couple of shows scheduled near you!