TopoPhotos
December 17, 2013 | MyTopo.com
The folks at MyTopo.com are now printing TopoPhotos. They are aerial photographs with contour lines and topographic map annotations lightly superimposed. They give you the advantages of an aerial photograph but also include the elevation, road and place name details of a topographic map. You can use their website to order a TopoPhoto centered anywhere in the United States and have it printed in a variety of sizes in either landscape or portrait orientation. You can print them up to a huge 8′ x 5′ (or 5′ x 8′) in size.
We are affiliates of MyTopo.com and receive a commission on sales.

Wall Maps of US States
December 1, 2013 | Geology.com Store
Raven Maps are beautiful examples of shaded-relief wall maps that display the elevation of a state in vibrant colors. These large maps look great in a classroom, den or office. Use one to mark the locations of your work or company.

Roadside Geology Guides
November 25, 2013 | Geology.com Store
Since 1972 the "Roadside Geology" series has provided introductory information on the geology of states and small regions of the United States.
The books provide a combination of maps, travel logs, photos and commentary for the geology that can be seen along highways or visited at parks and public viewing areas. They are popular with geologists, teachers, students and others who are interested in the Earth.

Bakken at a Million Barrels per Day
November 17, 2013 | Energy Information Administration
"The latest monthly update of estimated crude oil production in the Bakken region of North Dakota and Montana shows total wellhead output topping 1 million barrels of oil per day (bbl/d) next month." Quoted from the Energy Information Administration.

Powder River Basin Coal Assessment
October 25, 2013 | United States Geological Survey
"Using a geology-based assessment methodology, the U.S. Geological Survey estimated in-place resources of 1.07 trillion short tons of coal in the Powder River Basin, Wyoming and Montana. Of that total, with a maximum stripping ratio of 10:1, recoverable coal was 162 billion tons. The estimate of economically recoverable resources was 25 billion tons." Quoted from the USGS fact sheet.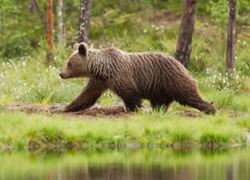 Image © iStockphoto/IndrekV
Bear Attack!
October 11, 2013 | Geology.com
If you spend time in bear country knowing how to react to a bear encounter and what to do if you are attacked could save your life.
If you don't know where bears live here is a map of the geographic ranges for black, grizzly and polar bears in North America.

A CO2 Pipeline for an Aging Montana Oil Field
August 28, 2013 | Fort Mills Times
A company in Montana built a pipeline that carries carbon dioxide 232 miles, where it is then pumped into the ground to increase the production rate of an aging oil field.

Wankel T. Rex at the Smithsonian
July 4, 2013 | Newsroom of the Smithsonian
The Smithsonian National Museum of Natural History announced that it has reached a 50-year loan agreement with the U.S. Army Corps of Engineers to transfer a Tyrannosaurus rex skeleton to the Smithsonian for eventual display in the museum's new dinosaur hall, scheduled to open in 2019. The skeleton is one of the most complete T. rex specimens ever discovered. It was found by Kathy Wankel, a rancher, near the Fort Peck Reservoir in eastern Montana.

United States Gemstones
June 11, 2013 | Geology.com
A diversity of gemstones are produced in the United States. However, the $11 million per year in domestic production is tiny compared to the $23.5 billion that are imported.

Geology.com and RockTumbler.com are
both GeoShops.com websites.
Fee Mining Sites
May 24, 2013 | RockTumbler.com
Lots of people enjoy going to fee mining sites where you can prospect inactive surface mines, mine tailings, soil, sediments or outcrops and keep any rocks, gems, minerals or fossils that you find. Examples include: Herkimer Diamond Mines where you can search for doubly-terminated quartz crystals, and Crater of Diamonds where you might be lucky enough to find a real diamond.

Powder River Basin: 162B Tons of Coal
February 28, 2013 | USGS
The Powder River Basin of Wyoming and Montana contains about 162 billion short tons of recoverable coal from a total of 1.07 trillion short tons of in-place resources according to a new USGS assessment.