Roadside Geology Guides
May 19, 2013 | Geology.com Store
Since 1972 the "Roadside Geology" series has provided introductory information on the geology of states and small regions of the United States.
The books provide a combination of maps, travel logs, photos and commentary for the geology that can be seen along highways or visited at parks and public viewing areas. They are popular with geologists, teachers, students and others who are interested in the Earth.

Supersized Topographic Maps
February 17, 2013 | MyTopo.com
The folks at MyTopo.com are now printing supersized topo maps; large enough make a huge 8′ x 5′ (or 5′ x 8′) map that will look fantastic on the wall of your office, conference room, lobby, cabin or den. These maps are custom-centered on any location that you pick using their online map-making tool.
We are affiliates of MyTopo.com and receive a commission on sales.

Wall Maps of US States
February 10, 2013 | Geology.com Store
Raven Maps are beautiful examples of shaded-relief wall maps that display the elevation of a state in vibrant colors. These large maps look great in a classroom, den or office. Use one to mark the locations of your work or company.

Volcanic Hazards in the Southwest
November 6, 2012 | MSNBC.com
An article on the MSNBC.com website explores volcanic hazards in the southwestern United States and how geologists are starting to coordinate their mitigation, forecasting and planning efforts.

Changes in the High Plains Aquifer
October 11, 2012 | USGS
USGS has published: Saturated thickness and water in storage in the High Plains aquifer, 2009, and water-level changes and changes in water in storage in the High Plains aquifer, 1980 to 1995, 1995 to 2000, 2000 to 2005, and 2005 to 2009.

New Issue of Lite Geology (Free)
October 10, 2012 | New Mexico Bureau of Geology
The New Mexico Bureau of Geology and Mineral Resources has published their fall issue of Lite Geology. A feature article is "The Evolution of the Rio Grande".

13-Year-Old Finds 2-Pound Meteorite
August 13, 2012 | Los Angeles Times
Thirteen-year-old Jansen Lyons had been searching for meteorites for years until he finally found a 2-pound ordinary chondrite near his home in Albuquerque.

Potash vs Oil and Gas Drilling Disputes
July 18, 2012 | BusinessWeek.com
A conflicting land use problem exists in parts of New Mexico where prime potash deposits are underlain by oil and natural gas reservoirs. These resources can not be developed at the same location simultaneously. This BusinessWeek article explores the problems and the squabbles.

Rig Count in the Permian Basin
July 11, 2012 | Energy Information Administration
"The Permian Basin—a long-time oil and natural gas producing region in west Texas and eastern New Mexico—is showing signs of new life. The active rig count has grown from 100 rigs in mid-2009 to over 500 rigs in May 2012." Quoted from the Energy Information Administration.

250 Carbon Dioxide Wells?
July 5, 2012 | Arizona Geology
A project in Arizona may eventually lead to drilling 250 wells to produce carbon dioxide that will be piped to Texas and New Mexico for enhanced oil recovery.

USGS and Wildfire Mitigation
July 5, 2012 | USGS
This short article highlights the many types of support that USGS offers to wildfire mitigation efforts. They identify wildfire risk areas before fires occur, provide up-to-the-minute maps and satellite images, assess debris flow and flooding dangers after the fires…

101 American Geo-Sites
June 27, 2012 | Geology.com Store
Mountain Press Publishing has released a new book by Albert B. Dickas titled: 101 American Geo-Sites You've Gotta See.
It provides a two-page presentation on each site that features photos, text and a map. It is a good way to get a quick glimpse of these 101 fantastic sites. It sells for $23.99.
See a table of contents.

Helium: A Natural Gas Byproduct
May 30, 2012 | Geology.com
"Helium is produced by the decay of uranium and thorium in granitoid basement rocks. The liberated helium is buoyant and moves towards the surface in porosity associated with basement faults. The helium then moves upwards through porous sedimentary cover until it is trapped with natural gas under beds of anhydrite or salt." Quoted from the Geology.com article.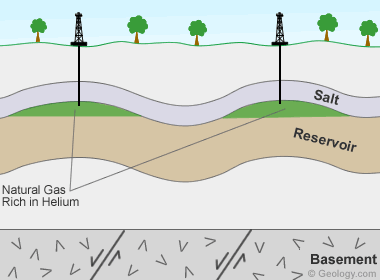 Solar Eclipse: Sunday, May 20th
May 17, 2012 | CNET.com
An annular solar eclipse will occur on Sunday, May 20th. Some of the best viewing areas will be in the southwestern United States.

Remaining Recoverable Oil in the Permian Basin
April 26, 2012 | USGS
"A team of U.S. Geological Survey scientists recently completed an assessment of the potential for additions to oil reserves that could result from applying improved oil-recovery technologies in 18 large oil fields in the Permian Basin in west Texas and southeastern New Mexico." Quoted from the USGS Fact Sheet.

The Rio Grande Rift
April 13, 2012 | New Mexico Bureau of Geology and Mineral Resources
"The river's course through southern Colorado and New Mexico is controlled by a geologic feature known as the Rio Grande rift, which formed when Earth's crust stretched and thinned in an east-west direction starting about 36 million years ago (36 Ma). The stretching and thinning of the crust allowed hot mantle to well upward, creating youthful volcanoes, hot springs, and mineral deposits, as well as forming a topographically low area along which the river flows."

Monitoring Floods and Fires with LandSat
January 24, 2012 | USGS
USGS has recently published: "Monitoring Floods and Fires during the Summer of 2011 — The Value of the Landsat Satellite 40-Year Archive"