Manganese Nodules as a Cover for Stealing a Russian Submarine
April 24, 2014 | io9.com
In the late 1960′s the Russians lost a submarine in the Pacific Ocean in water about 3 miles deep. They searched and searched but could not find it. A few months later the US Navy located the sub and decided to recover it using an enormous ship owned by Howard Hughes. To explain the enormous new ship they fed the media a story about manganese nodule mining – which the media enthusiastically consumed.

Predicting Sea Level Rise for Miami
April 17, 2014 | National Science Foundation
A National Science Foundation press release gives a quick look at efforts to predict long-term sea level rise in Miami

NASA image
Did Life Arise from Hydrothermal Vents?
April 17, 2014 | NASA
"Did life first arise on Earth in warm, gentle springs on the sea floor?
Researchers are putting together the chemical pieces of how this process might have occurred." Quoted from the NASA press release.

What is Peanut Wood?
April 16, 2014 | Geology.com
This material is a petrified wood from Australia but it has nothing to do with peanuts. Most people are amazed when they learn how it forms.

A Scientist's Life
April 13, 2014 | Scripps
Scripps Institution of Oceanography features Lihini Aluwihare: "In my field I'm called an organic geochemist. In a very basic sense, I'm using molecules to tell a story about the processes on Earth that involve organisms. If you think about the number of different molecules that are on Earth most of them are organic, meaning they were made by organisms. My interest lies in trying to understand those molecules and what their structure tells us about the processes that have acted on them."

Trailing the Canaries
April 7, 2014 | NASA Earth Observatory
A NASA Earth Observatory image titled: "Trailing the Canaries" has been voted the winner of the Tournament Earth contest.
"The play of light on water can reveal overlooked details and nuances to photographers and artists on Earth. The same thing can happen when looking from space. In June 2013, sunglint revealed wind and wave patterns in the wake of the Canary Islands." Quoted from the contest results.

Whale Dives 3km Deep and Stays Down for Over 2 Hours
April 6, 2014 | BBC
BBC has a story about beaked whales that reports on one that dove nearly 3 kilometers deep and remained submerged for over two hours.

Retreating Coastlines in Sussex
April 3, 2014 | National Trust
The chalk cliffs on the Sussex coastline normally retreat at about 3/4 meter per year, but storms in the first quarter of this year have produced several meters of retreat.

World's Largest Landslides
March 29, 2014 | Geology.com
The Heart Mountain Landslide of Wyoming is the largest known subaerial landslide that has been recognized on Earth. The largest submarine slide is the Storegga slide off the coast of Norway.

Protecting the Sargasso Sea
March 18, 2014 | National Geographic
National Geographic has an interesting article that will introduce you to the Sargasso Sea and explain why five countries signed an agreement last week to protect it.

Image by U.S. Fish and Wildlife Service

Rivers Play Role in Arctic Sea Ice Melt
March 13, 2014 | NASA
"The heat from warm river waters draining into the Arctic Ocean is contributing to the melting of Arctic sea ice each summer. [...] NASA used satellite data to measure the surface temperature of the waters discharging from a Canadian river into the icy Beaufort Sea during the summer of 2012. They observed a sudden influx of warm river waters into the sea that rapidly warmed the surface layers of the ocean, enhancing the melting of sea ice."

The War on Lionfish as an Invasive Species
February 16, 2014 | Oregon State University
"With venomous spines, no natural predators in the Atlantic Ocean, and aggressive behavior, the lionfish have been shown to eat almost anything smaller than they are – fish, shrimp, crabs and octopus." Quoted from the Oregon State University press release.

Perpetual Ocean Video
February 9, 2014 | NASA on YouTube.com
"This visualization shows ocean surface currents around the world during the period from June 2005 through Decemeber 2007. The visualization does not include a narration or annotations; the goal was to use ocean flow data to create a simple, visceral experience." Quoted from the NASA YouTube Channel.

How Waves are Generated for Southern California
February 2, 2014 | Los Angeles Times
The Los Angeles Times has a short article with animated graphics that demonstrate how the big winter waves that hit Southern California are generated.

Formation of the South China Sea
January 28, 2014 | Nature.com
An international team of scientists will depart on an expedition to learn about the geologic history of the South China Sea aboard the JOIDES Resolution drilling vessel.

Fluorescent Sharks?
January 23, 2014 | National Geographic
National Geographic has an interesting video about how divers have discovered biofluorescent fish in many parts of the World's oceans.

Resistance of Coral to Acidification at Palau
January 21, 2014 | National Science Foundation
Marine scientists working on the coral reefs of Palau have made two unexpected discoveries: 1) at each location they found that the seawater became increasingly more acidic as they moved toward land; and, 2) the corals living in those more acidic waters were unexpectedly diverse and healthy.

Sea Level Rise on the California Coast
January 14, 2014 | University of Southern California
"Los Angeles, a metropolis perched on the edge of a coast, can expect to experience sea level rise of as much as two feet due by 2050 due to climate change, according to current projections." Quoted from the USC press release.

Fluorescent Fish?
January 12, 2014 | PLOS ONE
"Fish biofluorescence is especially common and morphologically variable in cryptically patterned coral-reef lineages. We identified 16 orders, 50 families, 105 genera, and more than 180 species of biofluorescent fishes." Quoted from the PLOS ONE abstract.
Related: Fluorescent Minerals

IRD Image
Global Chimney in the Pacific
January 9, 2014 | National Science Foundation
"Although few people live in the Western tropical Pacific Ocean region, the remote waters there affect billions of people by shaping climate and air chemistry worldwide.
Next week, scientists will head to the region to better understand its influence on the atmosphere–including how that influence may change in coming decades if storms over the Pacific become more powerful with rising global temperatures." Quoted from the NSF press release.

New Island South of Japan Continues Growing
January 1, 2014 | National Geographic
Niijima, the new volcanic island that first appeared about 600 miles south of Japan continues to grow. Now it is about 13.8 acres in size with a maximum elevation of about 80 feet.

Niijima
December 30, 2013 | NASA
An aerial view of Niijima, the new volcanic island growing in the Pacific Ocean about 600 miles south of Japan.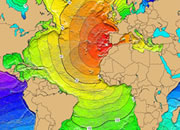 Image by NOAA
Canary Island Landslides and Atlantic Ocean Tsunami Generation
December 17, 2013 | National Oceanography Centre
"The risk posed by tsunami waves generated by Canary Island landslides may need to be re-evaluated, according to researchers at the National Oceanography Centre. Their findings suggest that these landslides result in smaller tsunami waves than previously thought by some authors, because of the processes involved." Quoted from a National Oceanography Centre press release.
Related: Atlantic Ocean Tsunamis

The New Island South of Japan is Growing!
December 15, 2013 | The Australian
Last month a volcanic island surfaced and began growing about 600 miles south of Japan. The eruption continues and the size of the island is growing.

Sea Level Rise and Sinking Land
December 12, 2013 | USGS
"Communities and coastal habitats in the southern Chesapeake Bay region face increased flooding because, as seawater levels are rising in the bay, the land surface is also sinking. A USGS report concludes that intensive groundwater withdrawals are a major cause of the sinking land, or 'land subsidence', that contributes to flooding risks in the region." Quoted from the USGS press release.
Related: Maps of Sea Level Rise

Educators Diving in the Gulf of Mexico
December 10, 2013 | Gulf of Mexico Foundation
Down Under, Out Yonder (DUOY) is a five-day workshop designed for educators, hosted by the Gulf of Mexico Foundation and sponsored by ConocoPhillips through a generous donation. The workshop includes two days of on-land coral reef education, followed by three days of scuba diving aboard a live-aboard vessel in the Gulf of Mexico. It focuses on the coral reefs of the Flower Garden Banks National Marine Sanctuary, located about 115 miles off the Texas coast.

Rigs to Reef
December 8, 2013 | Royal Dutch Shell / Gulf of Mexico Foundation
"The Shell-funded "Rigs to Reef: Towers of Life" film explores how offshore oil and natural gas platforms can double as important habitat for fish and marine life." Quoted from the Royal Dutch Shell press release.

How Wetlands Respond to Sea Level Rise
December 6, 2013 | National Science Foundation
"Thanks to an intricate system of feedbacks, wetlands are remarkably good at building up soils to outpace sea level rise." Quoted from the National Science Foundation press release.
Related: Interactive Sea Level Rise Maps

Ocean Currents and Life Under the Shell of Europa
December 5, 2013 | The University of Texas at Austin
"Researchers have shown that the subsurface ocean on Jupiter's moon Europa may have deep currents and circulation patterns with heat and energy transfers capable of sustaining biological life." Quoted from The University of Texas at Austin press release.
Related: Life on Europa?

The Arctic Ocean as a Carbon Sink and Carbon Dioxide Source
December 4, 2013 | Massachusetts Institute of Technology
"While the Arctic Ocean is largely a carbon sink, researchers find parts are also a source of atmospheric carbon dioxide." Quoted from the Massachusetts Institute of Technology article.

Underwater Kites Generate Energy from Ocean Currents
November 18, 2013 | Smithsonian
"The kites' ability to move in figure-eight motions–which causes it to zip through the water several time faster than the current itself–will amplify the water's energy output." Quoted from the Smithsonian article. The video below shows the potential of ocean currents.

Haiyan Windspeed Map
November 12, 2013 | NASA Earth Observatory
NASA's Earth Observatory has a map showing a snapshot of wind direction and speed as Typhoon Haiyan approached the Philippines.

Typhoon Haiyan Kills at Least 10000
November 9, 2013 | Reuters
Typhoon Haiyan hit the Philippines as a Category 5 typhoon, with winds gusting up to 170 miles per hour, swamping coastal areas in storm surge and destroying thousands of buildings that were in its path.

What is a Storm Surge?
November 3, 2013 | Geology.com
A storm surge is a mound of water produced when a hurricane moves across a large body of water. Driving wind "pushes" the water so quickly that it "piles up" on the water in front of it, producing a mound of water that can be much higher than normal sea level.

Why Does it Rain More in the Northern Hemisphere?
October 30, 2013 | University of Washington
"It rains more in the Northern Hemisphere because it's warmer," said corresponding author Dargan Frierson, a UW associate professor of atmospheric sciences. "The question is: What makes the Northern Hemisphere warmer? And we've found that it's the ocean circulation." Quoted from the University of Washington press release.

Natural Gas Flaring from Space
October 30, 2013 | Geology.com
We have posted views of Earth from NASA's Suomi satellite that show night illumination and natural gas flaring for oil industry sites in the Bakken Formation, Eagle Ford Shale, Alaska North Slope, United States Gulf, Mexican Gulf, Venezuela Orinoco Field, Brazil offshore basins, North Sea, North Africa onshore, west Africa offshore, and Persian Gulf.

Evolutionary Body Elongation in Fish
October 21, 2013 | University of Zurich
"Extreme elongation of the body axis occurred in one of two ways: either through the elongation of the individual vertebrae of the vertebral column, which thus became longer, or through the development of additional vertebrae and associated muscle segments." Quoted from the University of Zurich press release.

Melting the Antarctic Ice Shelf from Below
October 19, 2013 | NASA.gov

Deep Sea Internet Has Geological Applications
October 17, 2013 | University at Buffalo
"University at Buffalo researchers are developing a deep-sea Internet. The technological breakthrough could lead to improvements in tsunami detection, offshore oil and natural gas exploration, surveillance, pollution monitoring and other activities." Quoted from the University at Buffalo press release.

Giant Oarfish
October 17, 2013 | StarTribune.com
"A marine science instructor snorkeling off the Southern California coast spotted something out of a fantasy novel: the silvery carcass of an 18-foot-long, serpent-like oarfish." Quoted from the StarTribune.com

Enormous Ice Sheets Scoured the Arctic Ocean Floor
October 11, 2013 | Alfred Wegener Institute
"We knew of such scour marks from places like the Antarctic and Greenland. They arise when large ice sheets become grounded on the ocean floor and then scrape over the ground like a plane with dozens of blades as they flow. The remarkable feature of our new map is that it indicates very accurately right off that there were four or more generations of ice masses, which in the past 800,000 years moved from the East Siberian Sea in a north-easterly direction far into the deep Artic Ocean." Quoted from the Alfred Wegener Institute press release.

Sea Level Rise and Maldivian Atols
October 11, 2013 | Exeter
"The continued accumulation of sand within the iconic ring-shaped reefs inside Maldivian atolls could provide a foundation for future island development new research suggests. Islands like the Maldives are considered likely to be the first to feel the effects of climate change induced sea level rise, with future island growth essential to counter the threat of rising sea levels." Quoted from the press release by the University of Exeter.

Microscopic Life in Oceanic Crust
October 10, 2013 | Bigelow Laboratory for Ocean Sciences
"Although long thought to be devoid of life, the bottom of the deep ocean is now known to harbor entire ecosystems teeming with microbes. Scientists have recently documented that oxygen is disappearing from seawater circulating through deep oceanic crust, a significant first step in understanding the way life in the "deep biosphere" beneath the sea floor is able to survive and thrive." Quoted from Bigelow Laboratory for Ocean Sciences press release.

The Most Popular Course at Cornell
October 10, 2013 | The Cornell Daily Sun
Geoscientists should be happy to hear that "Introduction to Oceanography" has displaced "Introduction to Psychology" as the course at Cornell University with the highest enrollment.

Turning an Invasive Species into a Source of Income
October 6, 2013 | National Geographic
The lionfish is an extremely aggressive predator that has been changing marine life populations since it was accidentally introduced to the western Atlantic and Caribbean in the 1980s. Now, the fish is being targeted by the fishing industry, turning the predator into a source of income.

Warm Ocean Water Melting and Antarctic Glacier
September 24, 2013 | Penn State
"Warm ocean water, not warm air, is melting the Pine Island Glacier's floating ice shelf in Antarctica and may be the culprit for increased melting of other ice shelves."

Migration of Marine Life in Response to Climate Change?
September 23, 2013 | Princeton University
Climate change and warmer oceans are pushing marine species into new territory. Researchers are working on methods to predict their direction and rate of migration.

The Need for Unmanned Underwater Vehicles
September 18, 2013 | Boeing on YouTube
This video from Boeing explains why unmanned underwater vehicles are important for exploring the depths of the ocean and for performing many underwater tasks.

Rapid Ocean Acidification in the Arctic
September 17, 2013 | USGS
"Acidification of the Arctic Ocean is occurring faster than projected. The increase in rate is being blamed on rapidly melting sea ice, a process that may have important consequences for health of the Arctic ecosystem." Quoted from the USGS Newsroom.

Fukushima and the Ocean
September 16, 2013 |
The Spring 2013 issue of Oceanus Magazine, published by Woods Hole Oceanographic Institution, is titled Fukushima and the Ocean. It looks at the triple disaster that hit Japan with an earthquake, a tsunami and a power plant failure.