The War on Lionfish as an Invasive Species
February 16, 2014 | Oregon State University
"With venomous spines, no natural predators in the Atlantic Ocean, and aggressive behavior, the lionfish have been shown to eat almost anything smaller than they are – fish, shrimp, crabs and octopus." Quoted from the Oregon State University press release.

Perpetual Ocean Video
February 9, 2014 | NASA on YouTube.com
"This visualization shows ocean surface currents around the world during the period from June 2005 through Decemeber 2007. The visualization does not include a narration or annotations; the goal was to use ocean flow data to create a simple, visceral experience." Quoted from the NASA YouTube Channel.

How Waves are Generated for Southern California
February 2, 2014 | Los Angeles Times
The Los Angeles Times has a short article with animated graphics that demonstrate how the big winter waves that hit Southern California are generated.

Formation of the South China Sea
January 28, 2014 | Nature.com
An international team of scientists will depart on an expedition to learn about the geologic history of the South China Sea aboard the JOIDES Resolution drilling vessel.

Fluorescent Sharks?
January 23, 2014 | National Geographic
National Geographic has an interesting video about how divers have discovered biofluorescent fish in many parts of the World's oceans.

Resistance of Coral to Acidification at Palau
January 21, 2014 | National Science Foundation
Marine scientists working on the coral reefs of Palau have made two unexpected discoveries: 1) at each location they found that the seawater became increasingly more acidic as they moved toward land; and, 2) the corals living in those more acidic waters were unexpectedly diverse and healthy.

Sea Level Rise on the California Coast
January 14, 2014 | University of Southern California
"Los Angeles, a metropolis perched on the edge of a coast, can expect to experience sea level rise of as much as two feet due by 2050 due to climate change, according to current projections." Quoted from the USC press release.

Fluorescent Fish?
January 12, 2014 | PLOS ONE
"Fish biofluorescence is especially common and morphologically variable in cryptically patterned coral-reef lineages. We identified 16 orders, 50 families, 105 genera, and more than 180 species of biofluorescent fishes." Quoted from the PLOS ONE abstract.
Related: Fluorescent Minerals

IRD Image
Global Chimney in the Pacific
January 9, 2014 | National Science Foundation
"Although few people live in the Western tropical Pacific Ocean region, the remote waters there affect billions of people by shaping climate and air chemistry worldwide.
Next week, scientists will head to the region to better understand its influence on the atmosphere–including how that influence may change in coming decades if storms over the Pacific become more powerful with rising global temperatures." Quoted from the NSF press release.

New Island South of Japan Continues Growing
January 1, 2014 | National Geographic
Niijima, the new volcanic island that first appeared about 600 miles south of Japan continues to grow. Now it is about 13.8 acres in size with a maximum elevation of about 80 feet.

Niijima
December 30, 2013 | NASA
An aerial view of Niijima, the new volcanic island growing in the Pacific Ocean about 600 miles south of Japan.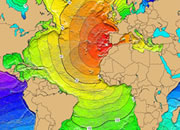 Image by NOAA
Canary Island Landslides and Atlantic Ocean Tsunami Generation
December 17, 2013 | National Oceanography Centre
"The risk posed by tsunami waves generated by Canary Island landslides may need to be re-evaluated, according to researchers at the National Oceanography Centre. Their findings suggest that these landslides result in smaller tsunami waves than previously thought by some authors, because of the processes involved." Quoted from a National Oceanography Centre press release.
Related: Atlantic Ocean Tsunamis

The New Island South of Japan is Growing!
December 15, 2013 | The Australian
Last month a volcanic island surfaced and began growing about 600 miles south of Japan. The eruption continues and the size of the island is growing.

Sea Level Rise and Sinking Land
December 12, 2013 | USGS
"Communities and coastal habitats in the southern Chesapeake Bay region face increased flooding because, as seawater levels are rising in the bay, the land surface is also sinking. A USGS report concludes that intensive groundwater withdrawals are a major cause of the sinking land, or 'land subsidence', that contributes to flooding risks in the region." Quoted from the USGS press release.
Related: Maps of Sea Level Rise

Educators Diving in the Gulf of Mexico
December 10, 2013 | Gulf of Mexico Foundation
Down Under, Out Yonder (DUOY) is a five-day workshop designed for educators, hosted by the Gulf of Mexico Foundation and sponsored by ConocoPhillips through a generous donation. The workshop includes two days of on-land coral reef education, followed by three days of scuba diving aboard a live-aboard vessel in the Gulf of Mexico. It focuses on the coral reefs of the Flower Garden Banks National Marine Sanctuary, located about 115 miles off the Texas coast.

Rigs to Reef
December 8, 2013 | Royal Dutch Shell / Gulf of Mexico Foundation
"The Shell-funded "Rigs to Reef: Towers of Life" film explores how offshore oil and natural gas platforms can double as important habitat for fish and marine life." Quoted from the Royal Dutch Shell press release.

How Wetlands Respond to Sea Level Rise
December 6, 2013 | National Science Foundation
"Thanks to an intricate system of feedbacks, wetlands are remarkably good at building up soils to outpace sea level rise." Quoted from the National Science Foundation press release.
Related: Interactive Sea Level Rise Maps

Ocean Currents and Life Under the Shell of Europa
December 5, 2013 | The University of Texas at Austin
"Researchers have shown that the subsurface ocean on Jupiter's moon Europa may have deep currents and circulation patterns with heat and energy transfers capable of sustaining biological life." Quoted from The University of Texas at Austin press release.
Related: Life on Europa?

The Arctic Ocean as a Carbon Sink and Carbon Dioxide Source
December 4, 2013 | Massachusetts Institute of Technology
"While the Arctic Ocean is largely a carbon sink, researchers find parts are also a source of atmospheric carbon dioxide." Quoted from the Massachusetts Institute of Technology article.

Underwater Kites Generate Energy from Ocean Currents
November 18, 2013 | Smithsonian
"The kites' ability to move in figure-eight motions–which causes it to zip through the water several time faster than the current itself–will amplify the water's energy output." Quoted from the Smithsonian article. The video below shows the potential of ocean currents.

Haiyan Windspeed Map
November 12, 2013 | NASA Earth Observatory
NASA's Earth Observatory has a map showing a snapshot of wind direction and speed as Typhoon Haiyan approached the Philippines.

Typhoon Haiyan Kills at Least 10000
November 9, 2013 | Reuters
Typhoon Haiyan hit the Philippines as a Category 5 typhoon, with winds gusting up to 170 miles per hour, swamping coastal areas in storm surge and destroying thousands of buildings that were in its path.

What is a Storm Surge?
November 3, 2013 | Geology.com
A storm surge is a mound of water produced when a hurricane moves across a large body of water. Driving wind "pushes" the water so quickly that it "piles up" on the water in front of it, producing a mound of water that can be much higher than normal sea level.

Why Does it Rain More in the Northern Hemisphere?
October 30, 2013 | University of Washington
"It rains more in the Northern Hemisphere because it's warmer," said corresponding author Dargan Frierson, a UW associate professor of atmospheric sciences. "The question is: What makes the Northern Hemisphere warmer? And we've found that it's the ocean circulation." Quoted from the University of Washington press release.

Natural Gas Flaring from Space
October 30, 2013 | Geology.com
We have posted views of Earth from NASA's Suomi satellite that show night illumination and natural gas flaring for oil industry sites in the Bakken Formation, Eagle Ford Shale, Alaska North Slope, United States Gulf, Mexican Gulf, Venezuela Orinoco Field, Brazil offshore basins, North Sea, North Africa onshore, west Africa offshore, and Persian Gulf.