Alberta Shale Resources
December 6, 2013 | Alberta Geological Survey
The Alberta Geological Survey has published Summary of Alberta's Shale- and Siltstone-Hosted Hydrocarbon Resource Potential. This is a 339-page publication with lots of maps, data and descriptive information.
You will find this report as item OFR 2012-06 on the linked page. The landing page also lists dozens of other reports on digital data, organic petrography, rock evaluation, geochemistry, pycnometry and more.

UAE Oil and Natural Gas Report
December 6, 2013 | Energy Information Administration
"The United Arab Emirates (UAE) is one of the 10 largest oil and natural gas producers in the world, and is a member of the Organization of the Petroleum Exporting Countries (OPEC) and the Gas Exporting Countries Forum (GECF). In 2012, the UAE produced 2.8 million barrels per day of crude oil and condensates, the fourth highest total in OPEC." Quoted from the Energy Information Administration.

Colorado Voters Ban Fracking and Industry Responds
December 5, 2013 | Bloomberg
The cities of Fort Collins and Lafayette, Colorado asked voters if they wanted to ban hydraulic fracturing for oil and natural gas within the city jurisdiction. The votes resulted in bans, now the Colorado Oil and Gas Association is trying to get the bans overturned.

Major Oil and Gas Discovery Offshore Angola
December 5, 2013 | Reuters
Cobalt International Energy reports a discovery off the coast of Angola that could hold 700 million to 1.1 billion barrels of oil equivalent.

Gushing Oil Production in Texas
December 5, 2013 | Fuel Fix
"Oil production in Texas has hit its highest monthly rate on record, more than doubling in less than three years." Quoted from the FuelFix.com article.

The Frac Sand Boom
December 3, 2013 | Peak Oil News
The demand for frac sand has been growing rapidly for the past several years as oil and natural gas companies are using it for hydraulic fracturing in shale formations.
Related: What is Frac Sand?

US Shale Keeping Energy Price Down
December 3, 2013 | Bloomberg, The Telegraph, Reuters
Today's news has several stories that explain how oil and natural gas from shales are moderating energy prices for consumers.
Bloomberg: Marcellus gas eliminates a regional price premium in the Northeast.
The Telegraph: Low cost ethane helps British manufacturers

Russia Oil and Gas Report
November 26, 2013 | Energy Information Administration
"Russia is the second-largest producer of dry natural gas and third-largest liquid fuels producer in the world. Despite its significant reserves of coal, it produces only modest amount of coal. Russia's economy is highly dependent on its hydrocarbons, and oil and gas revenues account for more than 50% of the federal budget revenues." Quoted from the Energy Information Administration.

The Energy Industry is the Biggest Target for Cyberattacks?
November 26, 2013 | Star-Telegram
"The energy industry was the target of 53 percent of all cyberattacks reported to the Department of Homeland Security between October 2012 and May 2013." Quoted from the Star-Telegram article.

Utica Shale Well Permitting is Strong in Ohio
November 25, 2013 | Geology.com
The number of permits issued for drilling the Utica Shale in Ohio has been significantly higher in 2013 than in 2012.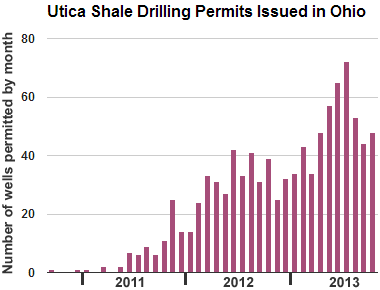 Data from the Ohio Department of Natural Resources.

Production Declines in Natural Gas Wells
November 24, 2013 | Geology.com
Lots of property owners who signed a lease in one of the natural gas shale plays are now receiving monthly or quarterly royalty payments. Many of these people were pleasantly surprised with the size of their first royalty check — but then shocked to see the size of subsequent checks fall rapidly. What's happening?

$1B Per Day from New Energy Sources
November 24, 2013 | ExxonMobil Perspectives
"One billion dollars every single day.
That is the rough measure of the benefit the U.S. economy is estimated to receive by the end of this year thanks to the development of new supplies of oil and natural gas." Quoted from ExxonMobil Perspectives.

More Landscape Disturbance Maps Over the Marcellus
November 24, 2013 | USGS
"Landscape change in Pennsylvania's Sullivan, Wyoming, Armstrong and Indiana counties resulting from construction of well pads, new roads and pipelines for natural gas and coalbed methane exploration is being documented by the United States Geological Survey." Quoted from the USGS announcement.

Shale Production Outside of the USA
November 21, 2013 | Bloomberg
Bloomberg has an article that summarizes some of the efforts to produce oil and natural gas from shale outside of the United States. Some of these countries lack the equipment and expertise to develop the wells and are forming agreements with experienced companies.

Two Ethane Crackers in the Marcellus Utica?
November 20, 2013 | BizJournals
Nearly two years ago Shell was interested in building an ethane cracker in western Pennsylvania to process the liquids-rich gas being produced from the Marcellus and Utica Shales in the Ohio River Valley. Now Odebrecht and Braskem Americas is talking about building a cracker in the northern West Virginia panhandle and some believe that puts the Shell project in jeopardy.

Mexico Looking for Oil and Gas Partners?
November 20, 2013 | FuelFix.com
Legislators in Mexico plan to vote on allowing outside companies to participate in the development of the country's oil and natural gas resources. Since Mexico nationalized their oil and gas resources in 1938 their access to technology has been limited to pay-for-service contracts. As the easy-to-find resources have been depleted the country's ability to produce has steadily declined.

Eagle Ford Production Switch
November 18, 2013 | Energy Information Administration
The EIA drilling productivity report for the Eagle Ford Shale shows how the production emphasis has switched from natural gas to oil.
Related: What is the Eagle Ford Shale?

The Largest Energy Importers
November 18, 2013 | Energy Information Administration
"Japan ranked as the second largest net importer of fossil fuels in the world in 2012, trailing only China. This follows the Fukushima nuclear disaster in 2011, after which Japan suspended operations at all of its nuclear power plants." Quoted from the Energy Information Administration.

NM County Bans Oil and Gas Development
November 17, 2013 | FuelFix
The county commission in Mora County, New Mexico decided to prohibit oil and gas development. They are being challenged by an oil and gas industry group and three landowners.

USA Fuel Mix is Changing
November 17, 2013 | Energy Information Administration
"The mix of fuels used to generate the electricity in homes, factories, and businesses across the United States has changed in the past few years as coal, still the largest single fuel used for electricity, has lost some of its share of the generation market to natural gas and non-hydroelectric renewables." Quoted from the Energy Information Administration.