How to Survive During a Tornado
May 23, 2013 | Center for Disease Control
The Center for Disease Control has a collection of tornado resources. One is the instructions for "how to survive a tornado". Persons who know what to do when an emergency arises have the greatest chance of survival.

Supersized Topographic Maps
February 17, 2013 | MyTopo.com
The folks at MyTopo.com are now printing supersized topo maps; large enough make a huge 8′ x 5′ (or 5′ x 8′) map that will look fantastic on the wall of your office, conference room, lobby, cabin or den. These maps are custom-centered on any location that you pick using their online map-making tool.
We are affiliates of MyTopo.com and receive a commission on sales.

Selling Their Volatile Organic Compounds
February 14, 2013 | NewsOK.com
"Devon Energy Corp. is using vapor recovery units to capture emissions from vapor storage tanks at [...] operations in the Cana Woodford Shale of western Oklahoma. [...] The captured gas can be sold rather than burned or vented into the air." Quoted from the NewsOK.com article.

Wall Maps of US States
February 10, 2013 | Geology.com Store
Raven Maps are beautiful examples of shaded-relief wall maps that display the elevation of a state in vibrant colors. These large maps look great in a classroom, den or office. Use one to mark the locations of your work or company.

Geologic History of Oklahoma
December 24, 2012 | Oklahoma Geological Survey
A publication by the Oklahoma Geological Survey documents the geologic history of the state with a great presentation of maps, cross sections and text. The publication consists of four oversize pages – one is shown at right.

Most Popular: 11/18 to 11/24
November 25, 2012 | Geology.com
Inaccurate News Reports about Newberry Caldera and Salton Buttes
Rare Earth Elements in Arizona?
Dispute: Natural Gas Under Natural Gas Storage Fields

Not Caused by Fracking
November 19, 2012 | USGS
About this time last year a swarm of over 100 earthquakes occurred in Oklahoma. Although many people initially pointed at hydraulic fracturing as the cause, USGS has a map and explanation… " The aftershocks near the main shock appear to align along a northeast-southwest trend that is probably defining the fault rupture below the ground surface." Quoted from the USGS Earthquake Hazards Program.

Three States of Water
October 16, 2012 | UCAR.edu
An article titled "Three States of Water" on the UCAR website explores how snowmelt, hurricanes and drought create different interactions between humans and water in Colorado, Louisiana and Oklahoma.

Changes in the High Plains Aquifer
October 11, 2012 | USGS
USGS has published: Saturated thickness and water in storage in the High Plains aquifer, 2009, and water-level changes and changes in water in storage in the High Plains aquifer, 1980 to 1995, 1995 to 2000, 2000 to 2005, and 2005 to 2009.

West Nile Virus at Record Levels
September 10, 2012 | Center for Disease Control
The Center for Disease Control reports record levels of West Nile virus in humans. Over 70 percent of the cases have been reported from six states (Texas, South Dakota, Mississippi, Oklahoma, Louisiana, and Michigan) and almost 45 percent of all cases have been reported from Texas. The common symptoms are fever and neck stiffness

Earthquake Insurance in Oklahoma
September 6, 2012 | TulsaWorld.com
Most homeowners insurance policies do not cover earthquake damage. This article on the TulsaWorld.com website explores the topic of earthquake insurance in Oklahoma where a recent earthquake damaged a number of homes where owners were not covered.
Related: Homeowner's Insurance Does Not Cover Earth Science Hazards

State Governments Want Natural Gas Vehicles
August 11, 2012 | Business Week
Twenty-two states are soliciting bids for natural gas vehicles that will be used in state government auto pools.

Oil from the Mississippi Lime
August 7, 2012 | Oil & Gas Journal
Several companies are drilling horizontal wells for light oil in the Mississippi Lime of northern Oklahoma, western Kansas and southwestern Nebraska.

101 American Geo-Sites
June 27, 2012 | Geology.com Store
Mountain Press Publishing has released a new book by Albert B. Dickas titled: 101 American Geo-Sites You've Gotta See.
It provides a two-page presentation on each site that features photos, text and a map. It is a good way to get a quick glimpse of these 101 fantastic sites. It sells for $23.99.
See a table of contents.

Mineral Clubs and Organizations Worldwide
June 13, 2012 | The-Vug.com
The-Vug.com has an impressive listing of mineral clubs organized by state. You might be surprised at how many clubs are listed and there is probably one that meets within a short drive of your home.

Helium: A Natural Gas Byproduct
May 30, 2012 | Geology.com
"Helium is produced by the decay of uranium and thorium in granitoid basement rocks. The liberated helium is buoyant and moves towards the surface in porosity associated with basement faults. The helium then moves upwards through porous sedimentary cover until it is trapped with natural gas under beds of anhydrite or salt." Quoted from the Geology.com article.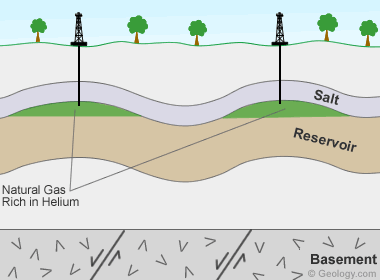 65% of US Natural Gas from Five States
May 7, 2012 | Energy Information Administration
The leading states for natural gas production during 2011 were: Texas, Louisiana, Wyoming, Oklahoma, and Colorado. Together they produced 65% of US natural gas.

Oklahoma Earthquake Position Statement
April 11, 2012 | Oklahoma Geological Survey
The Oklahoma Geological Survey has published a "Position Statement on Triggered or Induced Seismicity" that was motivated by many people attributing recent earthquake activity to fluid injection.

State Crude Oil Trends
March 19, 2012 | Energy Information Administration
Five states account for over 50% of the USA's crude oil production with production rapidly increasing in Texas and North Dakota.