Wall Maps of US States
December 1, 2013 | Geology.com Store
Raven Maps are beautiful examples of shaded-relief wall maps that display the elevation of a state in vibrant colors. These large maps look great in a classroom, den or office. Use one to mark the locations of your work or company.

Roadside Geology Guides
November 25, 2013 | Geology.com Store
Since 1972 the "Roadside Geology" series has provided introductory information on the geology of states and small regions of the United States.
The books provide a combination of maps, travel logs, photos and commentary for the geology that can be seen along highways or visited at parks and public viewing areas. They are popular with geologists, teachers, students and others who are interested in the Earth.

TopoPhotos
October 17, 2013 | MyTopo.com
The folks at MyTopo.com are now printing TopoPhotos. They are aerial photographs with contour lines and topographic map annotations lightly superimposed. They give you the advantages of an aerial photograph but also include the elevation, road and place name details of a topographic map. You can use their website to order a TopoPhoto centered anywhere in the United States and have it printed in a variety of sizes in either landscape or portrait orientation. You can print them up to a huge 8′ x 5′ (or 5′ x 8′) in size.
We are affiliates of MyTopo.com and receive a commission on sales.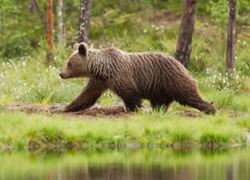 Image © iStockphoto/IndrekV
Bear Attack!
October 11, 2013 | Geology.com
If you spend time in bear country knowing how to react to a bear encounter and what to do if you are attacked could save your life.
If you don't know where bears live here is a map of the geographic ranges for black, grizzly and polar bears in North America.

United States Gemstones
June 11, 2013 | Geology.com
A diversity of gemstones are produced in the United States. However, the $11 million per year in domestic production is tiny compared to the $23.5 billion that are imported.

Volcanic Hazards at Mount Hood
June 4, 2013 | USGS
USGS has published an open file report titled: "Residential and service-population exposure to multiple natural hazards in the Mount Hood region of Clackamas County, Oregon".

Oregon Landowners Oppose LNG Project
May 30, 2013 | National Public Radio
An NPR podcast explains why landowners in Oregon oppose pipeline projects that will transport natural gas across the state of Oregon to the Pacific coast where the gas will be condensed into a liquid for export to Asian countries.

Geology.com and RockTumbler.com are
both GeoShops.com websites.
Fee Mining Sites
May 24, 2013 | RockTumbler.com
Lots of people enjoy going to fee mining sites where you can prospect inactive surface mines, mine tailings, soil, sediments or outcrops and keep any rocks, gems, minerals or fossils that you find. Examples include: Herkimer Diamond Mines where you can search for doubly-terminated quartz crystals, and Crater of Diamonds where you might be lucky enough to find a real diamond.

What is Sunstone?
May 10, 2013 | Geology.com
What happens when minute flakes of copper in a common orientation are scattered through a piece of transparent feldspar?

No Payment for Landslide Damaged Home
May 6, 2013 | StatesmanJournal.com
Homeowners in Oregon unsuccessfully tried to collect damages from their insurance company and their county after a landslide ruined their hillside home.

Measuring the Size of Explosive Volcanic Eruptions
April 17, 2013 | Geology.com
You have probably heard of the Richter Scale for measuring earthquakes, the Saffir-Simpson Scale for hurricanes and the Fujita Scale for tornadoes. The Volcanic Explosivity Index is used to compare the size of explosive volcanic eruptions.

Oregon Geothermal Resource Map
February 19, 2013 | Oregon Department of Geology and Mineral Industries
The Oregon Department of Geology and Mineral Industries has published an interactive online map that allows you to explore the geothermal resources of Oregon. You can use it to get information about geothermal exploration wells, water wells with elevated temperatures, warm springs, hot springs and more – all plotted on nine dirrerent basemaps. You can also get the data on CD-ROM.

Landslide Stops Taxi Hijacker
February 7, 2013 | KGW.com
A guy tries to steal a taxi but drives down a closed road and runs into a landslide.