Coal Data Browser
March 4, 2014 | Energy Information Administration
The Energy Information Administration has published an interactive map that they call their "Coal Data Browser". It allows you to see statewide averages for variables such as total coal production, total consumption, mine productivity, tons produced per employee hour, sulfur content burned in power production and many, many more. Check it out if you like coal datasulfur-content.gif

Natural Gas is the Top Home Heating Fuel in Pennsylvania
February 27, 2014 | Energy Information Administration
"Natural gas (38 percent) provides heat to more Pennsylvania homes than any other fuel, but electricity (29 percent), fuel oil (20 percent), and propane (9 percent) are also widely used in the state." Quoted from the Energy Information Administration.
However, even though Pennsylvania is a major producer of natural gas, homeowners there pay a price that is significantly above the national average.

Where Are the Most Productive Marcellus Shale Gas Wells?
February 25, 2014 | TheTimes-Tribune.com
An article in TheTimes-Tribune.com reports that the most productive gas wells in the Marcellus Shale are located in Susquehanna County, Pennsylvania and were drilled by Cabot Oil & Gas.

China's State-Owned Coal Company to Partner in the Marcellus
February 23, 2014 | FuelFix
China Shenhua Energy Company is controlled by the Chinese government and is the second largest coal company in the world. They plan to partner with Energy Corporation of America to drill Marcellus Shale wells in Greene County, Pennsylvania.

Wall Maps of US States
February 23, 2014 | Geology.com Store
Raven Maps are beautiful examples of shaded-relief wall maps that display the elevation of a state in vibrant colors. These large maps look great in a classroom, den or office. Use one to mark the locations of your work or company.

TopoPhotos
February 16, 2014 | MyTopo.com
The folks at MyTopo.com are now printing TopoPhotos. They are aerial photographs with contour lines and topographic map annotations lightly superimposed. They give you the advantages of an aerial photograph but also include the elevation, road and place name details of a topographic map. You can use their website to order a TopoPhoto centered anywhere in the United States and have it printed in a variety of sizes in either landscape or portrait orientation. You can print them up to a huge 8′ x 5′ (or 5′ x 8′) in size.
We are affiliates of MyTopo.com and receive a commission on sales.

Pennsylvania Meteorites
December 9, 2013 | Pennsylvania Geological Survey
The Fall 2013 issue of Pennsylvania Geology has an article about meteorites that have been found in Pennsylvania.

More Landscape Disturbance Maps Over the Marcellus
November 24, 2013 | USGS
"Landscape change in Pennsylvania's Sullivan, Wyoming, Armstrong and Indiana counties resulting from construction of well pads, new roads and pipelines for natural gas and coalbed methane exploration is being documented by the United States Geological Survey." Quoted from the USGS announcement.

What Shale Drillers Are Planning for 2014
November 21, 2013 | Farm and Dairy
This article on FarmAndDairy.com contains a few summary sentences for several shale drilling companies in the Marcellus and Utica area.

Two Ethane Crackers in the Marcellus Utica?
November 20, 2013 | BizJournals
Nearly two years ago Shell was interested in building an ethane cracker in western Pennsylvania to process the liquids-rich gas being produced from the Marcellus and Utica Shales in the Ohio River Valley. Now Odebrecht and Braskem Americas is talking about building a cracker in the northern West Virginia panhandle and some believe that puts the Shell project in jeopardy.

Slow Moving Groundwater Delays Water Quality Actions
November 13, 2013 | USGS
New research by the USGS indicates it may take several decades for many water-quality management practices aimed at reducing nitrogen input to Chesapeake Bay to achieve their full benefit due to the influence of groundwater.

Pennsylvania Groundwater
November 5, 2013 | iConservePA
A quick video review of ground water in Pennsylvania.

How Sandy Changed Storm Warnings
October 24, 2013 | EarthMagazine.org
Earth Magazine recently published an article titled: "A hurricane by any other name: How Sandy changed the way we issue storm warnings".

Growth in Bakken and Eagle Ford Oil Production
October 24, 2013 | FuelFix
Oil production from the Bakken Formation rose 26,000 barrels per day in September, while Eagle Ford production rose by 24,000 barrels. The increase for Permian Basin, Haynesville, Marcellus, and Niobrara combined was 12,000 barrels per day.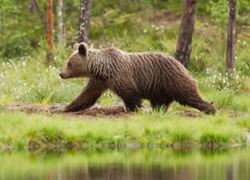 Image © iStockphoto/IndrekV
Bear Attack!
October 11, 2013 | Geology.com
If you spend time in bear country knowing how to react to a bear encounter and what to do if you are attacked could save your life.
If you don't know where bears live here is a map of the geographic ranges for black, grizzly and polar bears in North America.

Most Marcellus Shale Wells Are Already Profitable
October 9, 2013 | PennLive.com
Even though the average horizontal natural gas well drilled into the Marcellus Shale had a cost of about $5 million, approximately 78% of them have produced enough gas to become profitable.

Pennsylvania Utilities Switching to Marcellus Shale Gas
October 1, 2013 | The Times Tribuine
Pennsylvania natural gas utilities who just a few years ago were sourcing their gas from Canada and a diversity of other sources are now getting most of their gas from Marcellus Shale sources – usually at a cost savings to customers.

Take a Look at Groundwater
September 17, 2013 | Pennsylvania Bureau of Topographic & Geologic Survey
"Take a look at groundwater with DCNR's Bureau of Topographic & Geologic Survey's Stuart Reese as he looks at how much groundwater Pennsylvania has, where it comes from, and why it's so important to the water cycle." Quoted from the iConservePA press release.

Marcellus Shale Production PowerPoint
September 16, 2013 | Penn State Extension
The Penn State Marcellus Center for Outreach and Research has released a PowerPoint presentation that shows the growth in active wells, reported production, online wells, percent producing wells and condensate production in Pennsylvania. If you are interested in the Marcellus Shale there is a lot more information in this presentation.

Natural Gas and the Endangered Species List?
September 15, 2013 | National Public Radio
Natural gas drillers in Pennsylvania are supporting proposed legislation that would revise how the state's endangered species list is managed.

Gold in Pennsylvania?
September 15, 2013 | Pennsylvania Council of Professional Geologists Newsletter
The current issue of the Pennsylvania Council of Professional Geologists Newsletter has an article titled: Panning for Gold…in Pennsylvania???.

Natural Gas Liquids and the Marcellus Shale
September 10, 2013 | Penn State Extension
Penn State Extension has a recorded webinar and PowerPoint presentation that explains natural gas liquids as they relate to the Marcellus Shale and related economic development.
Related: What is the Marcellus Shale?

Tsunami on the Delaware River?
September 4, 2013 | United States Geological Survey
"Imagine the Delaware River abruptly rising toward Philadelphia in a tsunami-like wave of water. Scientists now propose that this might not be a hypothetical scenario. A newly published paper concludes that a modest (one-foot) tsunami-like event on the East Coast was generated in the past by a large offshore earthquake. This result may have potential ramifications for emergency management professionals, government officials, businesses and the general public." Quoted from the USGS Newsroom.

Naturally Occurring Methane in Household Water Wells
August 30, 2013 | United States Geological Survey
USGS tested twenty household water wells in Sullivan County, Pennsylvania for methane. Seven of the wells contained detectable amounts of dissolved methane and two wells were considered to have an "elevated" methane content. None of the wells tested were located near currently producing natural gas wells.

Maps of Segregation and Diversity
August 20, 2013 | Slate
Slate has published an interesting collection of maps that illustrate geographic segregation and diversity of the United States and several urban areas at different scales.