Organic Gems
March 6, 2014 | Geology.com
Although most gemstones are mineral materials, a number of organic materials and fossilized organisms are considered to be gemstones. The most common of these are pearl, bone, amber, coral, ivory, petrified wood, fossil coral, dinosaur bone and more.

Mineral Collectors at the Arizona Mineral Museum
March 6, 2014 | Arizona Geological Survey
This video features interviews with several mineral collectors who attended the opening reception for the University of Arizona Mineral Museum and Flandrau Science Center 2014 Exhibit.

Rock and Mineral Identification
March 6, 2014 | Geology.com Store
The ability to identify rocks and minerals in the field is a very important skill. The Geology.com store has a selection of rock, mineral, fossil and gem mineral kits that can be used for learning and practice. Testing tools are also available.

World Potash Developments
March 4, 2014 | Arizona Geological Survey Repository
The Arizona Geological Survey published the World Potash Developments paper from the 48th Annual Forum on the Geology of Industrial Minerals held in Scottsdale, April 30 to May 4, 2012.

Salt Glaciers?
March 2, 2014 | Geology.com
Salt glaciers (also known as namakiers) are masses of salt that erupt onto Earth's surface and flow downslope under their own weight.
They develop where salt domes rise high enough to reach the surface.

Salt Domes
February 27, 2014 | Geology.com
Salt Domes are mounds or columns of salt that have risen above their parent rock unit because of the salt's low specific gravity.
They serve as oil and natural gas reservoirs; sources of sulfur; sources of salt; underground storage sites for oil, natural gas and helium; and, disposal sites for hazardous waste.

Mineral Hardness Picks
February 25, 2014 | Geology.com Store
Mineral hardness picks are pencil-like tools that have points made from materials that match the hardness of minerals in the Mohs Hardness Scale. With them you can easily test the hardness of mineral grains in a rock and test the hardness of small-size specimens. In our opinion they are easier to use than pieces of minerals and allow you to obtain more accurate results. They also do not contaminate your specimen with particles of the hardness mineral.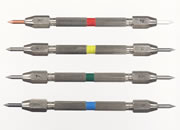 Many Types of Sand
February 16, 2014 | Geology.com
Most people are familiar with the tan or white silica sand that they see at the beach. However, sand is a much more diverse material as this photo gallery reveals.

Peridotite
February 13, 2014 | Geology.com
Peridotite is a host rock of chromite, a source rock of diamonds, a potential sink for atmospheric carbon dioxide and the rock that makes up much of Earth's mantle. Did you realize it was so important?

Coal Through a Microscope
February 9, 2014 | Geology.com
If you think that coal is a boring black rock then you have never seen it through a transmitted light microscope. The microscope reveals coal's hidden beauty as well as its composition.

Tools for Geologists
February 9, 2014 | Geology.com Store
The Geology.com store has a large selection of rock hammers, crack hammers, rock chisels, goggles, hand lenses, rock bags, leather cases, field books, wall maps, specimen kits and more.

Surprise White Rock on Mars
January 23, 2014 | NASA
While preparing to start robotic arm work on the target "Cape Elizabeth" on Sol 3541 (Jan. 8, 2014), Opportunity encountered a slight surprise — a rock had appeared in the images that had not been there before. This target that has been named "Pinnacle Island" and its origin has been the target of much speculation.

Intentionally Weathering Olivine to Fight Climate Change?
January 23, 2014 | Nature
A Nature article reports how some researchers believe that climate change can be mitigated by crushing olivine-rich rocks and exposing them to weathering – to take advantage of olivine's ability to sequester carbon.

Deepwater Soloing
January 1, 2014 | National Geographic
National Geographic has an article about "deepwater soloing". A variety of rock climbing in which the climber ventures without a rope or protection. When a fall occurs the plunge is into deep water. Some climbers say that it allows they to climb routes that are beyond their potential.

Dating Rocks on Mars
December 29, 2013 | Caltech
"Although researchers have determined the ages of rocks from other planetary bodies, the actual experiments—like analyzing meteorites and moon rocks—have always been done on Earth. Now, for the first time, researchers have successfully determined the age of a Martian rock—with experiments performed on Mars." Quoted from the Caltech press release.

The Importance of Sketching Rocks in the Field
December 26, 2013 | Speaking of Geoscience Blog
There is an excellent essay on sketching rocks in the field on the Speaking of Geoscience Blog by Haakon Fossen, a structural geology professor at the University of Bergen, Norway.

Alberta Shale Resources
December 6, 2013 | Alberta Geological Survey
The Alberta Geological Survey has published Summary of Alberta's Shale- and Siltstone-Hosted Hydrocarbon Resource Potential. This is a 339-page publication with lots of maps, data and descriptive information.
You will find this report as item OFR 2012-06 on the linked page. The landing page also lists dozens of other reports on digital data, organic petrography, rock evaluation, geochemistry, pycnometry and more.

Rock and Mineral Projects at DonorsChoose.org
December 3, 2013 | DonorsChoose.org
DonorsChoose.org is a website where K-12 teachers post projects that they would like to have funded and anyone anywhere can provide support. Many of these teachers would like to have materials to help them teach about rocks and minerals. Here are three projects that might appeal to you.
Fluorescent rocks and minerals

Most Popular Items for November
December 2, 2013 | Geology.com
The World's Largest Emerald Mine
New Volcanic Island Southeast of Japan
The Enormous Volcanic Eruption that Historians Never Recorded
A Super River from the Southwestern United States to the Labrador Sea?
Comet Ison is Visible to the Naked Eye

Rock, Mineral, Gem and Fossil Kits
December 2, 2013 | Geology.com Store
The Geology.com Store has a nice selection of rock, mineral, gemstone and fossil kits for personal or classroom use.

What is Iris Agate?
November 27, 2013 | Geology.com
""Iris Agate" is a name used for a finely-banded agate that produces a spectacular display of color when it is cut properly and illuminated from a direction that sends light through its very thin bands."

Granite on Mars?
November 20, 2013 | Georgia Tech
"Researchers now have stronger evidence of granite on Mars and a new theory for how the granite – an igneous rock common on Earth — could have formed there. The findings suggest a much more geologically complex Mars than previously believed." Quoted from the Georgia Tech press release.
Related: Rocks on Mars

Provenance of Obsidian Artifacts
November 12, 2013 | Columbus Dispatch
Ancient people carried and traded obsidian objects over wide geographic areas. Researchers have found success at attributing these artifacts with the geographic locality of an eruption by measuring their magnetic characteristics.
Related: What is Obsidian?

Rocks, Crystals and Fossils from a 3D Printer?
November 9, 2013 | Live Science
A popular demonstration at the Geological Society of America's annual meeting was a 3D printer being used to produce copies of rocks, fossils and other geological specimens.

Most Viewed News in October
November 1, 2013 | Geology.com
Egypt Fears a Dam on the Nile in Ethiopia
235 Carat Diamond Found in Siberia
Status of Recent Geoscience Graduates
Nice Yellow Diamond Found in Arkansas
What Caused the Sudden Explosion of Animal Life 520MYA?
Walking Away from One of the World's Largest Gold Discoveries?
Shell Walks Away from Oil Shale