Gushing Oil Production in Texas
December 5, 2013 | Fuel Fix
"Oil production in Texas has hit its highest monthly rate on record, more than doubling in less than three years." Quoted from the FuelFix.com article.

Wall Maps of US States
December 1, 2013 | Geology.com Store
Raven Maps are beautiful examples of shaded-relief wall maps that display the elevation of a state in vibrant colors. These large maps look great in a classroom, den or office. Use one to mark the locations of your work or company.

A Shortage of Pipeline Capacity
November 26, 2013 | BizJournals
The San Antonio Business Journal has an article that describes how pipeline capacity is throttling production from the Eagle Ford Shale of Texas and the Bakken Formation of North Dakota.
Related: What is the Eagle Ford Shale?

Roadside Geology Guides
November 25, 2013 | Geology.com Store
Since 1972 the "Roadside Geology" series has provided introductory information on the geology of states and small regions of the United States.
The books provide a combination of maps, travel logs, photos and commentary for the geology that can be seen along highways or visited at parks and public viewing areas. They are popular with geologists, teachers, students and others who are interested in the Earth.

Eagle Ford Production Switch
November 18, 2013 | Energy Information Administration
The EIA drilling productivity report for the Eagle Ford Shale shows how the production emphasis has switched from natural gas to oil.
Related: What is the Eagle Ford Shale?

Premium Satellite Prints: Save Up To $60
November 9, 2013 | MyTopo.com
MyTopo recently upgraded and enhanced its satellite imagery. Now, you can order custom satellite prints of the same image quality you see on sites like Bing, Zillow, and Google. Get a custom print of your favorite park, lake, peak, farm, neighborhood, hunting cabin, or baseball field (yep, that's Fenway Park for you Red Sox fans).
These custom prints are a perfect holiday gift. Create your Premium Satelitte Print today, and save up to $60 on your order. Prices are discounted at checkout. Offer good until midnight on Nov. 21, 2013.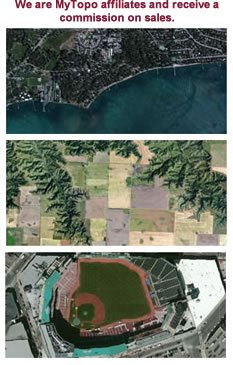 We are affiliates of MyTopo and receive a commission on sales.

The Eagle Ford Shale in Mexico
November 5, 2013 | Fuel Fix
The trend of the Texas Eagle Ford Shale continues across the border into Mexico. Some experts believe that Petroleos Mexicanos, the national oil company, will not be able to develop the Eagle Ford in the near future because they lack experience and equipment.
Related: What is the Eagle Ford Shale?

Salaries and Employment Locations of Recent Geoscience Graduates
October 24, 2013 | American Geosciences Institute
AGI's National Geoscience Student Exit Survey asked recent degree recipients about their employment location and starting salaries. The top four employment states reported were Texas, California, Oklahoma and Colorado.

Growth in Bakken and Eagle Ford Oil Production
October 24, 2013 | FuelFix
Oil production from the Bakken Formation rose 26,000 barrels per day in September, while Eagle Ford production rose by 24,000 barrels. The increase for Permian Basin, Haynesville, Marcellus, and Niobrara combined was 12,000 barrels per day.

3266 New Wells in the Eagle Ford Shale
October 22, 2013 | FuelFix.com
Drilling activity in the Eagle Ford Shale continues to rise. So far this year 3,266 new wells have been started. Last year at this time a total of 2832 wells were started.
Related: What is the Eagle Ford Shale?

Pacific Ocean Temperatures Influence Tornado Activity
October 19, 2013 | University of Missouri
"Meteorologists often use information about warm and cold fronts to determine whether a tornado will occur in a particular area. Now, a University of Missouri researcher has found that the temperature of the Pacific Ocean could help scientists predict the type and location of tornado activity in the U.S." Quoted from the University of Missouri press release.

Helium Stewardship Act
October 19, 2013 | Geological Society of America
Congress approved legislation that will continue the sale of helium from the Federal Helium Reserve.
Related: Who Needs Helium?

Drought in Texas
October 17, 2013 | National Public Radio
National Public Radio has an article with interesting graphics that describe the drought problems in Texas.

TopoPhotos
October 17, 2013 | MyTopo.com
The folks at MyTopo.com are now printing TopoPhotos. They are aerial photographs with contour lines and topographic map annotations lightly superimposed. They give you the advantages of an aerial photograph but also include the elevation, road and place name details of a topographic map. You can use their website to order a TopoPhoto centered anywhere in the United States and have it printed in a variety of sizes in either landscape or portrait orientation. You can print them up to a huge 8′ x 5′ (or 5′ x 8′) in size.
We are affiliates of MyTopo.com and receive a commission on sales.

Texas Mineral Resources Map
October 13, 2013 | University of Texas at Austin
"The Bureau of Economic Geology frequently fields calls from the general public to find information about clay deposits, uranium site locations, sand and gravel deposits, or what
resources, in general, are located at or around a specific location. The interactive Map provides the public with the means to search out locations on their own, and click on the points of interest, bringing up pertinent information…"
For more information about the map see the "Under the Radar.." section here.

Stacked Pay Zones in the Eagle Ford Oil Play
September 25, 2013 | Geology.com
Texas drillers are having great success tapping the rock units above and below the Eagle Ford Shale.
Horizontal drilling through the Buda Lime and Austin Chalk with hydraulic fracturing has brought in wells yielding over 1000 barrels of oil per day.
The stacked production zones in a single location provide enormous economic savings. Oil can be produced from multiple rock units using the same drill pad, access roads and oil collection systems.

2 Million Barrels per day from Two Fields
September 22, 2013 | RigZone
Oil production from the Permian Basin has been rising rapidly, surpassing the trend line of the Eagle Ford Shale. Together these two rock units will be producing 2 million barrels of oil per day.
Related: What is the Eagle Ford Shale?

Shale Oil from the Permian Basin
September 19, 2013 | BizJournals
The Permian Basin has been an historic source of oil for the United States. Now production of oil from shale in that basin is starting to rival production from the Eagle Ford Formation.

Eagle Ford Shale
September 3, 2013 | Geology.com
Before 2008 the Eagle Ford Shale attracted very little attention from oil and gas companies. Since then it has become one of the most heavily drilled rock units in the United States.

Mixing Thousands of People with Millions of Bats
August 18, 2013 | CavingNews.com
Bracken Cave is home to the world's largest population of bats. A housing development planned for an adjacent property could put thousands of people into close proximity to millions of Mexican free-tailed bats.