Restricting the Right to Build?
April 3, 2014 | New York Times
An article in the New York Times explores the idea that governments should have the ability to restrict building construction in areas subject to geologic hazards.

M8.2 Earthquake Off the Coast of Chile
April 1, 2014 | Los Angeles Times
A magnitude 8.2 earthquake struck off the Pacific coast of Chile at about 6:46 PM local time. An early report in the Los Angeles Times indicates building and highway damage. A tsunami warning was issued but waves observed were small. View USGS Data.

Ten Risky Cities
April 1, 2014 | TheGuardian.com
TheGuardian has an article that presents the earthquake, tsunami and severe storm hazards of ten risky cities.

World's Largest Landslides
March 29, 2014 | Geology.com
The Heart Mountain Landslide of Wyoming is the largest known subaerial landslide that has been recognized on Earth. The largest submarine slide is the Storegga slide off the coast of Norway.

Meteotsunamis?
March 23, 2014 | Earth Magazine
Most people know about tsunamis, but very few know about METEOtsunamis. They are not caused by earthquakes, not caused by tides and you can learn more about these large wave events in an Earth Magazine article.

Natural Hazards of 2013
February 2, 2014 | USGS
USGS has a short review of how a variety of natural hazards influenced the United States during calendar year 2013.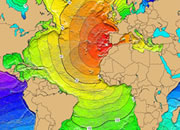 Image by NOAA
Canary Island Landslides and Atlantic Ocean Tsunami Generation
December 17, 2013 | National Oceanography Centre
"The risk posed by tsunami waves generated by Canary Island landslides may need to be re-evaluated, according to researchers at the National Oceanography Centre. Their findings suggest that these landslides result in smaller tsunami waves than previously thought by some authors, because of the processes involved." Quoted from a National Oceanography Centre press release.
Related: Atlantic Ocean Tsunamis

NASA Hazard Warning Systems
December 12, 2013 | NASA
"Scientists at NASA's Jet Propulsion Laboratory, Pasadena, Calif., and Scripps Institution of Oceanography at UC San Diego have enhanced existing GPS technologies to develop new systems for California and elsewhere to warn of hazards from earthquakes, tsunamis and extreme weather events." Quoted from the NASA press release.

Deep Sea Internet Has Geological Applications
October 17, 2013 | University at Buffalo
"University at Buffalo researchers are developing a deep-sea Internet. The technological breakthrough could lead to improvements in tsunami detection, offshore oil and natural gas exploration, surveillance, pollution monitoring and other activities." Quoted from the University at Buffalo press release.

Fukushima and the Ocean
September 16, 2013 |
The Spring 2013 issue of Oceanus Magazine, published by Woods Hole Oceanographic Institution, is titled Fukushima and the Ocean. It looks at the triple disaster that hit Japan with an earthquake, a tsunami and a power plant failure.

Potential Tsunami Impact on Southern California from an Alaska Earthquake
September 8, 2013 | USGS
"The Science Application for Risk Reduction tsunami scenario depicts a hypothetical but plausible tsunami created by an earthquake offshore from the Alaska Peninsula and its impacts on the California coast. " Quoted from the USGS Newsroom.

Solar Tsunami?
July 11, 2013 | BBC
Satellite data reveals that a tsunami-like wave spread across the surface of the sun after a recent coronal mass ejection.

Earthquake Acoustics and Tsunami Warnings
June 11, 2013 | Stanford University
"Stanford scientists have identified key acoustic characteristics of the 2011 Japan earthquake that indicated it would cause a large tsunami. The technique could be applied worldwide to create an early warning system for massive tsunamis." Quoted from the Stanford University press release.

Most Popular May 16 to May 31
June 4, 2013 | Geology.com
When Did Plate Tectonics Begin?

The Orphan Tsunami of 1700
May 20, 2013 | Smithsonian.com
Smithsonian.com has an article about Japan's Orphan Tsunami ("orphan" because it was then unlinked to any earthquake) and how it was connected to an earthquake on the Cascadia Subduction Zone.

Sea Level Rise and Small Pacific Islands
April 18, 2013 | USGS
"Dynamic modeling of sea-level rise, which takes storm wind and wave action into account, paints a much graver picture for some low-lying Pacific islands under climate-change scenarios than the passive computer modeling used in earlier research." Quote from the USGS press release.

The Tsunami Magnifying Lens
March 10, 2013 | University of Southern California
"Multinational research team finds that sea floor earthquake zones can act like a "magnifying lens," focusing and strengthening tsunamis beyond what was through possible." Quoted from the University of Southern California press release.

Impact of Climate Change on U.S. Coasts
February 18, 2013 | USGS
"According to a new technical report, the effects of climate change will continue to threaten the health and vitality of U.S. coastal communities' social, economic and natural systems. The report, Coastal Impacts, Adaptation, and Vulnerabilities: a technical input to the 2013 National Climate Assessment, authored by leading scientists and experts, emphasizes the need for increased coordination and planning to ensure U.S. coastal communities are resilient against the effects of climate change." Quoted from the USGS press release.

M8.0 Earthquake: Santa Cruz Islands
February 5, 2013 | USGS Earthquake Hazards Program
A Magnitude 8.0 earthquake occurred in the Santa Cruz Islands area at about 8:12 PM EST. Tsunami warnings were issued for numerous islands in the South Pacific and waves up to 3 feet in amplitude have been reported.
USAToday reports that dozens of homes were damaged in the Solomon Islands.