How Big Was the Bingham Canyon Landslide?
May 20, 2013 | Salt Lake City Tribune
An article in the Salt Lake City Tribune compares the landslide at the Bingham Canyon copper mine to other large landslides that have occurred during recorded history.
Related: World's Largest Landslide

Roadside Geology Guides
May 19, 2013 | Geology.com Store
Since 1972 the "Roadside Geology" series has provided introductory information on the geology of states and small regions of the United States.
The books provide a combination of maps, travel logs, photos and commentary for the geology that can be seen along highways or visited at parks and public viewing areas. They are popular with geologists, teachers, students and others who are interested in the Earth.

Status of the Bingham Canyon Mine Landslide
April 28, 2013 | ABC News
ABC News has an article that looks at the status of the Bingham Canyon copper mine after a landslide has cut off production from the pit and will have the company excavating landslide debris instead of ore.

The Most Costly Landslide?
April 21, 2013 | The Landslide Blog
Dave Petley has a post about the massive landslide at the Bingham Canyon Copper Mine. Discussed are the landslide detection system used to predict the slide and the speculated financial impact of the slide.

Photos of the Bingham Canyon Mine Landslide
April 16, 2013 | Deseret News
The Deseret News has an article about the recent landslide at the Bingham Canyon copper mine. They also have a collection of fifty-one photos.
Added: A Kennecott Utah Copper photo collection is available on Flickr

Landslide in the Bingham Canyon Mine
April 11, 2013 | Business Week
A landslide that was anticipated finally occurred in Kennecott's Bingham Canyon Copper Mine. No one was injured.

Salt Glaciers?
April 1, 2013 | Geology.com
Salt glaciers (also known as namakiers) are masses of salt that erupt onto Earth's surface and flow downslope under their own weight.
They develop where salt domes rise high enough to reach the surface.

Supersized Topographic Maps
February 17, 2013 | MyTopo.com
The folks at MyTopo.com are now printing supersized topo maps; large enough make a huge 8′ x 5′ (or 5′ x 8′) map that will look fantastic on the wall of your office, conference room, lobby, cabin or den. These maps are custom-centered on any location that you pick using their online map-making tool.
We are affiliates of MyTopo.com and receive a commission on sales.

Oil Shale Resources: Green River Formation
February 14, 2013 | USGS
"The United States Geological Survey has published: In-Place Oil Shale Resources Examined by Grade in the Major Basins of the Green River Formation, Colorado, Utah, and Wyoming."

Wall Maps of US States
February 10, 2013 | Geology.com Store
Raven Maps are beautiful examples of shaded-relief wall maps that display the elevation of a state in vibrant colors. These large maps look great in a classroom, den or office. Use one to mark the locations of your work or company.

Landslide Problem: St. George, Utah
December 31, 2012 | StGeorgeUtah.com
An article and video on the StGeorgeUtah.com website describes how a slow-moving landslide has caused problems for residents of the Gardens South Condominiums and the solution that they hope will stop the movement.
Utah Geological Survey Landslide Hazard Map

Petrified Wood
December 18, 2012 | Geology.com
Petrified Forest National Park is the most famous location in the world for observing petrified wood. It is one of several government and private parks in the United States that feature petrified wood.

Rainbow in the Great Basin
October 14, 2012 | USA.gov
"A rainbow descends into the Great Basin after a spring storm. The Great Basin is the largest terminal basin in the U.S., located in Utah, Nevada, Idaho, and Oregon." Photo by Larry Crist, U.S. Fish and Wildlife Service.

New Geothermal Source in Utah
September 30, 2012 | Utah Geological Survey
"Discovery of a new type of geothermal energy resource in Utah offers hope for significantly more potential across the western U.S., and a boost in geothermal power production. [...] Preliminary results show that near-surface temperature gradients in the basin vary from about 60 degree C/km to 100 degree C/km. This implies temperatures of 150 to 250 degree C at 3 – 4 km depth beneath the basin. An abandoned oil exploration well drilled near Pavant Butte in the central part of the basin in 1981 confirms these exceptionally high temperatures." Quoted from the Utah Geological Survey press release.

The Flattest Place on Earth
September 20, 2012 | Utah Geological Survey
Do you know where it is? The Utah Geological Survey's Survey Notes includes an interesting article about the Bonneville Salt Flats. Lots of geological information, photographs and some trivial about auto racing and speed records.

Great Salt Lake Water Chemistry
September 18, 2012 | Utah Geological Survey
A short report from the Utah Geological Survey will introduce you to the dynamic water chemistry of the Great Salt Lake. It explains how the salinity is a function of lake level and how two arms of the lake have independent salinity because they are separated by a railroad causeway built in 1959!
When you visit check out the interesting graph on Page 6.

The World's Most Effective Road Sign?
September 18, 2012 | Georneys
If you have been to Vernal, Utah you know what it is.

Helium: A Natural Gas Byproduct
May 30, 2012 | Geology.com
"Helium is produced by the decay of uranium and thorium in granitoid basement rocks. The liberated helium is buoyant and moves towards the surface in porosity associated with basement faults. The helium then moves upwards through porous sedimentary cover until it is trapped with natural gas under beds of anhydrite or salt." Quoted from the Geology.com article.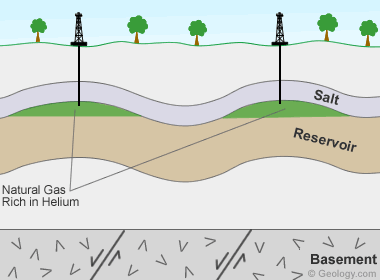 Solar Eclipse: Sunday, May 20th
May 17, 2012 | CNET.com
An annular solar eclipse will occur on Sunday, May 20th. Some of the best viewing areas will be in the southwestern United States.

3700 Gas Wells in Utah?
May 9, 2012 | Reuters
Anadarko Petroleum plans to develop a natural gas field in the Greater Natural Buttes area of Utah that will involve drilling about 3700 wells.

USGS Student Employment
May 4, 2012 | USGS Utah Water Science Center
Travis Gibson tells about his experience working in the Student Career Experience Program with the USGS Utah Water Science Center and then taking a full time job as a hydrologic technician. Here's a quote from Travis: " I loved getting paid to ride in a helicopter and wade in streams in beautiful locations!"

Utah Route 14 Landslide Repair Progress
April 10, 2012 | The Spectrum
Engineers initially thought that a landslide blocking state Route 14 in Utah would require a few weeks to repair. Now they realize that repairs will take several months. (Be sure to look at the large gallery of photos.)

Landslides Can Damage Economies
February 5, 2012 | Deseret News
Landslides can damage more than buildings, highways and underground utilities. A landslide near Cedar City, Utah has caused severe damage to local economies.

Oil Shale: The Next Fossil Energy Boom?
February 2, 2012 | TheHill.com
The current fossil energy boom in the United States is natural gas from shale. The next one could be oil shales.