King of Gore from the Wahweap Formation
December 1, 2013 | Bureau of Land Management
"Ten million years before the T. rex walked the earth, another monster reigned. The 80 million-year-old fossil of the Lythronax argestes or "King of Gore" was recently discovered by Scott Richardson, a Bureau of Land Management archaeologist technician at the Wahweap Formation in BLM-Utah's Grand Staircase-Escalante National Monument." Quoted from the BLM tumbler site.

Wall Maps of US States
December 1, 2013 | Geology.com Store
Raven Maps are beautiful examples of shaded-relief wall maps that display the elevation of a state in vibrant colors. These large maps look great in a classroom, den or office. Use one to mark the locations of your work or company.

New Top Predator Dinosaur Discovered in Utah
November 25, 2013 | North Carolina State University
"A new species of carnivorous dinosaur – one of the three largest ever discovered in North America – lived alongside and competed with small-bodied tyrannosaurs 98 million years ago." Quoted from the North Carolina State University press release.

Roadside Geology Guides
November 25, 2013 | Geology.com Store
Since 1972 the "Roadside Geology" series has provided introductory information on the geology of states and small regions of the United States.
The books provide a combination of maps, travel logs, photos and commentary for the geology that can be seen along highways or visited at parks and public viewing areas. They are popular with geologists, teachers, students and others who are interested in the Earth.

New Super Predator Dinosaur
November 7, 2013 | Pentagon Post
"Paleontologists have discovered a new super-predator dinosaur in southern Utah that roamed the Earth 80 million years ago." Quoted from the Pentagon Post.

Southern California Fireball
November 7, 2013 | Los Angeles Times
Last night a fireball streaked across Southern California and was seen by people in Arizona, California, Nevada and Utah. Dr. Laura Danly of the Griffith Observatory explains in this video.

Geological Calendar of Utah
November 3, 2013 | Utah Geological Survey
The Utah Geological Survey has produced a 2014 calendar featuring geologically significant photos selected from over 250 entries. This is the eighth year that the calendar has been produced. You can get one for just $4.95.

What is Petrified Wood?
October 27, 2013 | Geology.com
Petrified Wood is a fossil that forms when dissolved materials in groundwater precipitate and petrify woody material.

TopoPhotos
October 17, 2013 | MyTopo.com
The folks at MyTopo.com are now printing TopoPhotos. They are aerial photographs with contour lines and topographic map annotations lightly superimposed. They give you the advantages of an aerial photograph but also include the elevation, road and place name details of a topographic map. You can use their website to order a TopoPhoto centered anywhere in the United States and have it printed in a variety of sizes in either landscape or portrait orientation. You can print them up to a huge 8′ x 5′ (or 5′ x 8′) in size.
We are affiliates of MyTopo.com and receive a commission on sales.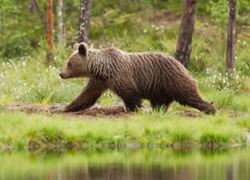 Image © iStockphoto/IndrekV
Bear Attack!
October 11, 2013 | Geology.com
If you spend time in bear country knowing how to react to a bear encounter and what to do if you are attacked could save your life.
If you don't know where bears live here is a map of the geographic ranges for black, grizzly and polar bears in North America.

Mudslides Near Timpanogos Cave
September 10, 2013 | Caving News
Mudslides blocking roads stranded about 150 people at the visitor center of Timpanogos Cave National Monument in Utah.
Related: Landslide Hazard Information

Clearing the Bingham Canyon Landslide
September 6, 2013 | KSL.com
An 1800-ton shovel has been moved to the Bingham Canyon Mine where a 165 million-ton landslide brought production to a halt. So far they have removed 6 million tons from the head of the slide.

Big-Nosed, Long-Horned Dinosaur Discovered in Utah
August 13, 2013 | The University of Utah
"A remarkable new species of horned dinosaur has been unearthed in Grand Staircase-Escalante National Monument, southern Utah. The huge plant-eater inhabited Laramidia, a landmass formed when a shallow sea flooded the central region of North America, isolating western and eastern portions for millions of years during the Late Cretaceous Period." Quoted from The University of Utah press release.

Nine Percent Methane Loss
August 6, 2013 | Cooperative Institute for Research in Environmental Sciences
A federal study reports that nine percent of the methane produced from drilling activity in the Uintah Basin of Utah is lost to the atmosphere.

Debris Flow in Southern Utah
July 30, 2013 | David Rankin on YouTube.com
Video of a debris flow that occurred in southern Utah on July 18, 2013 after three inches of rain. You will be surprised!

Review of the Bingham Canyon Slide
July 23, 2013 | MineWeb.com
The MineWeb.com website has an article titled: "Inside Bingham Canyon — N. American mining's largest, most successful landslide".
Related: Landslide Hazards (USGS)

United States Gemstones
June 11, 2013 | Geology.com
A diversity of gemstones are produced in the United States. However, the $11 million per year in domestic production is tiny compared to the $23.5 billion that are imported.

Geology.com and RockTumbler.com are
both GeoShops.com websites.
Fee Mining Sites
May 24, 2013 | RockTumbler.com
Lots of people enjoy going to fee mining sites where you can prospect inactive surface mines, mine tailings, soil, sediments or outcrops and keep any rocks, gems, minerals or fossils that you find. Examples include: Herkimer Diamond Mines where you can search for doubly-terminated quartz crystals, and Crater of Diamonds where you might be lucky enough to find a real diamond.

How Big Was the Bingham Canyon Landslide?
May 20, 2013 | Salt Lake City Tribune
An article in the Salt Lake City Tribune compares the landslide at the Bingham Canyon copper mine to other large landslides that have occurred during recorded history.
Related: World's Largest Landslide

Status of the Bingham Canyon Mine Landslide
April 28, 2013 | ABC News
ABC News has an article that looks at the status of the Bingham Canyon copper mine after a landslide has cut off production from the pit and will have the company excavating landslide debris instead of ore.