Tight Oil Production Growth!
April 3, 2014 | Energy Information Administration
This image from the Energy Information Administration shows the amazing growth of tight oil production from the Eagle Ford, Bakken, Utica and other formations.

Earthquakes Cause ODNR to Halt Drilling
March 16, 2014 | Columbus Dispatch
On Monday, March 10th two small earthquakes in eastern Ohio (M2.6 and M3.0) prompted the Ohio Department of Natural Resources to halt operations at seven nearby gas wells. Industry responded that hundreds of wells have been drilled in the Utica Shale using hydraulic fracturing and horizontal drilling without incident.
Related: Utica Shale well density

Tapping the Utica ahd the Marcellus from a Single Drill Pad?
March 11, 2014 | BizJournals
A company in Ohio plans to drill wells into both the Marcellus Shale and the Utica Shale from a single drill pad in Ohio. The expect dry gas production from the deeper Utica and liquids production from the Marcellus.

The Shale Boom is Just Starting
March 2, 2014 | Denver BizJournal
Ryan Lance, CEO of ConocoPhillips believes that the "shale boom" in the United States is just getting started, with several decades ahead.

Taxing Oil and Gas in Ohio
February 27, 2014 | Columbus BizJournals
The Ohio Legislature is considering new severance taxes on oil and gas produced from horizontal wells in Ohio.

1200 Utica Wells in 2014?
February 25, 2014 | Ohio.com
The Ohio Department of Natural Resources is predicting that there will be nearly 1200 new wells drilled in the Utica Shale during 2014.
Related: Horizontal Wells in the Utica Shale

Impatient Landowners Sue New York
February 18, 2014 | MoneyNews.com
Some owners of property above the Marcellus and Utica Shales in in New York are tired of waiting for their state to allow the development of their natural gas resource.

Selling Unprofitable Utica Shale?
February 4, 2014 | UPI
Hess sold 74,000 acres of Utica Shale leases for $924 million. They said that the asset had poor economics.
Related: Map showing horizontal well legs in the Utica Shale.

Horizontal Well Density in the Utica Shale of Ohio
January 1, 2014 | Geology.com
We plotted a Google map showing the horizontal legs for Utica Shale wells drilled in eastern Ohio before late November 2013 and were really surprised by the geographic pattern and density of drilling in some areas.

Utica Shale Well Permitting is Strong in Ohio
November 25, 2013 | Geology.com
The number of permits issued for drilling the Utica Shale in Ohio has been significantly higher in 2013 than in 2012.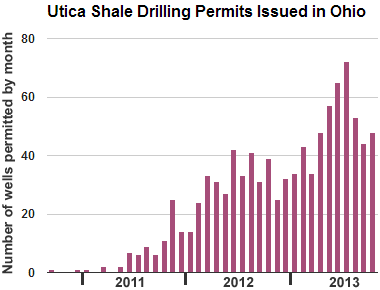 Data from the Ohio Department of Natural Resources.

Production Declines in Natural Gas Wells
November 24, 2013 | Geology.com
Lots of property owners who signed a lease in one of the natural gas shale plays are now receiving monthly or quarterly royalty payments. Many of these people were pleasantly surprised with the size of their first royalty check — but then shocked to see the size of subsequent checks fall rapidly. What's happening?

What Shale Drillers Are Planning for 2014
November 21, 2013 | Farm and Dairy
This article on FarmAndDairy.com contains a few summary sentences for several shale drilling companies in the Marcellus and Utica area.

Two Ethane Crackers in the Marcellus Utica?
November 20, 2013 | BizJournals
Nearly two years ago Shell was interested in building an ethane cracker in western Pennsylvania to process the liquids-rich gas being produced from the Marcellus and Utica Shales in the Ohio River Valley. Now Odebrecht and Braskem Americas is talking about building a cracker in the northern West Virginia panhandle and some believe that puts the Shell project in jeopardy.

Ohio Gas for Ohio Homes and Businesses
September 23, 2013 | Cleveland.com
The Northeast Ohio Public Energy Council is working to bring natural gas from the Utica Shale into Ohio homes and businesses at a cost savings of about $100 per customer next year.
Related: What is the Utica Shale?

Natural Gas and the Endangered Species List?
September 15, 2013 | National Public Radio
Natural gas drillers in Pennsylvania are supporting proposed legislation that would revise how the state's endangered species list is managed.

Zero Demand for Natural Gas Leases in New York
September 11, 2013 | Bloomberg.com
An article on the Bloomberg website tracks Chesapeake Energy's natural gas activities in New York, from acquiring their first leases in 2000 for a few dollars per acre to walking away from the state and leaving their investments behind.

$12,000 Per Acre for Utica Leases
August 22, 2013 | NASDAQ.com
Aubrey McClendon, former CEO of Chesapeake Energy, and current head of American Energy Partners, is making big bets on the Utica Shale in southeastern Ohio, paying over $12,000/acre for leases.
Related: What is the Utica Shale?

Putting a Throttle on Natural Gas Production?
August 20, 2013 | WESA FM
Reports of rapidly rising natural gas production from the Marcellus, Utica and other shale formations, even while thousands of completed wells are waiting on pipeline, has some experts predicting a slowdown in drilling activity in anticipation of depressed prices.

Drilling Impact Fees vs Severance Taxes
August 9, 2013 | Law.com
An article on Law.com explores the differences between impact fees and severance taxes on natural gas producers working in Pennsylvania's Marcellus Shale.

The Appalachian Triple Gas Play
July 30, 2013 | Marcellus Drilling News
A few companies are now finding success in the Upper Devonian Shale, an organic-rich rock unit above the Marcellus Shale and Utica Formation.

An Estonian Company in Utah Oil Shales?
July 17, 2013 | Deseret News
An Estonian company wants to produce 50,000 barrels of oil per day from oil shales in the Uintah Basin of Utah. The project has attracted a variety of criticism and praise.

Utica Shale Gas for Export as LNG
May 22, 2013 | BizJournals.com
Tennessee Gas Pipeline plans to build a pipeline from the Utica Shale play in Ohio to an LNG export facility in Louisiana.

Utica Shale to Canada Pipeline?
May 14, 2013 | Ohio.com
A natural gas pipeline between the Utica Shale in Ohio and natural gas consumers in Ontario, Canada has been proposed by a group of transmission companies.

Foreign Investments in US Shale
April 18, 2013 | Energy Information Administration
Since 2008, foreign companies have entered into 21 joint ventures with U.S. acreage holders and operators, investing more than $26 billion in tight oil and shale gas plays.

Tools for the Geologist
April 1, 2013 |
Need a new rock hammer, chisel, field bag, hammer holster, field book, hardness set, hand lens, topo map, gold pan or other geological tool? Check out the Geology.com store.

New TOC Map of the Utica Shale
March 17, 2013 | Ohio Geological Survey
With new data available the Ohio Geological Survey has published a new maximum total organic carbon map for the Upper Ordovician Shale interval of Ohio (Utica, Point Pleasant, Lexington and Logana).

Ohio: Sources of Water for Hydraulic Fracturing
January 18, 2013 | Ohio Department of Natural Resources
This Ohio Department of Natural Resources document summarizes the potential sources of water for hydraulic fracturing in the Utica Shale and Marcellus Shale of eastern Ohio. Also included are basic regulations and the contact/regulatory authority for each water source.

Raising Severance Taxes in Ohio
January 14, 2013 | BizJournal
John Kasich, Governor of Ohio, would like to raise severance taxes on extraction of oil and natural gas from the Utica Shale. This article interviews an oil and gas lobbyist about raising severance taxes to fund a state income tax reduction.