Roadside Geology Guides
March 9, 2014 | Geology.com Store
Since 1972 the "Roadside Geology" series has provided introductory information on the geology of states and small regions of the United States.
The books provide a combination of maps, travel logs, photos and commentary for the geology that can be seen along highways or visited at parks and public viewing areas. They are popular with geologists, teachers, students and others who are interested in the Earth.

Wall Maps of US States
February 23, 2014 | Geology.com Store
Raven Maps are beautiful examples of shaded-relief wall maps that display the elevation of a state in vibrant colors. These large maps look great in a classroom, den or office. Use one to mark the locations of your work or company.

TopoPhotos
February 16, 2014 | MyTopo.com
The folks at MyTopo.com are now printing TopoPhotos. They are aerial photographs with contour lines and topographic map annotations lightly superimposed. They give you the advantages of an aerial photograph but also include the elevation, road and place name details of a topographic map. You can use their website to order a TopoPhoto centered anywhere in the United States and have it printed in a variety of sizes in either landscape or portrait orientation. You can print them up to a huge 8′ x 5′ (or 5′ x 8′) in size.
We are affiliates of MyTopo.com and receive a commission on sales.

Sea Level Rise and Sinking Land
December 12, 2013 | USGS
"Communities and coastal habitats in the southern Chesapeake Bay region face increased flooding because, as seawater levels are rising in the bay, the land surface is also sinking. A USGS report concludes that intensive groundwater withdrawals are a major cause of the sinking land, or 'land subsidence', that contributes to flooding risks in the region." Quoted from the USGS press release.
Related: Maps of Sea Level Rise

Ancient Seawater Under Chesapeake Bay?
November 14, 2013 | USGS
"USGS scientists have determined that high-salinity groundwater found more than 1,000 meters (0.6 mi.) deep under the Chesapeake Bay is actually remnant water from the Early Cretaceous North Atlantic Sea and is probably 100-145 million years old. This is the oldest sizeable body of seawater to be identified worldwide." Quoted from the USGS press release.

Slow Moving Groundwater Delays Water Quality Actions
November 13, 2013 | USGS
New research by the USGS indicates it may take several decades for many water-quality management practices aimed at reducing nitrogen input to Chesapeake Bay to achieve their full benefit due to the influence of groundwater.

Partial Solar Eclipse Visible on Sunday Morning from the East Coast
November 1, 2013 | NASA
"The final event of 2013 is the most interesting eclipse of the year. It is one of the rare hybrid or annular/total eclipses in which some sections of the path are annular while other parts are total. The duality comes about when the vertex of the Moon's umbral shadow pierces Earth's surface at some locations, but falls short of the planet along other sections of the path." Quoted from the NASA website.
People as far west as Pittsburgh should be able to see the eclipse. Observing from the east coast.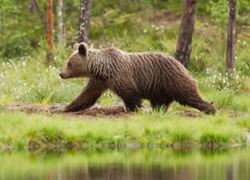 Image © iStockphoto/IndrekV
Bear Attack!
October 11, 2013 | Geology.com
If you spend time in bear country knowing how to react to a bear encounter and what to do if you are attacked could save your life.
If you don't know where bears live here is a map of the geographic ranges for black, grizzly and polar bears in North America.

Geographic Concentration of Scientists and Engineers
September 19, 2013 | National Science Foundation
The geographic distribution of scientists and engineers in the United States is not uniform. Some states have much higher percentages of these professionals than other states. Virginia, Washington, Maryland and Colorado have higher than average numbers of these professionals. Arkansas, Kentucky, Louisiana, Mississippi, North Dakota and South Dakota have lower percentages.

Geology.com and RockTumbler.com are
both GeoShops.com websites.
Fee Mining Sites
May 24, 2013 | RockTumbler.com
Lots of people enjoy going to fee mining sites where you can prospect inactive surface mines, mine tailings, soil, sediments or outcrops and keep any rocks, gems, minerals or fossils that you find. Examples include: Herkimer Diamond Mines where you can search for doubly-terminated quartz crystals, and Crater of Diamonds where you might be lucky enough to find a real diamond.

Hurricane Sandy Beach Restoration
February 13, 2013 | BOEM Ocean Science
The most recent issue of BOEM Ocean Science has information about beach restoration projects in the Hurricane Sandy recovery effort.