Wall Maps of US States
December 1, 2013 | Geology.com Store
Raven Maps are beautiful examples of shaded-relief wall maps that display the elevation of a state in vibrant colors. These large maps look great in a classroom, den or office. Use one to mark the locations of your work or company.

Roadside Geology Guides
November 25, 2013 | Geology.com Store
Since 1972 the "Roadside Geology" series has provided introductory information on the geology of states and small regions of the United States.
The books provide a combination of maps, travel logs, photos and commentary for the geology that can be seen along highways or visited at parks and public viewing areas. They are popular with geologists, teachers, students and others who are interested in the Earth.

What is Petrified Wood?
October 27, 2013 | Geology.com
Petrified Wood is a fossil that forms when dissolved materials in groundwater precipitate and petrify woody material.

Fracking for Geothermal
October 25, 2013 | MIT TechnologyReview.com
"The use of hydraulic fracturing has unlocked vast new reserves of natural gas. Now Alta Rock, a startup based in Seattle, is developing technology that might do the same for geothermal resources, turning a marginal power source into a major source of carbon-free electricity and heat." Quoted from the MIT TechnologyReview.com article.

Hazard: Landslides Triggered by Earthquakes in Seattle
October 23, 2013 | University of Washington
"The next big earthquake on the Seattle Fault could trigger destructive landslides in the city, potentially affecting a much larger area than previously thought, and in areas outside those currently considered to be landslide prone." Quoted from the University of Washington press release.

TopoPhotos
October 17, 2013 | MyTopo.com
The folks at MyTopo.com are now printing TopoPhotos. They are aerial photographs with contour lines and topographic map annotations lightly superimposed. They give you the advantages of an aerial photograph but also include the elevation, road and place name details of a topographic map. You can use their website to order a TopoPhoto centered anywhere in the United States and have it printed in a variety of sizes in either landscape or portrait orientation. You can print them up to a huge 8′ x 5′ (or 5′ x 8′) in size.
We are affiliates of MyTopo.com and receive a commission on sales.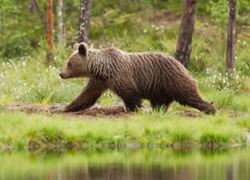 Image © iStockphoto/IndrekV
Bear Attack!
October 11, 2013 | Geology.com
If you spend time in bear country knowing how to react to a bear encounter and what to do if you are attacked could save your life.
If you don't know where bears live here is a map of the geographic ranges for black, grizzly and polar bears in North America.

Geographic Concentration of Scientists and Engineers
September 19, 2013 | National Science Foundation
The geographic distribution of scientists and engineers in the United States is not uniform. Some states have much higher percentages of these professionals than other states. Virginia, Washington, Maryland and Colorado have higher than average numbers of these professionals. Arkansas, Kentucky, Louisiana, Mississippi, North Dakota and South Dakota have lower percentages.

Sinkhole Photos – Wow!
July 30, 2013 | The Atlantic
This has to be the most impressive collection of sinkhole photos ever assembled.

Deer by AirMail
June 14, 2013 | Fish and Wildlife Service
The Fish and Wildlife Service has an article about how they moved a small population of endangered Columbian white-tailed deer from Julia Butler Hansen Refuge for the Columbian White-Tailed Deer to Ridgefield National Wildlife Refuge (both sites in Washington).
They needed a helicopter to get some of the deer out.

Most Popular May 16 to May 31
June 4, 2013 | Geology.com
When Did Plate Tectonics Begin?

Geology.com and RockTumbler.com are
both GeoShops.com websites.
Fee Mining Sites
May 24, 2013 | RockTumbler.com
Lots of people enjoy going to fee mining sites where you can prospect inactive surface mines, mine tailings, soil, sediments or outcrops and keep any rocks, gems, minerals or fossils that you find. Examples include: Herkimer Diamond Mines where you can search for doubly-terminated quartz crystals, and Crater of Diamonds where you might be lucky enough to find a real diamond.

Mount St. Helens – 33 Years
May 18, 2013 | USGS
"Mount St. Helens seized the world's attention in 1980 when the largest historical landslide on Earth and a powerful explosive eruption reshaped the volcano, created its distinctive crater, and dramatically modified the surrounding landscape." Quoted from the USGS Fact Sheet titled…. Mount St. Helens, 1980 to Now—What's Going On?

Measuring the Size of Explosive Volcanic Eruptions
April 17, 2013 | Geology.com
You have probably heard of the Richter Scale for measuring earthquakes, the Saffir-Simpson Scale for hurricanes and the Fujita Scale for tornadoes. The Volcanic Explosivity Index is used to compare the size of explosive volcanic eruptions.

Landslide Hits Passenger Train
April 9, 2013 | KomoNews.com
A passenger train in Washington was hit by a landslide. Although several cars were derailed, they remained upright and no one was injured.

Washington DNR Landslide Documents and Photos
March 31, 2013 | Washington Department of Natural Resources
The Washington Department of Natural Resources is reporting on the Whidbey Island landslide. They have links to photo collections, official report, the best "before/after" image pair we have seen, geologic map and more.

Videos: Washington Landslide
March 28, 2013 | CNN
A large landslide on Washington's Whidbey Island has destroyed one home and threatens several others.

Whidbey Island Landslide
March 28, 2013 | The Landslide Blog
Dave Petley has several photos and comments about the landslide on Whidbey Island.

Spectacular Eruption Photos
March 20, 2013 | geology.com
A collection of some of the most interesting photos of volcanic eruptions that we have seen from USGS, NASA and NOAA.