White House Targets Methane
March 31, 2014 | The White House
As a greenhouse gas, methane can trap about 20 times more heat than carbon dioxide. The White House announced a climate action plan to reduce methane emissions by targeting emissions from the oil and gas, waste disposal, coal mining, farming and other methane producing industries.

Peecycling??
February 11, 2014 | National Geographic
National Geographic has an article reporting that urine is just 1 percent of domestic waste water, but it contains 80 percent of the nitrogen and 55 percent of the phosphorus. Methods of separating it from the waste stream and utilizing as a resource rather than a waste might be possible.

Plastic MicroBeads in the Great Lakes?
December 19, 2013 | New York Times
Tiny plastic beads are added to facial scrubs, toothpaste and other products to improve their abrasive properties. Now those beads are being found in large numbers in the waters of the Great Lakes.

Gas Injection Triggering Small Earthquakes?
November 4, 2013 | The University of Texas at Austin
"A new study correlates a series of small earthquakes near Snyder, Texas between 2006 and 2011 with the underground injection of large volumes of gas, primarily carbon dioxide (CO2) — a finding that is relevant to the process of capturing and storing CO2 underground." Quoted from the University of Texas at Austin press release.

Oklahoma Earthquake Swarm Continues
October 23, 2013 | USGS
"Since January 2009, more than 200 magnitude 3.0 or greater earthquakes have rattled Central Oklahoma, marking a significant rise in the frequency of these seismic events. [...] The analysis suggests that a contributing factor to the increase in earthquakes triggers may be from activities such as wastewater disposal." Quoted from the USGS press release.

USGS Image
Induced Earthquakes in the Central and Eastern States
September 26, 2013 | USGS
"The number of earthquakes has increased dramatically over the past few years within the central and eastern United States. More than 300 earthquakes above a magnitude 3.0 occurred in the three years from 2010-2012, compared with an average rate of 21 events per year observed from 1967-2000. This increase in earthquakes prompts two important questions: Are they natural, or man-made?" Quoted from the USGS press release.

The Landfill Harmonic Orchestra
September 5, 2013 | YouTube
You will not believe the music that these kids can make with instruments fashioned out of barrels, boxes, pipes and wires picked from a trash dump in Paraguay. This is only connected to geology by its "waste disposal" theme, but you will be impressed.

New at Yucca Mountain?
August 18, 2013 | CNN
The Yucca Mountain has been in a state of limbo for decades. Now a federal appeals court ruled that the Nuclear Regulatory Commission must decide if a permit can be issued.

CO2 Sequestration Potential in Arizona
August 1, 2013 | Arizona Geological Survey on YouTube
Brian Gootee of the Arizona Geological Survey describes recent work on Carbon Dioxide Sequestration Potential in Arizona and new publications for the Luke and Higley Basins.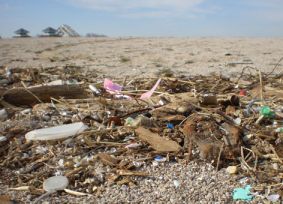 NOAA image
The Garbage Patch Misconceptions
June 13, 2013 | NOAA
"The "Great Pacific Garbage Patch"—a purported island of trash twice the size of Texas floating in the Pacific Ocean—receives a lot of media attention. [...] However, based on research we know that the name "garbage patch" is misleading and that there is no island of trash forming in the middle of the ocean." Quoted from the NOAA Office of Response and Restoration article.

Wastewater Injection and Earthquakes
March 27, 2013 | Columbia University
"Scientists have linked a rising number of quakes in normally calm parts of Arkansas, Texas, Ohio and Colorado to below-ground injection. In the last four years, the number of quakes in the middle of the United States jumped 11-fold from the three decades prior." Quoted from the Columbia University press release.

Marcellus Shale Impact on Pennsylvania Waterways
March 17, 2013 | PennLive.com
A study published in the Proceedings of the National Academies of Sciences reports that chemical spills associated with Marcellus Shale drilling have not significantly impacted Pennsylvania waterways.

NORM from the Marcellus Shale
March 12, 2013 | Pennsylvania Department of Environmental Protection
"Drill cuttings and other materials associated with oil and gas have occasionally triggered radiation monitors at landfills. DEP's data indicates that less than half a percent of all drill cuttings produced by the Marcellus Shale industry in 2012 that were disposed of in landfills triggered radiation monitors. The cuttings did not contain levels of radioactivity that would be harmful to the public, and they were safely disposed of in the landfills." Quoted from the DEP announcement.

What is Killing the Coral?
February 15, 2013 | National Science Foundation
Elkhorn coral and 65 other species of reef-building corals were recently proposed for "endangered species" designation. Researchers are working to understand why these corals are disappearing from the Florida Keys and other locations.