Coal Data Browser
March 4, 2014 | Energy Information Administration
The Energy Information Administration has published an interactive map that they call their "Coal Data Browser". It allows you to see statewide averages for variables such as total coal production, total consumption, mine productivity, tons produced per employee hour, sulfur content burned in power production and many, many more. Check it out if you like coal datasulfur-content.gif

Wall Maps of US States
February 23, 2014 | Geology.com Store
Raven Maps are beautiful examples of shaded-relief wall maps that display the elevation of a state in vibrant colors. These large maps look great in a classroom, den or office. Use one to mark the locations of your work or company.

What Shale Drillers Are Planning for 2014
November 21, 2013 | Farm and Dairy
This article on FarmAndDairy.com contains a few summary sentences for several shale drilling companies in the Marcellus and Utica area.

Courthouse to Stream in an Open Loop Geothermal System
November 21, 2013 | The Martinsburg Journal News
The court house at Berkeley Springs, Morgan County, West Virginia has an unusual geothermal system. It removes water from a local stream, pumps that water through a heat-exchange system and returns the water to the stream. Open-loop systems connected to a stream are rare.

Two Ethane Crackers in the Marcellus Utica?
November 20, 2013 | BizJournals
Nearly two years ago Shell was interested in building an ethane cracker in western Pennsylvania to process the liquids-rich gas being produced from the Marcellus and Utica Shales in the Ohio River Valley. Now Odebrecht and Braskem Americas is talking about building a cracker in the northern West Virginia panhandle and some believe that puts the Shell project in jeopardy.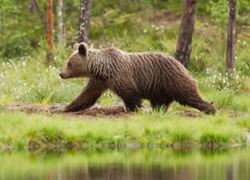 Image © iStockphoto/IndrekV
Bear Attack!
October 11, 2013 | Geology.com
If you spend time in bear country knowing how to react to a bear encounter and what to do if you are attacked could save your life.
If you don't know where bears live here is a map of the geographic ranges for black, grizzly and polar bears in North America.

Most Marcellus Shale Wells Are Already Profitable
October 9, 2013 | PennLive.com
Even though the average horizontal natural gas well drilled into the Marcellus Shale had a cost of about $5 million, approximately 78% of them have produced enough gas to become profitable.

The Impact of Shale Gas on the Coal Industry
October 6, 2013 | CBS News
The natural gas from shale boom and regulations that restrict greenhouse gas emissions from power plants have severely damaged the coal industry and its employees.

Natural Gas Liquids and the Marcellus Shale
September 10, 2013 | Penn State Extension
Penn State Extension has a recorded webinar and PowerPoint presentation that explains natural gas liquids as they relate to the Marcellus Shale and related economic development.
Related: What is the Marcellus Shale?

Putting a Throttle on Natural Gas Production?
August 20, 2013 | WESA FM
Reports of rapidly rising natural gas production from the Marcellus, Utica and other shale formations, even while thousands of completed wells are waiting on pipeline, has some experts predicting a slowdown in drilling activity in anticipation of depressed prices.

Landslide Damages Natural Gas Pipeline
August 19, 2013 | The Intelligencer
A landslide in Wetzel County, West Virginia damaged a natural gas pipeline causing a leak of wet natural gas. No injuries were reported.

Increased West Virginia and Southern Pennsylvania Gas Production
August 7, 2013 | Energy Information Administration
Natural gas production in northern West Virginia and southwestern Pennsylvania is up, partly in response to infrastructure improvements that have improved takeaway capacity.

Gas from the Upper Devonian
August 6, 2013 | Pittsburgh Post-Gazette
Most of the drilling in western Pennsylvania, Ohio and West Virginia has targeted the Marcellus Shale and the Utica Shale. Most of these wells penetrate the Upper Devonian, which also has the potential of producing natural gas. Now a few companies are starting to drill the Upper Devonian and are finding some success.

Monongahela National Forest Cave Closures
July 2, 2013 | Caving News
The U.S. Forest Service has extended the closure of caves in the Monongahela National Forest indefinitely.

10BCF per Day from the Marcellus Shale in 2013?
March 14, 2013 | Seeking Alpha
Rising production from the Marcellus Shale could push the rock unit over the 10 billion cubic feet per day production milestone in 2013.

Homeowners Insurance and Sinkhole Damage
March 8, 2013 | Geology.com
Did you know that most homeowners insurance policies do not cover damage from any type of subsidence? That includes collapse from sinkholes, oil production, ground water pumping and underground mining activity. Most insurance companies offering homeowners coverage exclude almost any type of geologic hazard from coverage – unless you make specific arrangements to acquire it yourself.

Oil from the Marcellus in West Virginia
February 27, 2013 | Ohio.com
An article on the Ohio.com website reports that Chesapeake Energy has three wells in West Virginia that yield hundreds of barrels of oil per day from the Marcellus Shale. They are in the state's northern panhandle.