Climate Change at Point Barrow Alaska
December 4, 2013 | PBS NewsHour
This PBS Newshour video explores the impact of climate change on the landscape, people and wildlife of Point Barrow Alaska.

Rare New Microbe Found in Two Distant Clean Rooms
November 9, 2013 | NASA
"A rare, recently discovered microbe that survives on very little to eat has been found in two places on Earth: spacecraft clean rooms in Florida and South America. Microbiologists often do thorough surveys of bacteria and other microbes in spacecraft clean rooms. Fewer microbes live there than in almost any other environment on Earth, but the surveys are important for knowing what might hitch a ride into space. If extraterrestrial life is ever found, it would be readily checked against the census of a few hundred types of microbes detected in spacecraft clean rooms." Quoted from the NASA press release.

Studying Diatoms in the Lakes of Southwestern Greenland
November 6, 2013 | National Science Foundation
Diatom populations in the lakes of southwestern Greenland are different from those in other parts of the Arctic in that they were rich in 'warmer' water diatoms throughout the Holocene.

The Frightening Threats to Bats
October 31, 2013 | USGS
"Each year on Halloween, as children dress up and go door to door looking for treats and excitement, bats—the very animal we associate with the celebration—are in serious trouble and we need to "treat" them with the respect they deserve." Quoted from the USGS press release.

Giant Oarfish
October 17, 2013 | StarTribune.com
"A marine science instructor snorkeling off the Southern California coast spotted something out of a fantasy novel: the silvery carcass of an 18-foot-long, serpent-like oarfish." Quoted from the StarTribune.com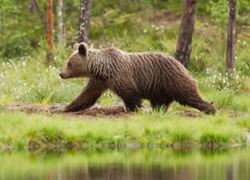 Image © iStockphoto/IndrekV
Bear Attack!
October 11, 2013 | Geology.com
If you spend time in bear country knowing how to react to a bear encounter and what to do if you are attacked could save your life.
If you don't know where bears live here is a map of the geographic ranges for black, grizzly and polar bears in North America.

Turning an Invasive Species into a Source of Income
October 6, 2013 | National Geographic
The lionfish is an extremely aggressive predator that has been changing marine life populations since it was accidentally introduced to the western Atlantic and Caribbean in the 1980s. Now, the fish is being targeted by the fishing industry, turning the predator into a source of income.

Cave Biology Webinar
October 3, 2013 | Caving News
The National Speleological Society has announced a webinar on the biology of submerged caves. It will be held on Thursday, October 17th at 7:00 to 8:00 PM eastern time.

The Impact of Fragmenting a Forest Environment
October 2, 2013 | New York Times
In 1987, Thailand built a dam on the Khlong Saeng river. As the reservoir filled it transformed over 100 forested hilltops into islands. Now each island, along with its plant and animal inhabitants, is an experiment to test what happens with a forest environment is fragmented.

Migration of Marine Life in Response to Climate Change?
September 23, 2013 | Princeton University
Climate change and warmer oceans are pushing marine species into new territory. Researchers are working on methods to predict their direction and rate of migration.

Natural Gas and the Endangered Species List?
September 15, 2013 | National Public Radio
Natural gas drillers in Pennsylvania are supporting proposed legislation that would revise how the state's endangered species list is managed.

Secrets of Spider Venom
September 12, 2013 | University of Arizona
"A University of Arizona-led research team has found that venom of spiders of the genus Loxosceles, which includes the brown recluse, produces a different chemical product than scientists believed. The discovery could lead to better understanding of how these spider bites can cause necrotic lesions or systemic reactions in humans and to new treatments for spider bites." Quoted from the NSF press release.

Frogs vs Marijuana Farmers in California
September 12, 2013 | BPS
Illegal marijuana plots hidden in the Santa Monica Mountains outside of Los Angeles are limiting the ability of the National Park Service to relocate endangered frog species to more sustainable habitats.

Coral Dispersion Simulation
September 11, 2013 | University of Miami
"A new computer simulation has revealed the epic, ocean-spanning journeys traveled by millimeter-sized coral larvae through the world's seas. It is the first to recreate the oceanic paths along which corals disperse globally, and will eventually aid predictions of how coral reef distributions may shift with climate change." Quoted from the University of Miami press release.

Life Found in an Antarctic Subglacial Lake
September 11, 2013 | British Antarctic Survey
"What was surprising was the high biomass and diversity we found. This is the first time microbes have been identified living in the sediments of a subglacial Antarctic lake and indicates that life can exist and potentially thrive in environments we would consider too extreme." Quoted from the British Antarctic Survey press release.

USDA image
Climate Change and Crop Disease
September 9, 2013 | BBC
A BBC article explores how climate change could drive the spread of insects and diseases that ruin crops.

Two Huge Alligators Killed in Mississippi
September 5, 2013 | National Geographic
National Geographic has a report on the two massive American alligators that were killed last weekend in Mississippi. They were 727 and 723 pounds – both were over 13 feet long.

A Tight Cave with a Few Ducks
August 29, 2013 | CavingNews.com
A video on CavingNews.com takes you on a visit to Shakespeare's Cave in the UK. It is very narrow and exploring it requires you to "duck" underwater a few times.
Related: Troglobites

Secrets of Whale Shark Migration
August 27, 2013 | National Geographic
National Geographic has a story that explores the migration habits of the world's largest fish – the whale shark – that can grow to lengths of up to 40 feet and weigh up to 5 tons.

Krill as a Barometer of Climate Change?
August 23, 2013 | National Geographic
Krill are small crustaceans that occupy a low position on the food chain in all of Earth's oceans. National Geographic has an article that describes some of the research being done to learn about the krill in the Antarctic.