White-Nose Along Tour Routes in Mammoth Cave
March 6, 2014 | CavingNews.com
White-nose syndrome is a disease that has killed millions of bats in the past few years. Now the disease has been spotted in bats along the tour routes of Mammoth Cave

Waterfall-Climbing Fish
February 18, 2014 | National Science Foundation
"The species of goby fish, Sicyopterus stimpsoni, also known as the "inching climber," thrives in the waters off Hawaii, and the amazing physical feat it must perform to survive is no fish tale! To reach the safe haven of its freshwater spawning area, this goby must scale a waterfall, or at least the rock behind it, using suction cups on its body." Quoted from the National Science Foundation press release.

Salmon Sense Magnetic Field When Migrating?
February 18, 2014 | Oregon State University
"A team of scientists last year presented evidence of a correlation between the migration patterns of ocean salmon and the Earth's magnetic field, suggesting it may help explain how the fish can navigate across thousands of miles of water to find their river of origin." Quoted from the Oregon State University press release.

The War on Lionfish as an Invasive Species
February 16, 2014 | Oregon State University
"With venomous spines, no natural predators in the Atlantic Ocean, and aggressive behavior, the lionfish have been shown to eat almost anything smaller than they are – fish, shrimp, crabs and octopus." Quoted from the Oregon State University press release.

Climate Change Hitting Penguins in Argentina
February 9, 2014 | Plosone
Researchers monitored over thousands of penguins over nearly three decades to determine their mortality factors. One conclusion is that climate change is causing more frequent and more intense storms that kill many penguins.

Frog-Hunting Bats?
January 28, 2014 | National Geographic
A species of bat that lives in parts of Central and South America has an echolocation sense that gives it the ability to detect water ripples from a croaking frog and swoop in for a kill.

Fluorescent Sharks?
January 23, 2014 | National Geographic
National Geographic has an interesting video about how divers have discovered biofluorescent fish in many parts of the World's oceans.

Resistance of Coral to Acidification at Palau
January 21, 2014 | National Science Foundation
Marine scientists working on the coral reefs of Palau have made two unexpected discoveries: 1) at each location they found that the seawater became increasingly more acidic as they moved toward land; and, 2) the corals living in those more acidic waters were unexpectedly diverse and healthy.

Fluorescent Fish?
January 12, 2014 | PLOS ONE
"Fish biofluorescence is especially common and morphologically variable in cryptically patterned coral-reef lineages. We identified 16 orders, 50 families, 105 genera, and more than 180 species of biofluorescent fishes." Quoted from the PLOS ONE abstract.
Related: Fluorescent Minerals

A Loss of Large Carnivores?
January 12, 2014 | Oregon State University
"In ecosystems around the world, the decline of large predators such as lions, dingoes, wolves, otters, and bears is [occurring in response to] habitat loss, persecution by humans and loss of prey combine to create global hotspots of carnivore decline." Quoted from the Oregon State press release.

USGS Image
The Largest Elephant Shrew
December 26, 2013 | National Geographic
Elephant shrew? Yes, there is such an animal and National Geographic has an article about tracking them in the jungles of Tanzania.

Climate Change and Echolocation in Bats
December 17, 2013 | National Geographic
Researchers suspect that climate change might cause problems for bats that navigate in the dark of night using echolocation.

Climate Change at Point Barrow Alaska
December 4, 2013 | PBS NewsHour
This PBS Newshour video explores the impact of climate change on the landscape, people and wildlife of Point Barrow Alaska.

Rare New Microbe Found in Two Distant Clean Rooms
November 9, 2013 | NASA
"A rare, recently discovered microbe that survives on very little to eat has been found in two places on Earth: spacecraft clean rooms in Florida and South America. Microbiologists often do thorough surveys of bacteria and other microbes in spacecraft clean rooms. Fewer microbes live there than in almost any other environment on Earth, but the surveys are important for knowing what might hitch a ride into space. If extraterrestrial life is ever found, it would be readily checked against the census of a few hundred types of microbes detected in spacecraft clean rooms." Quoted from the NASA press release.

Studying Diatoms in the Lakes of Southwestern Greenland
November 6, 2013 | National Science Foundation
Diatom populations in the lakes of southwestern Greenland are different from those in other parts of the Arctic in that they were rich in 'warmer' water diatoms throughout the Holocene.

The Frightening Threats to Bats
October 31, 2013 | USGS
"Each year on Halloween, as children dress up and go door to door looking for treats and excitement, bats—the very animal we associate with the celebration—are in serious trouble and we need to "treat" them with the respect they deserve." Quoted from the USGS press release.

Giant Oarfish
October 17, 2013 | StarTribune.com
"A marine science instructor snorkeling off the Southern California coast spotted something out of a fantasy novel: the silvery carcass of an 18-foot-long, serpent-like oarfish." Quoted from the StarTribune.com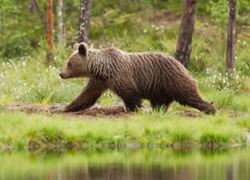 Image © iStockphoto/IndrekV
Bear Attack!
October 11, 2013 | Geology.com
If you spend time in bear country knowing how to react to a bear encounter and what to do if you are attacked could save your life.
If you don't know where bears live here is a map of the geographic ranges for black, grizzly and polar bears in North America.

Turning an Invasive Species into a Source of Income
October 6, 2013 | National Geographic
The lionfish is an extremely aggressive predator that has been changing marine life populations since it was accidentally introduced to the western Atlantic and Caribbean in the 1980s. Now, the fish is being targeted by the fishing industry, turning the predator into a source of income.

Cave Biology Webinar
October 3, 2013 | Caving News
The National Speleological Society has announced a webinar on the biology of submerged caves. It will be held on Thursday, October 17th at 7:00 to 8:00 PM eastern time.

The Impact of Fragmenting a Forest Environment
October 2, 2013 | New York Times
In 1987, Thailand built a dam on the Khlong Saeng river. As the reservoir filled it transformed over 100 forested hilltops into islands. Now each island, along with its plant and animal inhabitants, is an experiment to test what happens with a forest environment is fragmented.

Migration of Marine Life in Response to Climate Change?
September 23, 2013 | Princeton University
Climate change and warmer oceans are pushing marine species into new territory. Researchers are working on methods to predict their direction and rate of migration.

Natural Gas and the Endangered Species List?
September 15, 2013 | National Public Radio
Natural gas drillers in Pennsylvania are supporting proposed legislation that would revise how the state's endangered species list is managed.

Secrets of Spider Venom
September 12, 2013 | University of Arizona
"A University of Arizona-led research team has found that venom of spiders of the genus Loxosceles, which includes the brown recluse, produces a different chemical product than scientists believed. The discovery could lead to better understanding of how these spider bites can cause necrotic lesions or systemic reactions in humans and to new treatments for spider bites." Quoted from the NSF press release.

Frogs vs Marijuana Farmers in California
September 12, 2013 | BPS
Illegal marijuana plots hidden in the Santa Monica Mountains outside of Los Angeles are limiting the ability of the National Park Service to relocate endangered frog species to more sustainable habitats.