Roadside Geology Guides
March 9, 2014 | Geology.com Store
Since 1972 the "Roadside Geology" series has provided introductory information on the geology of states and small regions of the United States.
The books provide a combination of maps, travel logs, photos and commentary for the geology that can be seen along highways or visited at parks and public viewing areas. They are popular with geologists, teachers, students and others who are interested in the Earth.

Coal Data Browser
March 4, 2014 | Energy Information Administration
The Energy Information Administration has published an interactive map that they call their "Coal Data Browser". It allows you to see statewide averages for variables such as total coal production, total consumption, mine productivity, tons produced per employee hour, sulfur content burned in power production and many, many more. Check it out if you like coal datasulfur-content.gif

So, You Think Yellowstone Is About to Erupt
February 18, 2014 | Wired
Erik Klemetti, author of the Eruptions blog has an interesting article titled: "So, You Think Yellowstone Is About to Erupt".
Related: The Volcano Beneath Yellowstone

Size of the Yellowstone Magma Chamber Severely Underestimated?
December 26, 2013 | National Geographic
The magma reservoir below Yellowstone National Park could be two-and-a-half times larger than previously thought!
Related: The Yellowstone Supervolcano

What is Petrified Wood?
October 27, 2013 | Geology.com
Petrified Wood is a fossil that forms when dissolved materials in groundwater precipitate and petrify woody material.

Powder River Basin Coal Assessment
October 25, 2013 | United States Geological Survey
"Using a geology-based assessment methodology, the U.S. Geological Survey estimated in-place resources of 1.07 trillion short tons of coal in the Powder River Basin, Wyoming and Montana. Of that total, with a maximum stripping ratio of 10:1, recoverable coal was 162 billion tons. The estimate of economically recoverable resources was 25 billion tons." Quoted from the USGS fact sheet.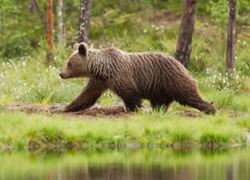 Image © iStockphoto/IndrekV
Bear Attack!
October 11, 2013 | Geology.com
If you spend time in bear country knowing how to react to a bear encounter and what to do if you are attacked could save your life.
If you don't know where bears live here is a map of the geographic ranges for black, grizzly and polar bears in North America.

Rare Eruption of Steamboat Geyser
August 4, 2013 | NBC News
Steamboat Geyser in Yellowstone National Park rarely erupts. On Wednesday it erupted for the first time in eight years.
It can produce eruptions that reach heights of 400 feet and is known as the "World's Tallest Geyser".
Related: What is a Geyser?

Triceratops Discovery in Wyoming
June 6, 2013 | Billings Gazette
Three Triceratops skeletons are being excavated near Newcastle, Wyoming. The largest of the three is one of the most complete specimens of Triceratops ever found.

Rare Earth Elements in Wyoming
June 4, 2013 | Wyoming Geological Survey
The Wyoming Geological Survey has published: "Rare Earth Elements in Wyoming", a report that investigates the production and geologic occurrence of rare earth elements in Wyoming.

Geology.com and RockTumbler.com are
both GeoShops.com websites.
Fee Mining Sites
May 24, 2013 | RockTumbler.com
Lots of people enjoy going to fee mining sites where you can prospect inactive surface mines, mine tailings, soil, sediments or outcrops and keep any rocks, gems, minerals or fossils that you find. Examples include: Herkimer Diamond Mines where you can search for doubly-terminated quartz crystals, and Crater of Diamonds where you might be lucky enough to find a real diamond.

Monitoring the Fire Below Yellowstone
April 15, 2013 | American Museum of Natural History
Three of the most catastrophic volcanic eruptions in geologic history occurred at a place now visited by nearly four million people a year: Yellowstone National Park.

20 Percent of USA Coal is from 2 Mines
April 7, 2013 | Energy Information Administration
Two large coal mines in Wyoming accounted for 20% of United States coal production in 2012.

Measuring the Size of Explosive Volcanic Eruptions
March 4, 2013 | Geology.com
You have probably heard of the Richter Scale for measuring earthquakes, the Saffir-Simpson Scale for hurricanes and the Fujita Scale for tornadoes. The Volcanic Explosivity Index is used to compare the size of explosive volcanic eruptions.

Powder River Basin: 162B Tons of Coal
February 28, 2013 | USGS
The Powder River Basin of Wyoming and Montana contains about 162 billion short tons of recoverable coal from a total of 1.07 trillion short tons of in-place resources according to a new USGS assessment.

Vitrinite Reflectance Data for the Wind River Basin
February 19, 2013 | USGS
The United States Geological Survey has published: New Vitrinite Reflectance Data for the Wind River Basin, Wyoming. "The purpose of this report is to present new vitrinite reflectance data collected mainly from Cretaceous marine shales in the Wind River Basin to better characterize their thermal maturity and hydrocarbon potential." Quoted from the USGS publication announcement.

Oil Shale Resources: Green River Formation
February 14, 2013 | USGS
"The United States Geological Survey has published: In-Place Oil Shale Resources Examined by Grade in the Major Basins of the Green River Formation, Colorado, Utah, and Wyoming."