Most Popular Items for November
December 2, 2013 | Geology.com
The World's Largest Emerald Mine
New Volcanic Island Southeast of Japan
The Enormous Volcanic Eruption that Historians Never Recorded
A Super River from the Southwestern United States to the Labrador Sea?
Comet Ison is Visible to the Naked Eye
Rock, Mineral, Gem and Fossil Kits
December 2, 2013 | Geology.com Store
The Geology.com Store has a nice selection of rock, mineral, gemstone and fossil kits for personal or classroom use.
Carbon Dioxide Storage Potential in Sedimentary Basins
December 2, 2013 | USGS
"The U.S. Geological Survey recently completed an evaluation of the technically accessible storage resource for carbon dioxide for 36 sedimentary basins in the onshore areas and State waters of the United States." Quoted from the USGS press release.
Comet ISON Obituary
December 1, 2013 | NBC News
"I do think that something emerged from the sun, but probably a very small nucleus or 'rubble pile.' and I fear that may have now dissolved." Karl Battams, an astrophysicist at the Naval Research Laboratory.
King of Gore from the Wahweap Formation
December 1, 2013 | Bureau of Land Management
"Ten million years before the T. rex walked the earth, another monster reigned. The 80 million-year-old fossil of the Lythronax argestes or "King of Gore" was recently discovered by Scott Richardson, a Bureau of Land Management archaeologist technician at the Wahweap Formation in BLM-Utah's Grand Staircase-Escalante National Monument." Quoted from the BLM tumbler site.
Wall Maps of US States
December 1, 2013 | Geology.com Store
Raven Maps are beautiful examples of shaded-relief wall maps that display the elevation of a state in vibrant colors. These large maps look great in a classroom, den or office. Use one to mark the locations of your work or company.
What is Iris Agate?
November 27, 2013 | Geology.com
""Iris Agate" is a name used for a finely-banded agate that produces a spectacular display of color when it is cut properly and illuminated from a direction that sends light through its very thin bands."
A Super River from the Southwestern United States to the Labrador Sea?
November 27, 2013 | Geological Society of America
"Remnants of fluvial sediments and their paleovalleys may map out a late Oligocene–early Miocene "super-river" from headwaters in the southern Colorado Plateau, through a proto–Grand Canyon to the Labrador Sea, where delta deposits contain microfossils that may have been derived from the southwestern United States." Quoted from GSA Today article titled: Late Oligocene–early Miocene Grand Canyon: A Canadian connection?
NSF Image
IceCube Researchers Detect 28 Neutrinos
November 27, 2013 | National Science Foundation
"Researchers with the IceCube Collaboration have [...] observed 28 very high-energy neutrinos that constitute the first solid evidence for astrophysical neutrinos from cosmic accelerators. [...] IceCube is an [...] astrophysical telescope deployed deep in the Antarctic ice (from 1.4 to 2.4 km depth), but looks over the entire universe, detecting neutrinos coming through the Earth from the Northern skies, as well as from around the Southern skies," Quoted from the National Science Foundation press release.
Rock Bags
November 27, 2013 | Geology.com Store
The Geology.com store has a great selection of field bags, backpacks, beltpacks, and cases to carry your gear in the field (or to the office).
Russia Oil and Gas Report
November 26, 2013 | Energy Information Administration
"Russia is the second-largest producer of dry natural gas and third-largest liquid fuels producer in the world. Despite its significant reserves of coal, it produces only modest amount of coal. Russia's economy is highly dependent on its hydrocarbons, and oil and gas revenues account for more than 50% of the federal budget revenues." Quoted from the Energy Information Administration.
Image by edurivero © iStockphoto.com
Cave of the Hands
November 26, 2013 | Geology.com
Cueva de las Manos (Spanish for "Cave of the Hands") is a cave in Argentina that is famous for a wall covered with hand silhouettes produced by ancient people between 13,000 and 9,000 years ago.
Iceland Aurora
November 26, 2013 | NASA via USA.gov
"On the left, bright green auroras appear to emanate from the largest glacier in Iceland as if it's a volcano. On the right, clouds appear tinged with the green light reflecting from the auroras." Quoted from the NASA image release.
The Energy Industry is the Biggest Target for Cyberattacks?
November 26, 2013 | Star-Telegram
"The energy industry was the target of 53 percent of all cyberattacks reported to the Department of Homeland Security between October 2012 and May 2013." Quoted from the Star-Telegram article.
Landslide Mapping Needed in North Carolina
November 26, 2013 | WSPA.com
Hundreds of landslides occur every year in North Carolina but lawmakers have almost eliminated a program that can help developers avoid building homes, commercial and public buildings on ancient landslides and slide-prone areas. It can also help the state highway department and utility companies avoid building roads and pipelines across ancient landslides and slide-prone areas. This one-time job was costing about $350,000 per year and would only require mapping the western part of the state where most landslides occur.
In a 24-year period landslides in the state killed 7 people and destroyed 85 homes. Not available is how much is spent on repairs to roads and utilities. The annual cost of these is undoubtedly many times the cost of the landslide mapping program – which is temporary.
The economics of this project suggests that millions per year should be spent to get it done as quickly as possible – but lawmakers decided to cut it.
A Shortage of Pipeline Capacity
November 26, 2013 | BizJournals
The San Antonio Business Journal has an article that describes how pipeline capacity is throttling production from the Eagle Ford Shale of Texas and the Bakken Formation of North Dakota.
Related: What is the Eagle Ford Shale?
New Top Predator Dinosaur Discovered in Utah
November 25, 2013 | North Carolina State University
"A new species of carnivorous dinosaur – one of the three largest ever discovered in North America – lived alongside and competed with small-bodied tyrannosaurs 98 million years ago." Quoted from the North Carolina State University press release.
What is It Like to Work for GeoCorps?
November 25, 2013 | Speaking of Geoscience Blog
The GSA Speaking of Geoscience blog has an interesting report from Amy Atwater who served as a GeoCorps Paleontology participant at Denali National Park and Preserve.
Permian Extinction Caused by Acid Rain?
November 25, 2013 | Massachusetts Institute of Technology
"Rain as acidic as undiluted lemon juice may have played a part in killing off plants and organisms around the world during the most severe mass extinction in Earth's history." Quoted from the MIT press release.
Utica Shale Well Permitting is Strong in Ohio
November 25, 2013 | Geology.com
The number of permits issued for drilling the Utica Shale in Ohio has been significantly higher in 2013 than in 2012.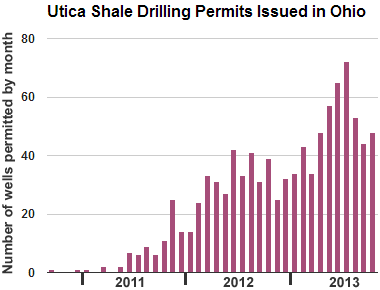 Data from the Ohio Department of Natural Resources.