Satellite Data and Corn Belt Productivity
April 10, 2014 | NASA
"Data from satellite sensors show that during the Northern Hemisphere's growing season, the Midwest region of the United States boasts more photosynthetic activity than any other spot on Earth, according to NASA and university scientists." Quoted from the NASA press release.
Mineral Hardness Picks
April 10, 2014 | Geology.com Store
Mineral hardness picks are pencil-like tools that have points made from materials that match the hardness of minerals in the Mohs Hardness Scale. With them you can easily test the hardness of mineral grains in a rock and test the hardness of small-size specimens. In our opinion they are easier to use than pieces of minerals and allow you to obtain more accurate results. They also do not contaminate your specimen with particles of the hardness mineral.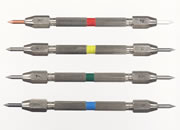 Pittsburgh: Landslide Capital of the East
April 8, 2014 | WTAE News
WTAE News has a video report on a large landslide, with a chute about 100 yards wide on the side of Mount Washington. Pittsburgh has lots of landslides because it is a city flanked by steep river valley walls, lots of precipitation and weak red shales forming much of the bedrock.
Related: Landslide Incidence Map
Spending a Billion Dollars on CO2?
April 8, 2014 | Arizona Geology Blog
Kinder Morgan is going to spend about one billion dollars to drill for carbon dioxide in Arizona, treat the gas, compress it, send it through a new pipeline to oil fields in Texas and New Mexico, and pump into the ground for enhanced oil recovery. One billion dollars for CO2!
Large Dams Cost Too Much!
April 8, 2014 | International Rivers
An Oxford University study reports that large dams typically require about 8 years for construction and have average cost overruns of nearly 100%. By the time they are finished the needs of their region have often changed and the unanticipated expenses might make the total cost too high.
Using Unmanned Aircraft to Survey Polar Ice
April 8, 2014 | National Science Foundation
"Scientists studying the behavior of the world's ice sheets–and the future implications of ice sheet behavior for global sea-level rise–may soon have a new airborne tool that will allow radar measurements that previously would have been prohibitively expensive or difficult to carry out with manned aircraft." Quoted from the National Science Foundation press release.
Petrochemical Exports Could Double
April 8, 2014 | ChemWeek.com
Stephen Pryor, President of ExxonMobil Chemical, believes that "US exports of polyethylene, polypropylene, and para-xylene, three of the largest primary petrochemical products, could double by 2025 thanks to shale gas." Quoted from ChemWeek.com.
The Largest Petroleum Basin in the World
April 8, 2014 | USGS
"The West Siberian basin is the largest petroleum basin in the world covering an area of about 2.2 million square kilometers. The basin occupies a swampy plain between the Ural Mountains and the Yenisey River." Quoted from the USGS report.
Total Lunar Eclipse: April 15
April 8, 2014 | NASA on YouTube.com
There will be four lunar eclipses between now and September 28, 2015. The first will be a total eclipse on April 15, 2014. It will be visible over much of the United States.
April 15, 2014
October 8, 2014
April 4 2015
September 28, 2015
Extreme Ice Survey at Antarctica Peninsula
April 8, 2014 | National Geographic
National Geographic has an article and video titled: "Chasing Ice Photographer Focuses on Melting Glaciers in Antarctica"…. they bolt nine time lapse cameras to bedrock overlooking glaciers and photograph them every hour during daylight.
Qatar LNG Profits in Jeopardy?
April 8, 2014 | Bloomberg
Although Qatar is currently the largest exporter of liquified natural gas in the world, its natural gas profits could be slashed as Australia, the United States, east African nations, Indonesia and several other countries enter or step into the LNG export business.
If Qatar's profits are threatened, what is going to happen to United States companies who plan to export natural gas and have a transportation disadvantage?
Related: What is LNG?
LNG from Eastern Russia
April 8, 2014 | Reuters
Rosneft, the world's largest oil company on the basis of output, and ExxonMobil are working on a plant to produce LNG in eastern Russia. They hope to ship the first LNG in 2018.
Antelope Canyon
April 8, 2014 | Weather Channel
The Weather Channel has a short video about Antelope Canyon, near Page Arizona.
"Antelope Canyon is the most-visited and most-photographed slot canyon in the American Southwest. It is located on Navajo land near Page, Arizona." Quote from Wikipedia.
Wall Maps of US States
April 8, 2014 | Geology.com Store
Raven Maps are beautiful examples of shaded-relief wall maps that display the elevation of a state in vibrant colors. These large maps look great in a classroom, den or office. Use one to mark the locations of your work or company.
1.1 Million BPD from the Bakken – Three Forks
April 7, 2014 | Washington Post
The Bakken and Three Forks Formations are expected to produce about 1.1 million barrels of oil per day during 2014.
Marcellus Shale in Wireline Logs
April 7, 2014 | USGS
USGS has published: "Characterization of the Marcellus Shale Based on Computer-Assisted Correlation of Wireline Logs in Virginia and West Virginia".
Washington Landslide: USGS Summary
April 7, 2014 | USGS
USGS has published a summary observations on the large landslide near Oso, Washington.
"The slide took place along the edge of a plateau about 600 feet high composed of glacial sediments. The volume of the slide is estimated to be about 10 million cubic yards, and it traveled about 0.7 miles from the toe of the slope. This travel distance is about three times longer than expected based on published information regarding previous slides of this height and volume worldwide. If the landslide had behaved in the expected range, it would have likely blocked the river and possibly destroyed a few houses. Instead it led to tragic loss of life and destruction of property." Quoted from the USGS summary.
Trailing the Canaries
April 7, 2014 | NASA Earth Observatory
A NASA Earth Observatory image titled: "Trailing the Canaries" has been voted the winner of the Tournament Earth contest.
"The play of light on water can reveal overlooked details and nuances to photographers and artists on Earth. The same thing can happen when looking from space. In June 2013, sunglint revealed wind and wave patterns in the wake of the Canary Islands." Quoted from the contest results.
Volcano Report for Peru and Chile
April 6, 2014 | Eruptions Blog
Erik Klemetti posts an update on recent activity at Ubinas Volcano in Peru. In addition, some people have expressed concern about the recent magnitude 8.2 earthquake triggering an eruption at one of several nearby volcanos, Erik comments on these concerns plus, in another post, on the recent earthquake at Yellowstone.
USGS photo from the 2006 eruption.
Activity at Tungurahua
April 6, 2014 | Sidney Mornig Herald
Tungurahua Volcano in Ecuador has been active since February, producing explosions and columns of ash.
In 2006 six people were killed and a village was destroyed by the volcano.
Photo Gallery: Ruby Falls Cave
April 6, 2014 | Weather Channel
The Weather Channel has a photo gallery that offers 21 views of Ruby Falls Cave in Tennessee. Several of the photos feature Ruby Falls, the largest and deepest waterfall open to the public in the United States.
Whale Dives 3km Deep and Stays Down for Over 2 Hours
April 6, 2014 | BBC
BBC has a story about beaked whales that reports on one that dove nearly 3 kilometers deep and remained submerged for over two hours.
Using US Energy as a Political Lever?
April 6, 2014 | Houston Chronicle
"The Ukraine-Russia crisis has Congress and the Obama administration rushing to consider monumental changes to accelerate exports of natural gas that will permanently and negatively affect the energy landscape for natural gas domestically." Quoted from the Houston Chronicle. (Many people will disagree with this article both from a political and economic perspective. An different view can be found here and a dual perspective here.)
Related: What is LNG?
2001 Recommendations for the Oso Slide Area
April 6, 2014 | Yahoo! News
In 2001, a report on the area near the Oso Landslide gave three recommendations for reducing the hazard to people and property. These included moving the river about 500 feet from the base of the risky slope (to reduce eroding support from the slope) to moving the river about 2000 feet (which would have required moving many of the homes destroyed by the slide).
Building Codes Saved Lives in Chile
April 6, 2014 | CNN
An article on the CNN website explains how building codes saved lives in the recent magnitude 8.2 earthquake in Chile.
Indonesia Oil and Gas Report
April 6, 2014 | Energy Information Administration
"Formerly a net oil exporter and OPEC member, Indonesia struggles to attract sufficient investment to meet growing domestic energy consumption because of inadequate infrastructure and a complex regulatory environment. At the same time, it was the world's largest exporter of coal by weight in 2012 and the fourth largest exporter of liquefied natural gas in 2013. The government seeks to meet energy demand at home by reorienting domestic energy production away from serving primarily export markets and increasing renewable energy production, particularly geothermal power." Quoted from the Energy Information Administration publication release.
US Shale Gas Influences Global LNG Price?
April 6, 2014 | BizJournals
"New global contracts for liquefied natural gas in Africa and Asia are being driven by shale gas production in Texas and other top U.S. shale plays." Quoted from the Houston BizJournal.
The Benefits of Crude Oil Exports?
April 6, 2014 | Oil and Gas Journal
An article in the Oil and Gas Journal, based upon a study done for the American Petroleum Institute, counts the potential benefits of crude oil exports.
Stone Spheres of Costa Rica
April 6, 2014 | Weather Channel
In the 1930′s a fruit company was clearing farmland on the Pacific coast of Costa Rica. During their work hundreds of stone spheres up to two meters in diameter were discovered. They are thought to have been made over 1000 years ago and their makers and the methods used to make them are unknown. It would be really hard and costly to make spheres like these today. Imagine what it would have been like 1000 years ago.
Gold Pans
April 6, 2014 | Geology.com Store
If you are looking for gold, heavy minerals or gemstones in the field, the Geology.com store has a selection of gold pans, classifiers, guzzler bottles and books that can be helpful in your work.
Missouri Geosciences Technical Resource Assessment Tool
April 3, 2014 | Missouri Geological Survey
The Missouri Geological Survey has recently launched a new online tool called the Missouri Geosciences Technical Resource Assessment Tool. GeoSTRAT is a web application that makes geologic and hydrologic data readily available for public use. GeoSTRAT enables users to easily visualize and explore geospatial data using an interactive map developed on an Esri and Google platform to allow 3D viewing of the land surface. Data can be downloaded in formats compatible with a variety of free and commercial mapping software and includes layers such as geology, bedrock elevation, water wells, sinkholes, historic mine locations, caves, springs, dye traces, well logs, aquifers, losing streams and a host of other coverages and associated metadata. GeoSTRAT can be used in the office or in the field for site assessments in areas such as geologic hazards, geotechnical consulting and engineering, emergency response, local and regional planning, water availability and a multitude of other purposes.
CDC Image
Why Zebras Have Stripes
April 3, 2014 | UC Davis News
"Why zebras have black and white stripes is a question that has intrigued scientists and spectators for centuries. [...] The scientists found that biting flies, including horseflies and tsetse flies, are the evolutionary driver for zebra stripes." Quoted from the UC Davis press release.
The Nicaragua Canal?
April 3, 2014 | National Geographic
A National Geographic article describes and maps the canal that will likely be built in Nicaragua by a Chinese company to compete with the Panama Canal.
Restricting the Right to Build?
April 3, 2014 | New York Times
An article in the New York Times explores the idea that governments should have the ability to restrict building construction in areas subject to geologic hazards.
Tight Oil Production Growth!
April 3, 2014 | Energy Information Administration
This image from the Energy Information Administration shows the amazing growth of tight oil production from the Eagle Ford, Bakken, Utica and other formations.
North Carolina Companies Want Marcellus Gas
April 3, 2014 | The Mercury News
An article in The Mercury News explains why companies in North Carolina want Marcellus Shale gas enough that they are willing to invest in a pipeline.
Retreating Coastlines in Sussex
April 3, 2014 | National Trust
The chalk cliffs on the Sussex coastline normally retreat at about 3/4 meter per year, but storms in the first quarter of this year have produced several meters of retreat.
Insect Camouflage
April 3, 2014 | National Geographic
National Geographic has an article titled: "Masters of Disguise—Amazing Insect Camouflage". It is a photo gallery of insects that are so well camouflaged in their surroundings that you might have trouble finding them in the photos.
Weaning Europe from Russian Gas
April 3, 2014 | The Hill
The Hill has a short video that explains the changing natural gas situation between Russia and Europe.
History of the San Manuel-Kalamazoo Mine
April 3, 2014 | Arizona Geological Survey Repository
The Arizona Geological Survey has published "History of the San Manuel-Kalamazoo Mine, Pinal County, Arizona" in electronic format.
M7.8 Onshore in Chile With Shake Map of IX
April 3, 2014 | USGS
USGS reports that a magnitude 7.8 earthquake has occurred onshore in Chile with a depth of only about 12 miles and about 14 miles from the population center of Iquique.
TopoPhotos
April 3, 2014 | MyTopo.com
The folks at MyTopo.com are now printing TopoPhotos. They are aerial photographs with contour lines and topographic map annotations lightly superimposed. They give you the advantages of an aerial photograph but also include the elevation, road and place name details of a topographic map. You can use their website to order a TopoPhoto centered anywhere in the United States and have it printed in a variety of sizes in either landscape or portrait orientation. You can print them up to a huge 8′ x 5′ (or 5′ x 8′) in size.
We are affiliates of MyTopo.com and receive a commission on sales.
Most Popular: March 2014
April 2, 2014 |
The items below had the most visitor engagement during March 2014.
Helicopter Videos over the Oso Landslide
Pyroclastic Flows and Tornadoes at Sinabung?
Landslide Blog: Washington Landslide
When Trilobites Ruled the World
Logging and the Oso Landslide
April 1, 2014 | National Geographic
National Geographic has an article that explores the relationship between the landslide that occurred near Oso, Washington and logging activities in the area.
M8.2 Earthquake Off the Coast of Chile
April 1, 2014 | Los Angeles Times
A magnitude 8.2 earthquake struck off the Pacific coast of Chile at about 6:46 PM local time. An early report in the Los Angeles Times indicates building and highway damage. A tsunami warning was issued but waves observed were small. View USGS Data.
Spring Mineral Shows
April 1, 2014 | The-Vug.com
The-Vug.com has a large list of mineral shows that will take place this spring. The list is updated frequently so book mark it and check it occasionally. There is probably a mineral show near you.
If you live on the east coast one to check out is the New York / New Jersey Mineral, Fossil, Gem and Jewelry Show on April 11-13 at the New Jersey Convention and Exposition Center. There will be 340 dealers.
Another is the Fine Mineral Show, April 25-27 at Embassy Suites in Houston.
Throwing a Wrench into LNG Exports
April 1, 2014 | FuelFix.com
Much of the thinking on LNG exports is based upon a plan developed in 2012 that many people in Washington think does not reflect the current situation.
Geography of Heating Fuels
April 1, 2014 | Energy Information Administration
The Energy Information Administration has published information on the geography of propane and heating oil use for residential space heating.
Free Colorado Geology Publications
April 1, 2014 | Colorado Geological Survey
The Colorado Geological Survey has over 500 maps and publications available for free download.
A Red Mars and a Lunar Eclipse
April 1, 2014 | New Zealand Herald
This week Earth will overtake Mars in its orbit and will be at one of its closest positions to the planet. That will make Mars especially large and red in the night sky. Then, after midnight on April 15th a lunar eclipse will occur. (Details on the lunar eclipse in a Washington Post article.)