World Wall Maps for Sale!
Beautiful world wall maps in a variety of sizes, styles and prices.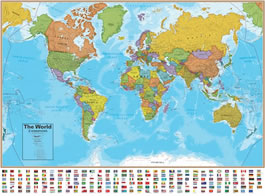 The Blue Ocean laminated world wall map is our best value in a laminated world map. It is a beautiful map with vibrant colors, perfect for students, schools, offices, homes, or anywhere that a map is wanted for education, display, or decor. The lamination allows you to write on the map with dry-erase markers and easily wipe it clean. Major cities and capital cities are shown with symbols that indicate their relative population. State boundaries, capital cities and major cities are shown in the United States. Provincial boundaries, major and capital cities are shown in Canada. The map represents the world at 1:31,758,000 scale with a Van der Grinten I projection. View a larger image of this map and get a more complete description here. All maps on this page ship rolled and in a sturdy tube by Priority Mail through the United States Postal Service.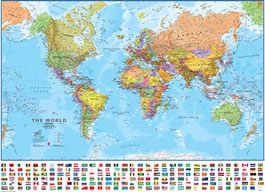 This political map is a much more detailed version of the map listed above. The printing on this map is more finely done, allowing many more place names and a much more detail in the shaded relief rendering of the world's physical features. If you want more detail on culture and physical features, this is the map. Laminated. You can view a larger image of this map here.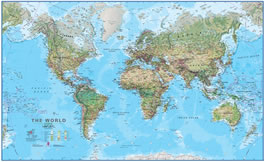 This attractive wall map shows the world's physical terrain in addition to political boundaries. Physical land features (such as mountains and volcanoes) are labeled and shown in shaded relief; environmental land features (such as glaciers, forest, and desert) are colored accordingly; and, water features are shown in different shades of blue to indicate depth. Laminated to keep it looking great for years. Whether you want to use it in your office or classroom, or instantly add sophistication to your den at home, you can't go wrong with this classic map. View a larger image of this map and get a more complete description here.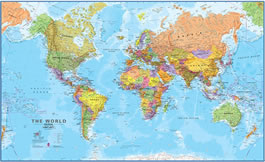 This map is huge, so please make note of the dimensions (47" by 77") and measure the wall where you plan to hang it. Make sure that you have enough space. This map is nearly identical to the medium-sized (39" x 54") political map above in print quality and detail - however, the difference is in the size of the map. It is breathtaking when you see it on a wall. If you are a geographer, geologist, historian, anthropologist or other professional who needs a top-quality world map, then this is the map for you. We were surprised to find a laminated world wall map of this size, quality, and detail for such a great price. You can view a larger image of this map here.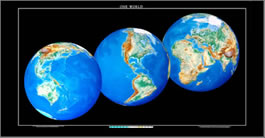 Should we call this a "poster" or should we call this a "map"? Whatever we call it, it is unique. It is a cross between a globe and a flat map. The world, tilted on its axis, in color shaded-relief, from three different positions in its rotation. This image makes an intriguing presentation and is enough to make you marvel at how our planet is suspended in space, rotates on its axis and revolves around the sun, with the moon tagging along. It is a great decor item for any office or home inhabited by anyone who cares about the Earth. You can view a larger image here.