Haynesville Shale Orientation:


The Haynesville Shale, is a black, organic-rich shale of Upper Jurassic age that underlies much of the Gulf Coast area of the United States. "Haynesville Shale" is a drillers term for shale rock units within the Haynesville Formation.

The Haynesville Formation is underlain by the Smackover Formation and overlain by rocks of the Cotton Valley Group. It was deposited about 150 million years ago in a shallow offshore environment.

Geologists have long known that the Haynesville Formation contained natural gas. However, because of its low permeability the Haynesville was originally considered to be a gas source rock rather than a gas reservoir.

Today, natural gas production from the Haynesville occurs from rocks about two miles beneath northwestern Louisiana, southwestern Arkansas and eastern Texas. The most productive areas have been Caddo, Bienville, Bossier, DeSoto, Red River and Webster Parishes of Louisiana plus adjacent areas in southwest Arkansas and east Texas.



Quote: Louisiana DOE


"This is an extraordinary time for Louisiana, particularly in north Louisiana, where we are experiencing something akin to a modern day gold rush due to excitement about the Haynesville Shale discovery. To put the magnitude of this sale into perspective: This month's lease sale surpassed by more than double the bonus collections for the previous 11 months of FY 2007-08 combined, almost entirely because of activity in north Louisiana... 25 of the 38 leases awarded were from Caddo, Red River and Bienville parishes, totaling approximately $34 million in cash payments, and the average bonus per acre for these leases was over $13,400 per acre, while more typical prices in the past for north Louisiana have been around $400 per acre." (source)



Quote: Chesapeake Energy


"Based on its geoscientific, petrophysical and engineering research during the past two years and the results of three horizontal and four vertical wells it has drilled, Chesapeake believes the Haynesville Shale play could potentially have a larger impact on the company than any other play in which it has participated to date." (source)
    Very similar to the Haynesville. The Marcellus Shale is a new gas resource of the Appalachian Basin.
    Another gas shale formation producing in northern Arkansas.
  Multiple shale plays happening across the United States have triggered an enormous demand for skilled workers and trainees.
Gas production is mainly in the Haynesville Formation. However, some gas is also produced from the Cotton Valley Group and Smackover Formation.

A Grateful University:
  A pecan farmer and the Haynesville shale help NSU offer scholarships and special programs.
   Knowledge is power when you receive an offer to lease your land. Find out what others are being offered and share advice at this forum.
    See how much was paid as a signing bonus to numerous landowners in most counties. Includes transaction date, signing bonus per acre, term of lease, royalty rate and number of acres. Share your information anonymously to help others.
  The only national organization representing, solely and without compromise, oil and gas royalty owners interests.
    Current and historical price data from the US Energy Information Administration.
    Information on natural gas development and leases.
  Look up definitions to understand your lease or whatever you are reading.
  Some of the best questions answered right here.
    Answers from the Shreveport Mayor's Office about leases, landmen, signing bonus, royalties and drilling activities.
    Monthly lease information and access to mineral resource records. Historical oil and gas production data. Historical lease and royalty data.
A "white paper" by Schlumberger, the well service company. Explains how hydraulic fracturing is used to stimulate production in tight gas shale reservoirs. (large .pdf file)


Drilling activity in the Haynesville Shale has been most active in Caddo, Bossier, DeSoto and Webster Parishes, Louisiana plus adjacent areas in southwest Arkansas and east Texas.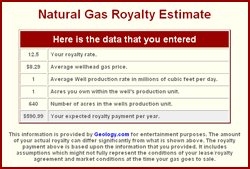 The wellhead price of natural gas changes in response to market and political forces.
The productive potential of the Haynesville Shale was not fully realized until horizontal drilling and hydrofracing technologies were demonstrated in other unconventional shale reservoirs. The hydrofracing process helps liberate gas from the shale and horizontal drilling allows a single well to drain a much larger volume of rock than a traditional vertical well.
Mineral Rights Information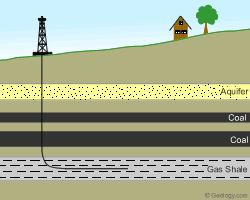 Mineral Rights give a person or an organization the right to explore for and produce mineral resources from a property. Here's a short article that covers the basics.