Estwing Rock Chisels - Geology Chisels
Estwing has discontinued production of these high-quality rock chisels. As a result, our inventory is sold out except for the ERC-12 chisels. There are only a few left in stock, so get them before they're gone forever!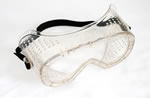 Estwing Safety Goggles
Always wear eye protection when using a rock hammer or doing chisel work. These goggles have a flat lens and soft sides that conform to your face. They fit easily over most prescription glasses and have a ventilated frame for air flow.





---
Estwing ERC-12C Rock Chisel
This is the Estwing ERC-12C rock chisel. It has a red polymer cap that provides a large impact surface and dampens sound when struck. The cushion grip reduces vibrations and is more comfortable to hold than a metal shaft in cold weather. Total length: 12". Point width: 5/8". Note: Maximum hammer weight for this chisel is 12 ounces.

Always wear eye protection when using this tool.





---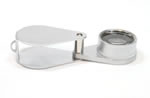 Hand Lens - Folding Pocket Magnifier
Geologists working in the field or in a lab often need to closely examine rocks, sediments, soils and other fine-grained materials. A hand lens provides a quick and easy way to perform that work.





---