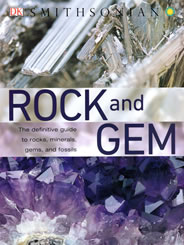 Smithsonian Rock and Gem
by Ronald Louis Bonewitz
This is the book that we recommend to people who do not have formal education in geology but who are interested in learning about rocks, minerals and gems (although "mineral" is not in the title, this book contains lots of information about them).

It is a great book for reading, reference or study. It has expert and accurate authorship. It is written in a very interesting style and has lots of excellent photos.

This textbook-size (7.0" x 9.25") guidebook presents interesting facts about hundreds of different rocks, gems, minerals and fossils. Contains 360 pages with hundreds of full-color illustrations and an index - a very nice book at a bargain price. Highly recommended.
Smithsonian Rock and Gem
Table of Contents

Origins

6

The Formation of the Universe

8

The Formation of Earth

12

Earth's Crust

16

Collecting Rocks and Minerals

20

Rocks

26

Rock Formation

28

Types of Rock

30

Igneous Rocks

32

The Giant's Causeway

44

The Devil's Tower

48

Sedimentary Rocks

52

Caves and Caverns

56

The Terra-Cotta Army

62

The Painted Desert

66

Stonehenge

72

Metamorphic Rocks

76

The Taj Mahal

80

Minerals

86

What is a Mineral?

88

Identifying Minerals

92

Mineral Associations

96

What is a Crystal?

98

Crystal Systems

100

Crystal Habits

102

What is a Gemstone?

104

Gem Mining

106

Gem Cutting

108

Megagems

110

Native Elements

112

Egyptian Gold

116

Hope Diamond

124

Sulfides

126

Sulfosalts

142

Oxides

146

Star Stones and Cat's eyes

152

Fluorescent Minerals

160

Hydroxides

166

Halides

170

Carbonates

176

Russian Malachite

186

Phosphates, Arsenates, and Vanadates

188

Mesoamerican Turquoise

198

Borates and Nitrates

204

Sulfates, Chromates, Tungstates and Molybdates

208

Silicates

218

Tectosilicates

218

Feldspars

234

Feldspathoids

242

The Standard of Ur

246

Zeolites

249

Phyllosilicates

256

Single-Chain Inosilicates

270

Double-Chain Inosilicates

278

Chinese Burial Suits

282

Cyclosilicates

286

Sorosilicates

294

Nesosilicates

298

The Garnet Group

300

Organic Gems

314

The Amber Room

316

Cultivating Pearls

324

Fossils

326

How Fossils are Formed

328

The Fossil Record

330

Plants

332

The Arizona Petrified Forest

334

Invertebrates

337

Vertebrates

348

The Dinosaur Quarry

350

Glossary

352

Index

354

Acknowledgements

359
ADVERTISEMENT