Mineral Study Kit



A great collection to begin your study of minerals. Fifteen representative specimens of rock-forming minerals, including: fluorite, feldspar, hematite, pyrite, quartz, calcite, muscovite, magnetite, gypsum, talc, halite, biotite, graphite. Each specimen measures about one inch across. Small plastic hand lens and streak plate included. Packaged in an attractive specimen box with a plastic tray to keep your collection organized. Start learning about minerals with this kit. Click on the image for a larger more detailed photo.

---

Know Your Minerals Collection



This is a study kit that will guide you through the identification of common minerals. You will receive 22 unnumbered specimens, a study guide, magnifier, plastic tray and numbering kit. Your goal is to identify the specimens using properties such as hardness, cleavage, fracture, tenacity and streak. A great kit for school or personal study. Click on the image for a larger more detailed photo.
Temporarily
Sold Out
---
Deluxe Hardness Picks by Mineralab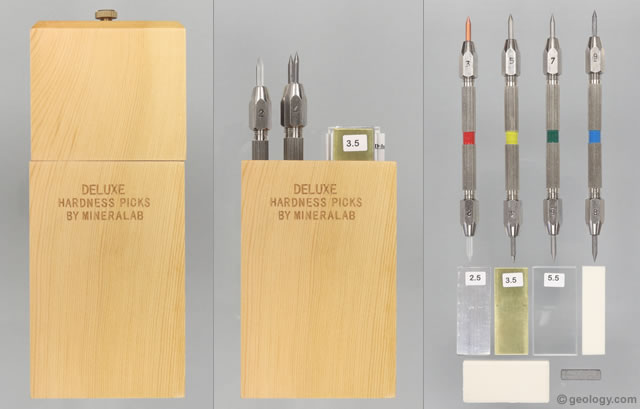 Deluxe Hardness Pick Set for Mineral Identification




Four double ended picks with hardness points of 2-9 on Mohs hardness scale
A grinding plate to keep your pick points sharp
Steak plate for determining a mineral's streak color
Glass plate with a hardness of 5.5 for quick hard or soft determination
A hardness plate with a hardness of 3.5
Magnet for testing minerals for magnetism
Hardness table of 250 minerals - alphabetically ordered and in order of hardness
Hardness testing instructions
All of this in a compact (7" x 2.5") wooden carry case






---



Minimum System Requirements: Windows XP, Vista or 7. Microsoft .NET 2.0 (on CD). CD-ROM Drive. 120 MB of Hard Disk Space.
800x600 Display Resolution.

Mineral Search software

- Version 4

Description form the CD: "Mineral Search is a powerful and user-friendly tool for the mineral and gem enthusiast, offering a large database of gems and minerals, with photographs, along with name search and property search tools to identify your stones. Mineral Search also includes an attractive photo-rich browser to easily view the minerals in the database. For the avid collector, use the program to catalog your mineral and gemstone collection, and for the serious mineralogist or gemologist, add more minerals and gems to its flexible database." The database has 20 properties for each of the 700 minerals in it.

---

Mohs Hardness Kit Without Diamond



The first nine minerals in Mohs Standard Hardness Scale: talc, gypsum, calcite, fluorite, apatite, orthoclase, quartz, topaz and corundum. Packaged in a sturdy box with a plastic tray to keep the collection organized. Great for classroom use or personal study. Click on the image for a larger more detailed photo.