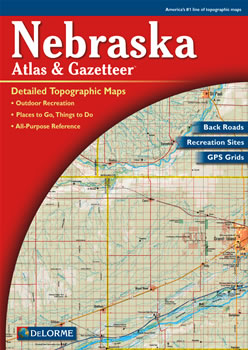 Makes a great gift!
Nebraska DeLorme Atlas
Complete Nebraska Road Map and
Topographic Map Coverage
- Large 11" x 15.5" Pages
- Topo Maps with Back Roads
- 65 Pages of Maps
- 15 Pages of Attractions, Information and Places to Visit
- Scale: 1:200,000 (1" = 3.2 miles)
The atlas can help you to:
Map a scenic drive along the Trails West Tour
Plan a weekend excursion to Ashfall Fossil Beds
Explore historic districts of Omaha
Learn what types of fish are caught in Johnson Lake
Ships right away by Priority Mail
---
A Sample Map From This Book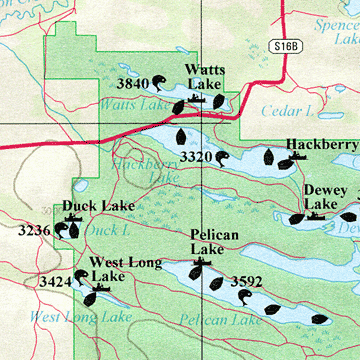 Some of the Map Symbols
Attractions
Bicycle Routes
Campgrounds
Fishing
Wildlife Viewing
Hiking
State Parks and Recreation Areas
Scenic Drives
Historic Sites
Hunting
Paddling
Unique Natural Features
Get up-to-date maps of Nebraska in one convenient guide - the DeLorme Atlas and Gazetteer! This atlas has 65 pages of large detailed maps with an index of the state's place names and map features. The back cover of this atlas has a large map of Nebraska with an overlying grid. Each cell of the grid contains the page number for a detailed map of that area. The atlas includes 15 additional pages of reference information about Nebraska's recreation. This includes: hiking, paddling, fishing, hunting, biking, wildlife viewing and camping. In addition, there is information on the state's attractions, historic sites, unique natural features, scenic drives and public lands.

The detailed maps show physical features, such as lakes, rivers, streams, valleys, grasslands and mountains. Other features include: towns, cities, ranches, Indian Lands, roads, airports, trails, highways, interstates, parks and wildlife refuges. The DeLorme Atlas and Gazetteer is a map collection, recreation guide and travel planner in one useful book!