Light-Duty Safety Glasses: Ultraviolet (UV) Eye Protection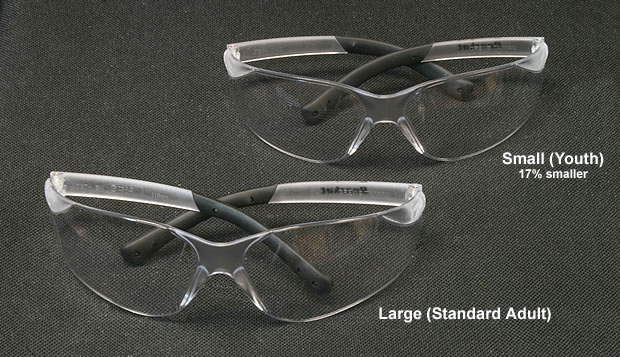 Light-duty safety glasses with UV ray protection
Anyone using an ultraviolet lamp should wear a pair of UV-blocking glasses to protect the eyes. Ultraviolet light can cause eye irritation or damage. These glasses are recommended for use with the M12 Ultraviolet Flashlight and Lamp.
They are made of polycarbonate, the most commonly used material in safety eyewear. They provide 99.9% protection from ultraviolet rays. They also provide protection against moderate impact hazards, metal chips, particles and sparks. They are not unbreakable or impenetrable.
The one-piece wraparound lens provides unobstructed vision. The flexible temples have a soft, black, non-slip sleeve for comfortable wear.
The glasses may be cleaned with mild soap or detergent and warm water, then air dried or dried by patting lightly with a soft absorbent tissue. Alcohol, ammonia, alkaline cleaners, solvents and abrasive cleaners should not be used to clean these glasses.
Available in two sizes: LARGE fits the average adult. SMALL (17% narrower) fits youth and people with a smaller profile.
---
ADVERTISEMENT