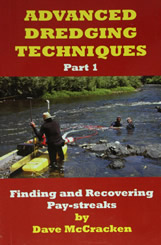 Advanced Dredging Techniques Part 1:
Finding and Recovering Pay-streaks
by Dave McCracken
If you enjoy dredging for gold, then this book is for you! Dave McCracken tells you all you need to know about pay-streaks; what they are, how they are created, and most importantly, how to dredge them up without leaving gold behind! A smart investment for any dredger. 241 pages of essential information squeezed into a 5.5" x 8.5" paperback.
Advanced Dredging Techniques Part 1
Finding and Recovering Pay-streaks
Table of Contents

Introduction

17

Pay-streaks, What They Are

23

Major Flood Storms

23

Different Kinds of Streambed Deposits

29

Tailrace & High Bench Bleed-offs

29

Pay-streaks

31

Single Deposits

35

The General Path of Gold

37

The Characteristics of Pay-streaks

44

How the Size of a Waterway can Affect Pay-streaks

49

The Boundaries of a Pay-streak

51

Flat Rocks

58

Natural / Virgin Streambeds

59

Sampling is the Key to Success

63

Dredge Size

64

Choosing an Area to Sample

68

Gathering Data

74

"No Gold" Reports

81

Exaggerated Data

84

Sampling Procedure

86

Reading Streambed Material

90

Depth of Material in Sampling

96

Sampling Difficulties & How to Overcome Them

103

False Certainties

110

Gold Dredging Procedure

113

Defining Acceptable Ground

113

Dredging Up Pay-streaks

115

Spotty Pay-streaks

131

Fine Gold Pay-streaks

134

Wasting Gold

136

"It Has Already Been Dredged!"

137

Dredge Sizes & Suction Hose

143

Fast Water

145

Fast Water Harness

150

Maintenance and Repairs

152

Dealing with Gold, Claims, & Partners

153

Splitting Up Gold

162

Dealing with Claims

164

Percentage Deals

167

Keeping Quiet

170

Integrity & Gold

171

Group Dredging

177

Partnerships

179

Partnership Deals

180

Grubstaking

182

Over-manning an Operation

185

Watch Out for the Con Artist!

189

Buying Claims

189

Buying Used Dredging Equipment

191

Selling Your Gold

192

Advanced Recovery Systems

195

Riffles & Classification

197

Larger-sized Dredges

205

Triple-sluice Recovery Systems

206

Double-sluice Recovery Systems

210

Screened-over Riffles

212

High-grade Riffles

215

A Few Other Points on Recovery

216

Dual Eductors & Gold

216

Flared Jets & Gold

218

Alaskan Dampers

219

Miner's Moss

219

Sun Screen Riffles

220

Glossary

221
ADVERTISEMENT