PuffinPaper
Synthetic Waterproof Paper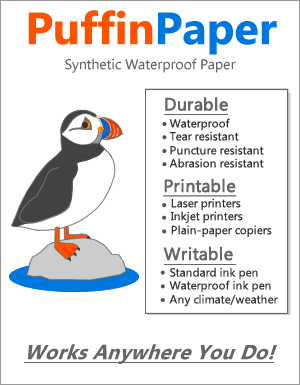 | | |
| --- | --- |
| 8 mil | 10 mil |
| 8-1/2" x 11" | 8-1/2" x 11" |
| Light duty | Standard duty |
| One sided printing | 25% Thicker |
| 25 Sheets - $21.99 | 25 Sheets - $24.99 |
| --- | --- |
| 50 Sheets - $39.99 | 50 Sheets - $46.99 |
| --- | --- |
| 100 Sheets - $65.99 | 100 Sheets - $81.99 |
| --- | --- |
| 500 Sheets - $319.99 | 500 Sheets - $399.99 |
| --- | --- |
| 1000 Sheets - $619.99 | 1000 Sheets - $779.99 |
| --- | --- |
| 2000 Sheets - $1199.99 | 2000 Sheets - $1529.99 |
| | |
Quantities of 500, 1000, and 2000 sheets are shipped in 100-sheet packages.
PuffinPaper is your easy choice for waterproof paper. It works anywhere that you do. Print on it with laser printers, inkjet printers or plain paper copiers. It quickly became our best-selling paper.
Most people who purchase waterproof paper from us are looking for a small amount of paper for light-duty outdoor use. The economical answer is a 25-sheet package of PuffinPaper in the 8 mil thickness. It is about the same thickness as standard printer paper and can be used in laser printers, inkjet printers and plain-paper copiers. If you need extra thickness, a bit more durability, or want to print on both sides then we suggest the 10 mil thickness. If you want to save a little money, purchase a larger package for a lower cost per sheet.
Instead of taking chances with your important documents getting ruined by rain, sweat or abrasion, use PuffinPaper to print your outdoor forms, maps, charts, and signs. You can write on PuffinPaper with a standard ballpoint pen. For best results use a pen with waterproof ink. Check out the important characteristics of PuffinPaper below.
Durable
Waterproof
Tear resistant
Puncture resistant
Abrasion resistant
Chemical resistant
Printable
Laser printers
Plain-paper copiers
Inkjet printers
Writable
Standard ink pen
Waterproof ink pen
Any weather / climate
8 mil
Light duty
Lower cost
Folds easily
Single-side printing
10 mil
Standard duty
25% thicker
More durable
Two-sided printing
Best for printing presses
Why PuffinPaper?
We have been selling waterproof paper to people who work and play outdoors since 2003. We were really happy when we found PuffinPaper, a synthetic paper that we like more than any other. Our customers like it too - it quickly became our best-selling paper.
Printing and Writing on PuffinPaper?
PuffinPaper works great in laser printers, plain paper copiers, and inkjet printers. It feels nice in your hand and under your pen. It is waterproof, tear resistant, puncture resistant, abrasion resistant and chemical resistant. You can write on it in any weather and in any climate. It remains pliable and writeable at temperatures from -70°C / -94°F to 180°C / 356°F. You will go indoors or your pen will stop working before PuffinPaper quits on you. It also folds with a nice crease. You can cut it and the edges will have the same waterproof character as the center of the sheet. It forms a strong bond with laminates and works well with most adhesives.
When PuffinPaper is used in a printer or copier the ink dries in seconds and the colors are vibrant. For best results, use a "light" or "economy" or "draft" setting to conserve ink and avoid applying more ink than the paper can absorb. This is really important.
When writing on PuffinPaper a medium-width standard ballpoint pen works great. Medium width generally applies enough ink to be easily read. A "bold" width usually applies too much ink and smearing can occur. Fine and ultra-fine pens can dig into the paper if you are not a light writer.
The Only Downsides
The only downsides that we see are that PuffinPaper does not accept pencil, and gel pens often smear. These same "problems" are present with almost all of the synthetic waterproof papers that we have used. Also, some inkjet printer cartridges - especially generic and refilled ones - contain a water soluble dye. The printing produced by these cartridges will smear when wet. If we are preparing a waterproof document our first choice is printing with a laser printer and writing with a pen that contains waterproof ink.
Common Sense Testing
For any important project we always recommend testing your paper, printer, ink/toner and writing implement combination in advance in the environment of intended use. This will confirm in advance that they will work well together.
Metal Signs Required
Even though PuffinPaper resists water, punctures, abrasion, chemicals and more, it isn't bulletproof. Keep in mind that any "synthetic waterproof paper" is a thin sheet of "plastic" and set your expectations with that in mind. For that reason we still recommend more durable materials -- like metal signs -- when your anticipated use is likely to exceed what a thin plastic sheet will endure.
---
ADVERTISEMENT