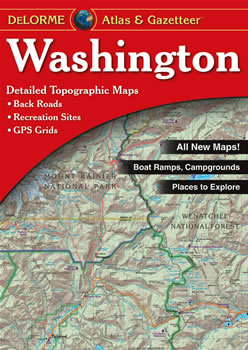 Makes a great gift!
Washington DeLorme Atlas
Complete Washington Road Map and
Topographic Map Coverage
- Large 11" x 15.5" Pages
- Topo Maps with Back Roads
- 90 Pages of Maps
- 14 Pages of Attractions, Information and Places to Visit
- Scale: 1:160,000 (1" = 2.5 miles)
Some suggested ways to use this atlas are to:
Explore Seattle's attractions!
Find trails in Gifford Pinchot National Forest
Plan a vacation in Olympic National Park
Find State Parks near Cohassett Beach
Ships right away by Priority Mail
---
A Sample Map From This Book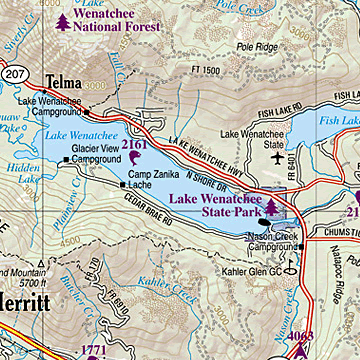 Some of the Map Symbols
Outdoor Adventures
Family Outings
Campgrounds
Recreation Areas
Hunting
Fishing
Unique Natural Features
Golf Courses
Lighthouses
Boat Launch Site - Non-restricted
Boat Launch site - Restricted
Information Center
The DeLorme Atlas and Gazetteer is a great planning tool for the vacation or business traveler in Washington! This atlas has 90 large pages of shaded relief maps with an index of place names. State-wide topographic information is shown by contour lines with intervals of approximately 300 feet. The back cover of this atlas has a large map of Washington with an overlying grid. Each cell of the grid contains the page number for a detailed map of that area. The physical and man-made features on these maps include: mountains, forests, flats, lakes, rivers, creeks, glaciers, wetlands, bays, islands, trails, back roads, interstates, highways, cities, towns, parks, railroads and airports.

This atlas also contains 14 pages of reference information including: gardens, historic sites, museums, wineries, golf courses, campgrounds, parks, bicycle routes, skiing, canoeing, hiking, hunting and fishing. This is not your ordinary map! The DeLorme Atlas and Gazetteer is a collection of topographic maps, a recreation guide and travel planner brought together in one handy book.