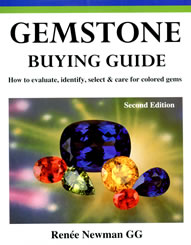 Gemstone Buying Guide:
How to evaluate, identify, select and care for colored gems
by Renee Newman, G.G.
A great book to learn about the market for colored gemstones. Includes lots of basic information about colored gemstones: price factors, cutting styles, color, clarity, weight, synthetics, immitations and gemstone care. Our favorite parts are the many great photos and the detailed descriptions for a large number of gemstones. This book is a 7" x 9" paperback with 155 pages. Second edition.
Gemstone Buying Guide
Table of Contents

Acknowledgements

7

1. Colored Gem Price Factors in a Nutshell

8

Price Factors Explained

8

Two Common Beliefs Which Warrant Review

15

Colored Gem Pricing

16

2. Shape and Cutting Style

18

Gemstone Terms Defined

19

Traditional Cutting Styles

20

Fancy Cuts and Cutting Techniques

24

Carving

27

Drusy Gem Materials

31

3. Carat Weight

33

Size Versus Carat Weight

33

Effect of Carat Weight on Price

34

Estimating Carat Weight

35

4. Gemstone Color

36

Evaluating Gemstone Color

37

How to Examine Color

39

How Lighting Affects Gem Color

40

5. Judging Clarity and Transparency

42

Gemstone Inclusions

43

Gemstone Blemishes

45

Examining Gemstones for Clarity

45

How Lighting Can Affect Your Perception of Clarity

47

Do We Need Grades to Evaluate Clarity and Transparency?

48

6. Judging Cut Quality

49

Judging the Face-Up View

49

Judging the Profile

51

How Cut Affects Price

54

Judging "Life"

55

7. Evaluating Star and Cat's-Eye Stones

56

8. Treatments

59

9. Synthetic Stones

63

Synthetic Versus Natural

64

10. Deceptive Practices

65

Misnomers

67

11. Gemstone Descriptions

68

Amethyst and Other Quartz Stones

71

Chalcedony

75

Chrysoberyl (Alexandrite, Cat's-eye...)

80

Emerald and Other Beryl Stones

82

Garnet

86

Iolite

91

Jade

92

Lapis Lazuli

100

Malachite

101

Moonstone and Some Other Feldspars

102

Opal

104

Peridot

112

Spodumene

113

Ruby and Sapphire (Corundum)

114

Spinel

118

Tanzanite and Other Zoisites

120

Topaz

122

Tourmaline

124

Turquoise

128

Zircon

130

Ammolite

132

Andalusite, Apatite

133

Azurite, Benitoite

134

Charoite, Calcite

135

Diopside, Fluorite

136

Hematite, Natural Glass (Obsidian, Moldavite)

137

Larimar, Prehnite, Rhodonite

138

Rhodochrosite, Sugilite

139

Sphene (Titanite), Variscite

140

Test Your Gem IQ

141

12. Caring for Your Gems

142

Birthstones and Anniversary Stones

146

Suppliers of Jewelry and Stones for Photographs

147

Bibliography

150

Index

153
ADVERTISEMENT