Gfeller Leather Field Belts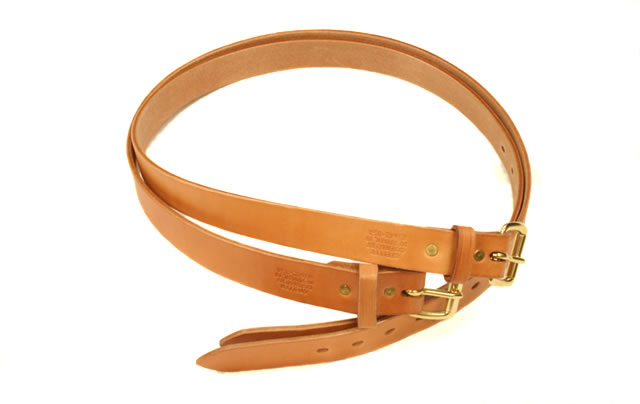 Gfeller leather field belts are for professional geologists, surveyors, engineers and others who work in the field.
Leather Field Belts with Non-Magnetic Brass Buckles
Field belts for geologists, surveyors and engineers must be thick and durable. They should be free of any metal parts that will interfere with a compass or other sensitive field instruments. They must be rigid enough to carry all of the heavy tools that you attach to them, but not so rigid that they limit your movement. These are the essentials for function.
The Gfeller field belt is made from heavy russet skirting leather backs and is single ply. The buckle and rivets are made from solid brass for a lifetime of service. The back and edges of the belt are tooled to a smooth finish for comfort and ease of adjustment. They slide easily through your belt loops and through the loops of your hammer carrier and tool cases.
Each belt has eleven holes punched to fit a range of waist sizes between 30 and 40 inches (or 40 and 50 inches). They are available in widths of 1 1/4" and 1 1/2".
A few days of field work with a couple of heavy tools will trash the typical department store belt. Gfeller leather field belts will last and perform well through a lifetime of use.
Some people thread this belt through the belt loops of their pants and position their field case and hammer holster at comfortable locations. However, many experienced geologists place their field case, rock hammer and other tools on this belt and simply buckle it over their jeans. This allows you to quickly put the tool belt on and off, saving lots of time when you get in and out of your vehicle.
A word of warning for those who thread their field belt through the belt loops of their pants - it is a lot of work to get your belt and tools on and off when getting in and out of a vehicle. We know a guy who insisted on carrying his tools that way and was too lazy to take them off while driving from one field site to another. His rock hammer poked lots of holes in the leather seats of his vehicle. :P Carry your tools on a dedicated belt to avoid that problem!
---