Gfeller Leather Field Case with Acid Bottle
This classic leather field case attaches to your belt and carries a field book, writing tools, maps, acid bottle and more.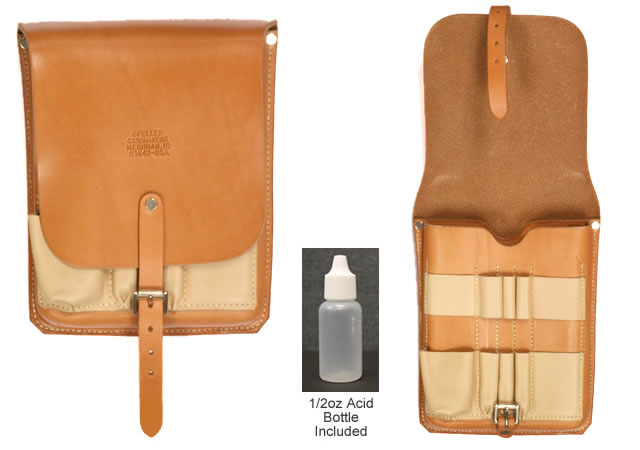 The Gfeller field case carries a bound field book, folded topo maps, three pencils, small ruler and a 1/2 ounce acid bottle (book, maps, pencils, and ruler are not included).
Leather Field Case
This is the perfect case for carrying a bound field book, small clipboard, pens, small ruler and acid bottle. The large compartment provides perfect-size storage for Rite-in-the-Rain bound field books and folded topo maps. Two wide belt loops on the back slip easily over your belt and have plenty of space for comfortable movement. Two pencil loops are 3/8" diameter and one is 1/2" diameter. The acid bottle pouch accepts a 1" round bottle or a 1-3/8" x 3/4" oval medicine bottle dropper. A round 1/2-ounce squeeze bottle with screw-on cap is included. For extra acid bottles, please see below.

Inside dimensions of the book pouch: 5-3/4" x 7-1/2" x 1-1/8".

This is the type of tool that you will buy once and use for a lifetime.

---
Supplies for Your Field Case
1/2-Ounce
Acid Bottle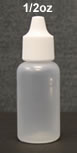 These 1/2 ounce acid bottles fit in the field case and can be used to carry dilute hydrochloric acid for testing carbonate minerals and rocks. More Information. Not recommended for use with other types of acids, acids of higher concentrations, or for long-term storage.
Geological Field Book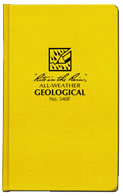 A bound Rite-in-the-Rain notebook for taking notes in the field. More Field Books Available.
Military Pen - Waterproof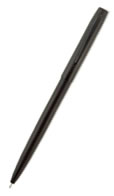 A non-reflective, matte-finish, black, metal military-style pen. Writes with waterproof ink at any temperature and at any angle - even upside down.
---